Subscribe this feed

Recent Articles :
Last Article :
[18/11/2014 14:49] Tiny Alien Invaders


Thanks to CPZ the site theme is now looking more like it used to look before and feels like home once again. In the meantime there have been a couple of new developments, but the one that caught my eye most was the discovery of a unique Space Invaders variant called 'Alien Invader'

An external contributor 'Seth Soffer' discovered a Space Invaders game running on a tiny bartop cabinet using a 6502 CPU. He provided the following pictures, and a rom dump.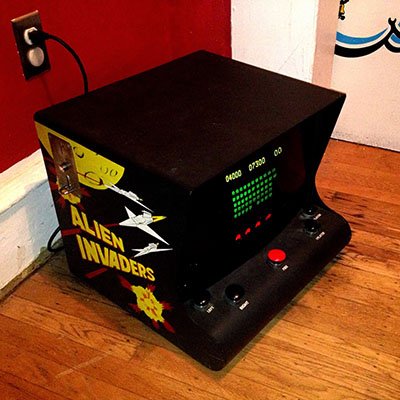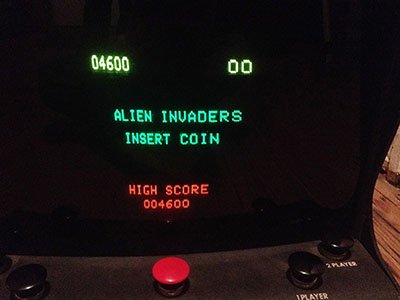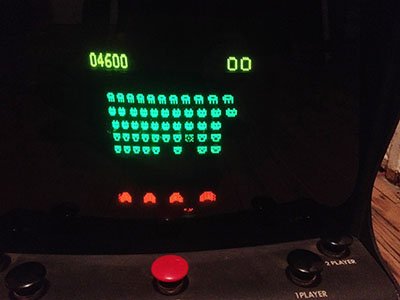 There are a few things that stand out here, first of all the 6502 CPU, meaning it's definitely not running Taito Space Invaders code, that used an 8080 CPU. Second of all, the cabinet, it's tiny, as is the display (which is black and white with a colour overlay attached to the screen)

The manufacturer of this unit is unknown, we're told the PCB is etched with 'Forbes' so that's our best guess. When it was manufactured is also unknown, externally it manages to look almost like some retro-contemporary item, but chances are it's not much newer than the original Space Invaders.

Emulation also highlighted something else that you can maybe tell from the original photos. The screen resolution is very low, 128×128 pixels, something you'd associate more with a handheld device than an arcade machine. I did some of the emulation work, although the game jumped off into the weeds as soon as you generated an interrupt, Mariusz Wojcieszek noted that by simply returning in such a situation the game would run fine, so it's possibly some kind of protection (Kale speculates that it's a PROM) Maybe there is some other purpose to jumping there, like the address bus bits signalling some other hardware, I'm not sure. We could probably do with some clear PCB pictures to see what's there to either confirm or rule out various theories.

The sound isn't emulated, again we don't know what generates it at this stage, could be discrete like the original Space Invaders, but without further PCB images I really don't know.

Unlike Taito's Minivader (which was actually just a cabinet test board) I think this was intended as a full 'for arcade use' game, the tiny resolution actually makes it more of a Mini-vader than Mini-vader itself tho :-) The game plays well and is a respectable effort to file with the other odd releases based on Space Invaders using unexpected hardware. (I think the only other one with a 6502 is 'Attack UFO' but that again is very different hardware, AFAIK based on similar hardware to the Commodore home systems)

Anyway, here are some screenshots of Alien Invaders running, the colour overlay positions are guessed based on the screenshots












Thanks again to Seth Soffer for this contribution, and if you're reading, more PCB info / high res pictures would really be appreciated :-)

Subscribe this feed

Recent Articles :
Last Article :
[07/09/2014 19:54] Deluxe Co-Processor


Over the past week, me and Olivier Galibert ironed out several issues in the Seibu COP simulation. This includes Zero Team not crashing anymore and this one happening …

… and yes, this one means that both Raiden 2 and Raiden DX are now (almost?) working. I have doubts especially towards DX just because I haven't yet checked out if beating properly Alpha Stage doesn't have issues (and yes, it's amusing having this kind of doubt now, compared to just one week ago).

Subscribe this feed

Recent Articles :
Last Article :
[22/01/2011 16:53] Fixeight e i suoi cloni


Ha richiesto molto piu' lavoro sia in fase di decrittazione per la presenza di opcode senza riferimenti negli altri giochi (kbash, dogyuun, vfife e batsugun) sia per la presenza di una EEPROM.

Alla fine, grazie al lavoro congiunto di me stesso, Haze a AWJ, siamo riusciti a implementare il sonoro. La conseguenza per ora è stata la necessità di creare un clone del gioco per ogni paese supportato (sono 14). Questo perche' la EEPROM per ogni gioco è differente e pur essendo generabile dal codice del gioco, non è possibile attivare quel codice senza fare saldature nella PCB (questo per l'assenza di DSWs e Jumpers).

Nel caso in cui tramite i valori presenti nella EEPROM sia possibile variare altri parametri del gioco oltre al paese, tale implementazione è scorretta. Ci sarebbero nel caso due alternative: aggiungere dump di EEPROM di cui si ha la certezza della relativa presenza in sala giochi, o implementare un qualche sistema in gradi di riprogrammare la EEPROM (simulando ad esempio la presenza di jumpers nella PCB). Vedremo. Per ora accontentiamoci del sonoro.