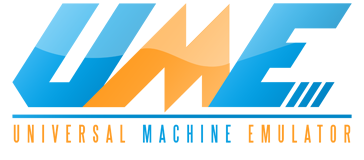 UME (Universal Machine Emulator) combines the features of MAME and MESS into a single multi-purpose emulator. The project represents a natural course of development for the emulators which already share large amounts of code and is part of an ongoing effort to unify development efforts and provide a single emulation platform for users and developers alike.
This is based on the official MAME 0.147u1 source release found on mamedev.org. The binaries on offer here were compiled with 'make all TARGET=ume'
As of 0.147u1 the official MAME / MESS diffs are unified like the source releases, so the single diff released is for both projects.
Note 1: to compile UME using the sources and diff from mamedev.org you must add the "ume.ico" Icon resource file to "src\ume\osd\windows" in the source. This file was added after 0.147, but because it's a binary file it does not get added when applying the official u1 diff. If you instead check out the source from the SVN the file is already included. If you require the file separately it can be found here. Yes this does mean the UME Windows binary has a shiny new icon as of u1 :-)
Note 2: the official 0.147u1 patch doesn't apply 100% cleanly to the official 0.147 source due to a last minute change being put in the 0.147 source release mess.mak file, the resultant files are correct however, and the warning can be ignored.
The package contains both the 32-bit and 64-bit binaries, due to the above issues I've also uploaded the source used to compile here.
The 0.147u1 UME release binaries can be downloaded here.
Note: as of 0.147 the sysinfo.dat is no longer distributed with MESS, it can be found in the 'Extra Files' section at ProjectMESS
furthermore the external artwork files, needed by some chess computers are also not included by default. They can be found at AntoPisa's site.
Changes from MAME 0.147 can be read about here
Changes from MESS 0.147 can be read about here
General Release Commentary
As expected the '3 On 3 Dunk Madness' progress below missed the submission deadline.
The 0.147u1 diff is deceptively large, weighing in at over 2MB when zipped you might imagine it to be a significant update, code-wise it probably is, but functionality-wise it's about average for 3 weeks of work. The size of the diff comes mostly from refactoring, moving of more items and functions into the 'machine states' rather than them being global which is ultimately working towards the ongoing long term goal of allowing multiple instances of systems to be running at the same time etc.
In terms of new games, Hap's work the old Model Racing gun games means that both Clay Buster (identified with flyers) and what we therefore presume to be Gun Champ are now working after Any dumped the former. Neither game has a title screen. Hap doesn't have a WIP page, so here are some pictures of those running in 0.147u1

Clay Buster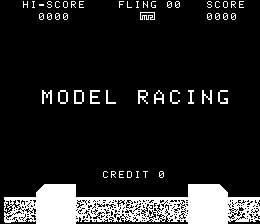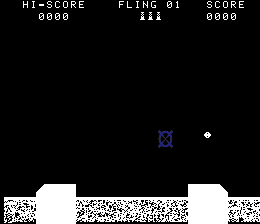 Gun Champ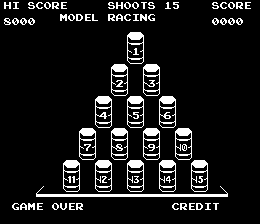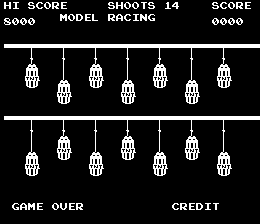 Both are very basic gun games but nevertheless interesting bits of history.
There's also Star Fighter which Luca added, as I mentioned below. For an early Korean game it's actually very interesting, taking influences from many other classic shooters and presenting a varied multi-round vertical scrolling shooter.
Robbbert has been working on improving the basic emulation of some of the Pinball systems, but until modern versions of MAME can be hooked up in the same way as PinMAME those aren't too exciting as you don't have any kind of table, just the ability to manually trigger sensors via the internal layouts etc. Worth a mention because it has potential to lead somewhere I think.
iq132 has been attempting to remove ROM patches from a number of drivers and instead simulating the protection devices, including getting rid of the long-standing ROM hacks Metal Slug X used, should be no visible changes, but it's good to be clean.
There's also the work on the Seibu COP mentioned below, nothing is magically more playable now but there are various subtle (and not so subtle) behavioral changes in various games, some improved, others, like Zero Team temporarily regressed until a few more mysteries are solved.
The MESS side has seen a number of refinements too, mostly small but important changes you're not going to notice as well as ongoing improvements to the Software Lists and work on the Atari 2600 to handle some of the trickier custom hardware cases which regressed at some point, or were simply never emulated.
General improvements also see a bug which prevented 7-zip support from working in 64-bit Mac builds fixed, although sadly I don't think the issue mentioned in the 0.147 release with redefining controls for some consoles is resolved, it actually looks like a very long-standing bug, likewise the issue with screenless games not actually updating their display as frequently as you'd expect is still outstanding.
Of course driver bug fixes are important too, and everybody will also be happy to know that the bug causing the Mortal Kombat games to crash / display corrupt graphics in the 0.147 release is fixed in this release, as are the problems which were introduced with Sega X and Y board emulations causing glitchy sprites which alone should make 0.147u1 preferable over the original 0.147 release.
Overall it's a steady release and if you're doing any development for MAME you'll definitely want to pay attention to some of the structural changes which have gone in over the last 3 weeks.