Brixian had been sitting in my todo list for a while, I knew it was an early Semicom game, released under the Cheil name, and was pretty sure the entire protection would involve the MCU copying 0x200 bytes of code to RAM, like all the 68k Semicom titles, even if this one was a Z80 based one running on Arkanoid-like hardware with a 68705 for the MCU instead of the usual 68K + Intel MCU setup.
Truth be told I'd simply never got around to doing it, and while Z80 is straightforward enough I've never been as fond of writing 8-bit Z80 code as 68k or other 16-bit CPUs.
Anyway, it came to my attention that 'Zabanitu' who has been assisting with both Grasspin and Planet Probe had a Z80 'fluke' device, a replacement CPU device that can slot in where a Z80 would go on a PCB and give complete control over the system, including pausing the code and viewing / dumping the content of any ROM/RAM areas it can see. There are some caveats of using such a thing, clock speeds being the one of them, but after checking out the Brixian board we guessed it would be possible to use it with said board.
Of course such a device makes dumping the 0x200 bytes of RAM I believed the protection MCU uploaded code to very easy. Assuming my original theory was correct then using such a device on the board would make the emulation of the game completely trivial, it would be quicker than writing a trojan then typing in data to find out, and even if the theory was wrong it would give us easier debugging and testing capabilities with the board.
Unsurprisingly it turned out the theory was right, plugging in a simple dump of the main RAM into the MAME driver allowed the game to run through the attract loop in MAME, a few fixes to the input hookups (and disabling the coin lockouts) and I had a playable game.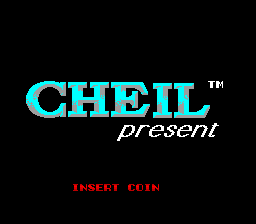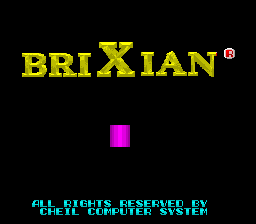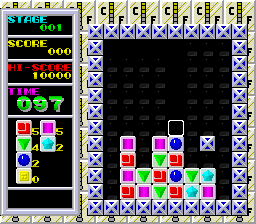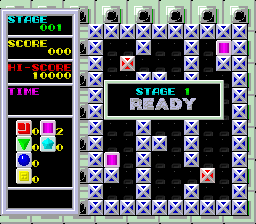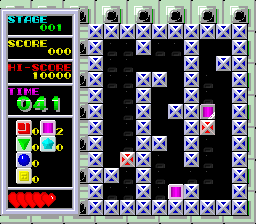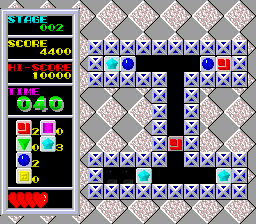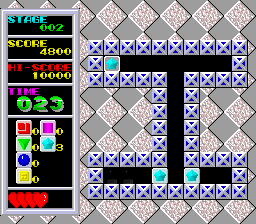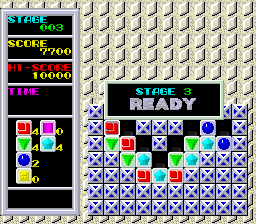 As you might be able to see if you have your brightness on a normal setting and a decent monitor there are some garbage tiles in the black area of the playfield, these get erased / drawn as things move around and appear to be down to a bug in the game code. If you turn up the brightness on the original PCB shot provided by the Mame Italia guys you can see them present there too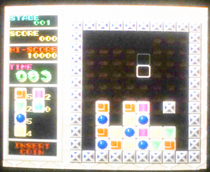 The game as you can see is based on the Puzznic concept, it's not quite as polished as the Taito original, but the code is an original piece of work, not a bootleg, and as a puzzle game it plays fine. The game gives you a choice of 2 'courses' when you start, but the actual levels also seem randomized to a degree.