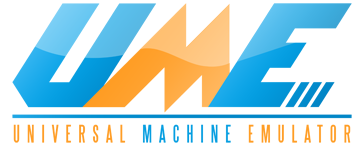 UME is the complete/combined version of the MAME / MESS project.
As I've mentioned in other posts here I'm working on a 'MAME/MESS progress in 2013' article for this site to go with the one I did for 2012. For the 2012 article the cut-off point I used was 2 weeks into 2013 because the point at which an official release happened, however, that has confused a few people because it meant that things like Grasspin and Rise of The Robots were covered in the 2012 article despite happening in early 2013. To avoid this problem for the new article I'm putting out this 0.152ex1 build today, the first day of 2014, and using it as the cut-off point.
0.152ex1 is based on SVN revision 26855
The changelog (simply a copy/paste of the SVN log) can be read here. This isn't formatted as a whatsnew, but as usual I'll summarize the main points below.
UME 0.152ex1 Windows binaries – 32-bit, 64-bit and all tools
UME 0.152ex1 sources
Points of Interest
There's actually not been a great deal of visible progress since 0.152, mostly code reorganization, although smf's work on the Sharp X68000 is noteworthy as it follows on from some other recent work and is starting to bring the driver back into a usable state and it's a driver I consider to be important because it was one of the most capable and interesting of the Japanese home computers.