Sega's System 24 is an interesting system for a number of reasons, one of them being the use of floppy disks for many of the games, not exactly the most reliable of storage methods, nor one with an especially high capacity.
Quite a lot of arcade games keep some kind of book keeping data for operators (and manufacturers) to see how games are performing on location. With most boards this data is either minimal because it has to be stored in an EEPROM (so sometimes just coin counts) or it gets stored in battery backed RAM.
System 24 is a bit different because it stores a decent amount of data on the actual floppy disk, which means when those disks get dumped they still contain said data. In order to attempt to make images easier to compare and make it easier for somebody to dump their own disk and have it match the image MAME expects we do default this data in the service mode before hashing the disk images, however it can be interesting to see the stats that are stored on a disk before that happens.
Recent Ordyne submitted a new dump of the 4 Player (Japanese / English) version of Hot Rod, it's actually a Revision C disk, so newer than the already supported disk for this version (which itself is noteworthy because the fragile nature of disk based games means they're 'at risk')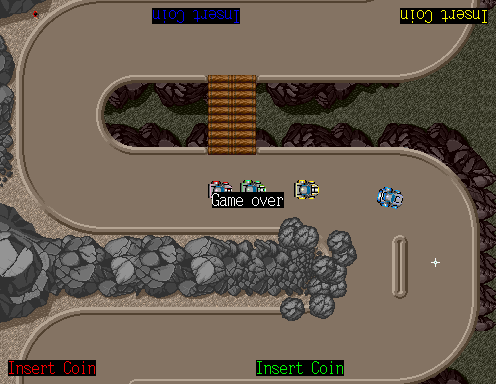 What was interesting to see is that the dumped disk had been used for a fairly substantial amount of time, recording 10717 hours of uptime, which is over a year even if you consider the machine could have been turned on 24/7, which is unlikely.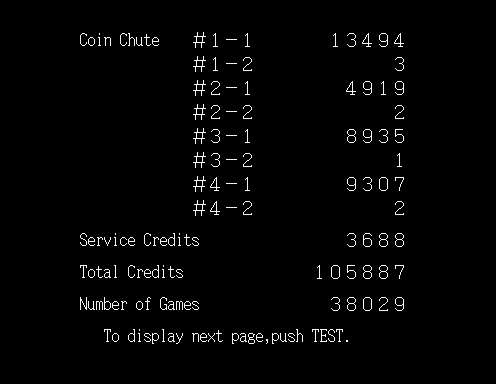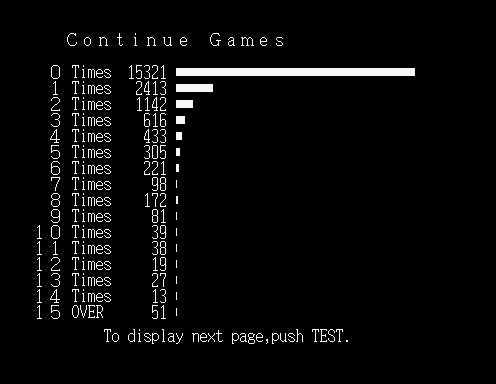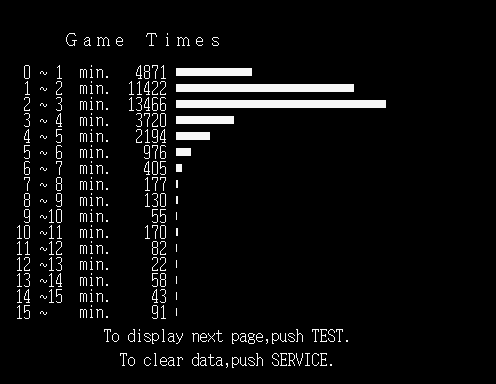 1546 hours of actually playtime in that period suggests that most of the time the cabinet this was from was just sitting there untouched, indicating these stats probably aren't from the game's heyday, but still provide some insight into how the game was played.
The peak per-game playtime at 2-3 minutes sounds about right for an arcade, keeping the money flowing and the line moving, the continue count indicates that most players didn't feel the need to coin feed the game.
There's not a lot of point to this post, and I haven't done any work on the System 24 driver (and it really needs it, I don't think any one game runs perfectly and Gain Ground still has the annoying timing bug causing it to only run in freeplay, not reading the dipswitches at all) but I just thought it was interesting to share some pictures of the bookkeeping mode before the stats are wiped.