Hodge Podge
From Undumped
From andys-arcade: "The main body of the PSE "HP-01" PCB that I have is a direct clone of Kee Elimination! (or Atari Quadrapong if you like) and the latest date code on the chips is 7524 (May 1975). But, the game screen shows something a little different (2 gaps in the playfield), and there's a ton more 555's on the side of the pcb, whose function right now I don't know about. It's clear the PCB is in 2-player mode right now, it may or may not have a 4 player mode, this is selected by a slide switch on the Atari/Kee version, but no switch on this PCB, it might have been a cabinet/control panel option?
There's no ball in play to indicate a working attract mode, and I have yet to work out the pinouts (it uses IDC headers). It's not impossible to do, but very time consuming... Its going to need work. It'll go into storage for now :)"
There's no guarantee that the PSE circuitboard marked "HP-01" is the same as the "Hodge Podge" mentioned in the Kurz-Kasch manuals below (whose game lists have known inaccuracies) but it seems probable.
PCB: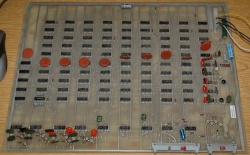 All TTL based, no ROMS.
Screenshot from probably defective PCB: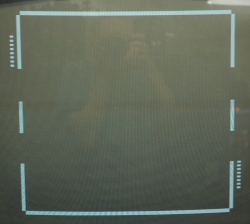 External links
[
edit
]