Pitchman
From Undumped
There are some screenshots in the Volume 2, Issue 4 - January 1984 issue of "Video Games" (Pumpkin Press). Laserdisc-based prototype.
Screenshot: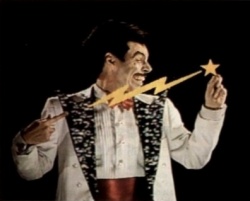 Thankfully archived here: http://www.digitpress.com/library/magazines/video_games/video_games_jan84.pdf pgs. 1, 4, 31-33.
Prototype, never released.
Michael Harris, by way of Keith Smith:

The game was originally called "Dr. Slye's Sideshow" and later renamed "Pitchman". The live-action material starred Steve Sweeney as "Dr. Slye", a "carny from hell". Each phase of play was built around a different sideshow booth: a dart-throwing balloon board with prizes under some balloons, a pitch-the-baseball booth (hence the name) with constantly increasing numbers of bizarre moving targets, a roller coaster that tended to jump the track into different dimensions... Game play was very tricky. As was usual with our games it involved extremely tight interactive blending of high-res video on laserdisc with low-res real-time computer graphics.
The game was never completed. A single prototype was built with about 4 of the planned 15 or 16 booths working (and only a couple of those were completely finished).
External links
[
edit
]