Star Trek 3: The Search for Spock
From Undumped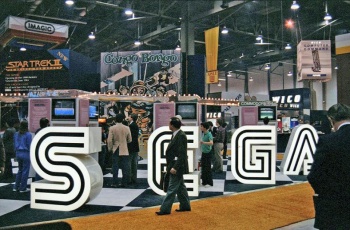 "Star Trek III: The Search for Spock. The Arcade Game: All new laser disc designed by SEGA. Distributed by BALLY/MIDWAY."
Currently there is no known cabinet or footage of this laserdisc-based prototype in action.
Bill Kurtz said he saw proto games when he had a tour of the Bally plant in the early 80's. He said the laser game used footage from Star Trek III: The Search for Spock.
Completed, last seen in the Midway 'Closet'.
Known to have worked on this game: Marty Foulger.
In 1983 I left AMS to work for Sega Enterprises, the American division of Sega Japan that was developing all
of the next generation of arcade laserdisc games. We completed the pre-production phase of a Star Trek
laserdisc game, when the arcade laserdisc bubble burst in 1984, and the project was cancelled.

-- source: http://www.blackmoonproject.co.uk/interviews/marty_foulger.php
External links
[
edit
]