Steeplechase
From Undumped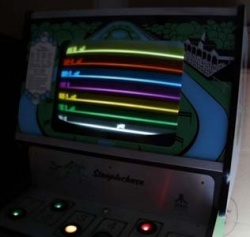 Emulated in DICE, dumped and in MAME. Possibly some ROMs/PROMs need to be redumped again.
Seen also 12/1975 as date on this.
PCB: A003750. (Revisions: Rev. A, B...).
ROMs: #003774 ROM Bugle (C8); #003773-01 "A" Horse (C4); #003773-02 "B" Horse (D4).
Manual: TM-046 STEEPLECHASE, Operation, Maintenance and Service Manual.
Atari's codename for this game was: "Astroturf", which is still printed on the early Rev. A PCBs. The "Astroturf" board has the following (different?) ROMs: #003774 ROM Bugle (C8); #003773-02 Graphics (Astroturf - Rev.A) (C4).
Al Kossow has/had schematics. andys-arcade has manuals with two versions of cover, screenshot and cabinet outline (TM-046 KIOSK).
andys-arcade also has the PCB.
External links
[
edit
]