Stunt Cycle
From Undumped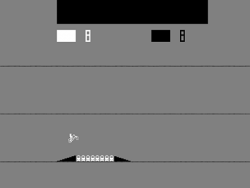 Emulated in DICE. Dumped and in MAME, but not yet emulated.
Atari's codenames for this game included: Sleezy Shifter, Evel, Evel Knievel. Possibly also Motorcycle.
PCB: A004128. (Revisions: Rev. D...).
ROMs: #004275 Motorcycle & Bus (F1); #004811 Score Translator (D7).
Manual: TM-057 STUNT CYCLE, Operation, Maintenance and Service Manual.
andys-arcade has the manual plus an unscanned addenda sheet.
gregf has manual with schematics.
Craig W. (level.floor) also has the Atari Stunt Cycle addendum. It has instructions on pin jumping and clipping to adjust number of buses to be jumped and other changes, and he will gladly send a copy for free.
andys-arcade also has the PCB.
First game with motorcycle handlebars?
---
Information (current as of 28 Dec. 2016) on what logic chips (and some analog parts) are still needed to be emulated in the netlist system per-game:
TM-057 (Stunt Cycle)
	566    Voltage-Controlled Oscillator
	1N751A Zener Diode
	1N752A Zener Diode

External links
[
edit
]