Difference between revisions of "Wanted G7"
From Undumped
m

Line 11:
Line 11:
 

| input =

 

| input =

 

}}

 

}}

−

 
−

May actually be related to [[Wanted (Sega)|Wanted]].

 
 
 
 

Seen at a trade show on 3/26/1982.

 

Seen at a trade show on 3/26/1982.
---
Revision as of 17:37, 10 August 2019
Seen at a trade show on 3/26/1982.
According to Arcade-History and Media Arts Database, released in August 1982.
According to Media Arts Database, developed by "Tech Corporation" (Kabushikigaisha Tekku).
Magazine article: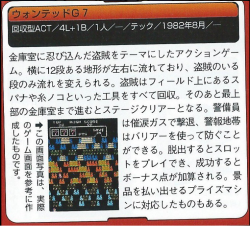 Magazine translation (by "Chris Loves Japan"):
"Wanted G7
Collection Type Action/4L+1B/1 Player/-/Tech/August 1982
An action game with the theme of a robber breaking into a safe. The terrain is made up of twelve levels that run horizontally from left to right. Only the level that the robber is on will change/move (by way of flowing). On the field, the robber gathers all of his equipment, consisting of wrenches and fretsaws. Afterwards, he progresses to the very top of the screen where the safe is to clear the level. Security guards will repel you with tear gas. A siren area is able to function as a defensive barrier. If you're able to escape, you can play a slot game. If successful, bonus points will be added to your score. This game is also compatible with prize machines that dispense (items)."
External links