And, after Pro Soccer, let's take a quick glance about Pro Sports (Pro Tennis, Tournament Pro Golf and Pro Bowling all-in-one package). After some tweakery (and after fixed a Deco16 CPU core bug) , Pro Bowling part is working without backgrounds, Pro Tennis doesn't have score limits (another core bug?) and Pro Golf pushes this PCB to it's limits and currently has many gfxs artifacts…three games, completely different behaviours…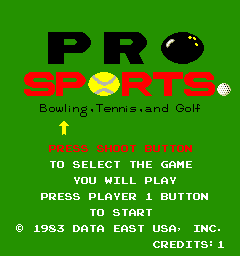 EDIT (18 June 2009): after some days of fierce coding, I've finally fixed the major flaws with this one:
Game now fully working except for some video issues (namely bg flipping and some sprites) and the sound that isn't yet 100% accurate.
Tags: prosport