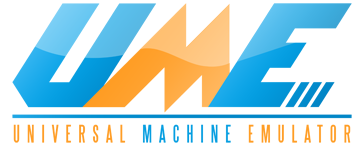 UME is the complete/combined version of the MAME / MESS project.
Official whatsnew texts for (MAME, MESS) provide full details of what has changed since 0.156.
This is the first release built since the official source repository was moved to GitHub, it is based on the official 'mame0157' tagged version.
UME 0.157 Windows binaries – 32-bit, 64-bit and all tools
(source matches official mamedev.org source distribution, here for completeness)
Other Binaries (if you don't know what these are you don't need them)
MAME/MESS split 0.157 Windows binaries – 32-bit, 64-bit and all tools
Points of Interest
0.157 is fairly light on the 'new working games' side of things, but there have been a couple of important revision fixes including a fix for the flickering sprites in '720' that has plagued MAME since some rewrites a few years back.
In the MESS side there have been improvements to the recently added Gamate driver as well as many other changes to less well known systems – it's definitely worth checking out the progress logs there.
End of 2014
2014 is now at an end as far as MAME/MESS/UME releases are concerned, and I'm going to finishg off the 2014 writeup over the next few weeks. In the meantime, what have been your favourite moments?