2019, and 2020 were very busy years for TV game emulation. While many remain unemulated, most of the easy to dump ones were dumped in the last few years.
As is tradition, I'm starting this page as a place to put screenshots and a few comments throughout the duration of the year, and then tidying up the page after the year is out, because these things take time!
Our Old Friend Yamaha
Maybe one of the biggest improvements seen in MAME in 2021 is one of the most difficult to visualize, because it concerns the Yamaha sound cores. When MAME switched licensing back in 2016 some parts ended up being made available under a BSD license, while others were placed under the GPL, with the shipped binaries overall being covered by the GPL license because that's the one with the most conditions attached.
The existing Yamaha sound cores, used by thousands of drivers across MAME were some of the parts to end up with a GPL license attached. If you removed the GPL parts from MAME, because you needed a purely BSD licensed version of the project, that meant a large number of drivers for popular systems were unavailable to you, or would be left without sound. For certain commercial environments, such as releases for the mainstream consoles, the GPL license is considered unsuitable, so you can only use the BSD parts from MAME in those cases. This is because the BSD license, unlike the GPL, does not require you to publish the source of the project you use the code in, only provide proper attribution.
This was a problem for studios wanting to make legal use of MAME on consoles. The older, pre-relicense versions are strictly non-commercial, and the newer versions depended heavily on GPL code for the emulation of sound in many drivers. This led to some sub-par commercial releases, with inferior sound engines replacing the MAME ones. In 2020 all that changed, many of the key Yamaha sound cores were rewritten, and that rewrite was not only placed under a more widely compatible BSD license, but was based on a newfound understanding of the chips from research that had not taken place at the time the original cores were authored.
There were fixes across the board, and a number of small regressions during the process, but those were ironed out quickly and efficiently. Fresh eyes on the cores also meant research was done on some very long-standing MAME bugs, such as the music speed in a number of Konami titles, not least the iconic The Simpsons intro sequence, where the music syncs properly with the onscreen sequences, this can be noticed most obviously when Lisa plays the Saxophone. Many other Konami games benefited from the same change, Salamander, Jackal, Super Contra and more. Even some non-Konami games improved too such as Alpha Denshi's Gang Wars. After seeing the correctly emulated sequence, it becomes impossible to unsee the bad one whenever you run an older version.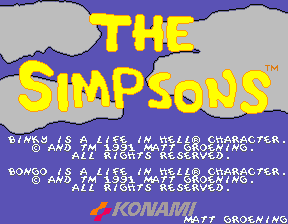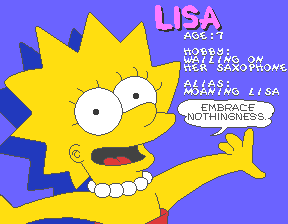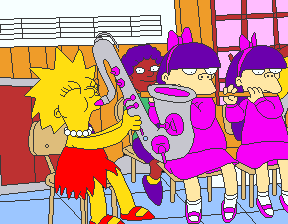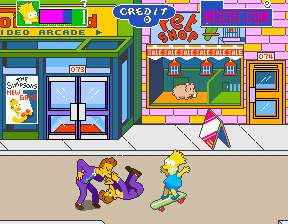 Bugfixes!
One Konami game to benefit from more than just the audio improvements was Contra. Truth be told, the emulation of Contra in MAME has never been correct, and even to this day has some issues with bad sprites being left on the screen after a continue, but one bug, which dramatically changes the difficulty of certain sections was fixed during 2021. That bug was with the 3D sections, and a maths chip which hadn't been properly implemented. Prior to the fix many bullets, and the rolling mines would simply veer off to the right, so you didn't have to make any effort to avoid them. That bug is now history.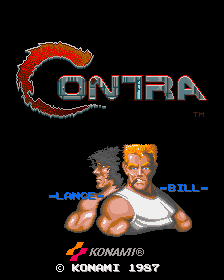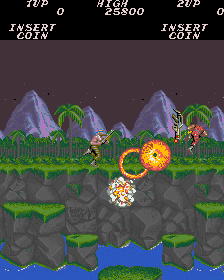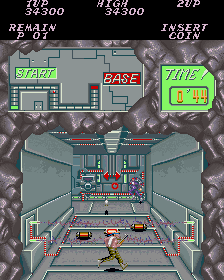 Chou's Time Limit, while undeniably one of the worst, and most frustrating arcade games ever developed, was roughly twice as frustrating as it should have been in older versions of MAME because it ran at twice the expected speed. It seems this hardware only generates an interrupt every other frame, and as the interrupt controls the game speed, fixing that caused everything to move at a much more reasonable pace.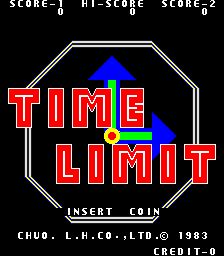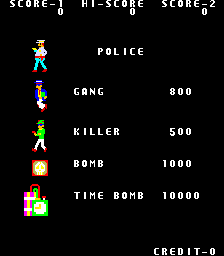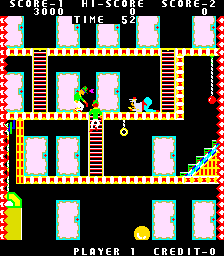 Taito's Rock Climber is an often overlooked game, maybe in part due to the unusual choice to use Galaxian derived hardware, giving it a distinctive, lo-fi feel, but also because while it takes the Crazy Climber formula dual-stick climbing formula, it doesn't add a lot to it. It is another game that until 2021, had never been well emulated; the majority of the enemy sprites were incorrect due to badly implemented sprite banking. The visuals are now correct, even if they're ugly, although it was also discovered that the game uses a 'doorbell melody' type chip for music, much like Phoenix. That part is still not emulated (it has different built-in tunes to the one found on Phoenix)


Another much neglected driver for a Taito published game was the Fire Battle driver. Fire Battle previously had broken graphics in various places, including the title screen, where a lightning effect is used. This was entirely missing before, along with various other colour cycling features.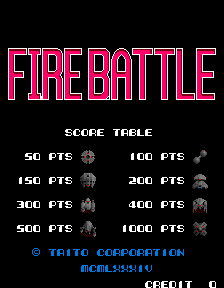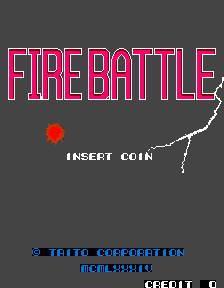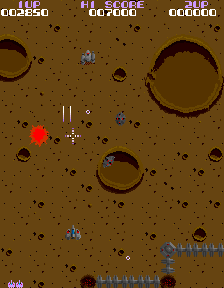 Even the most popular games sometimes aren't perfectly emulated. One discovery during 2021 was that the starfield on Capcom's CPS1 platform, used by only a handful of the games, was not properly emulated. The stars were not cycling through the correct palette entries, meaning they did not have quite the same dynamic look as on real hardware. This was fixed, Strider is a good example of where the starfield is used.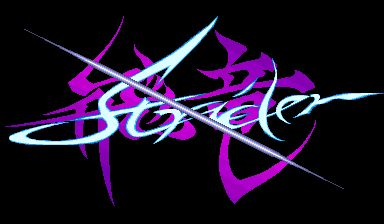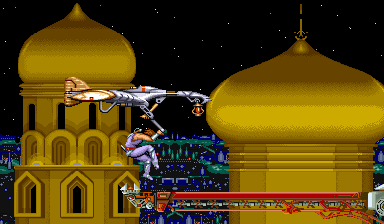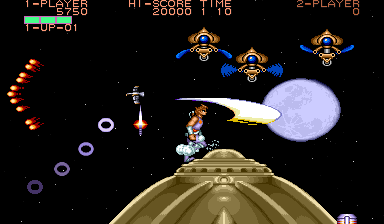 Japanese Computers
The X68000 is considered to be something of a powerhouse, many popular arcade games of the time were ported to this Japanese computer, and it also had a substantial library of original games. MAME's emulation of the system was already fairly good, but 2021 saw many, many improvements to it, which resulted in a large number of games becoming playable, or otherwise seeing significant improvements to their emulation.
Overtake is a racing game, exclusive to the system, that saw big improvements.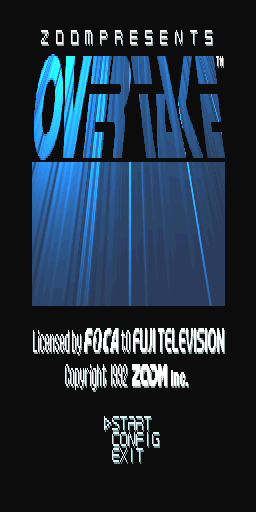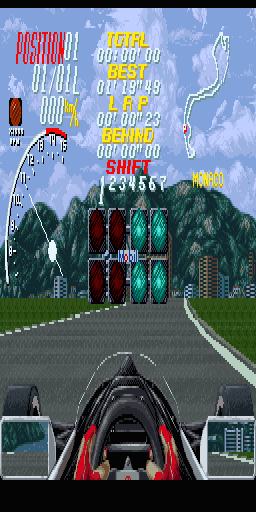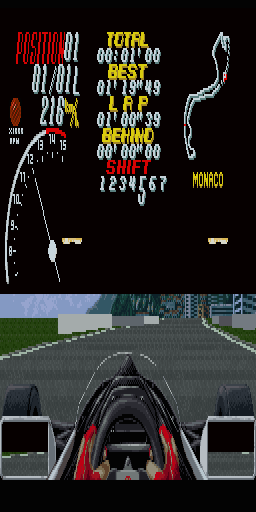 Sharp, not Smart
A single Sharp Cookie educational game from JAKKS Pacific was emulated in 2020, another was emulated near the start of 2021.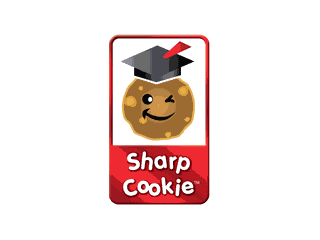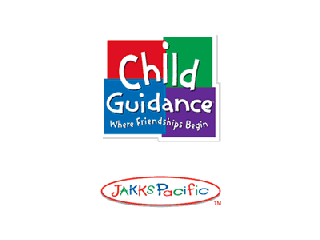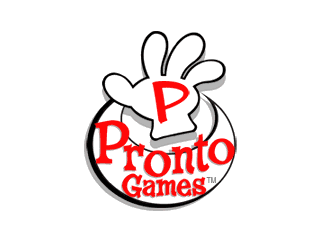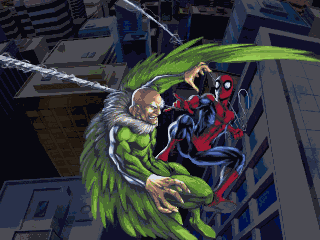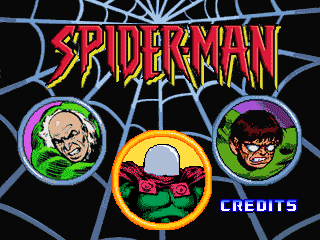 Go Diego Go! Aztec ABC Adventure is another Sharp Cookie that was developed by Pronto Games.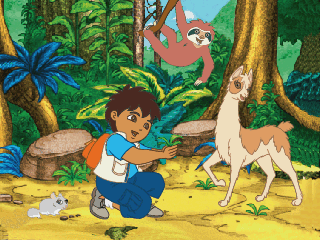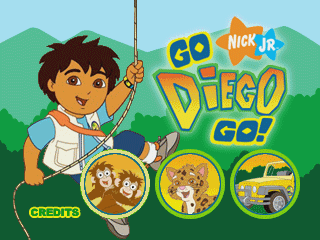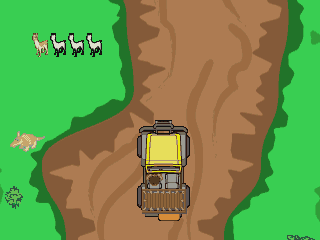 Not all the Sharp Cookie games were developed by Pronto Games, 2 were developed by Handheld Games, and have a slightly different structure, with Easy and Hard modes available from the beginning. Dora the Explorer – Dora Saves the Mermaids is one of those.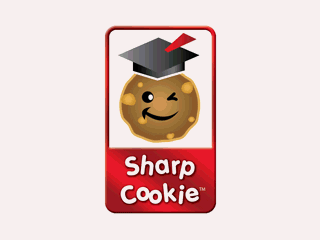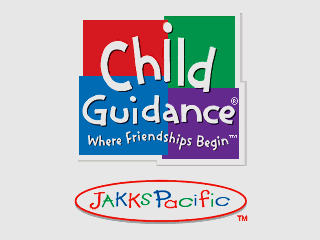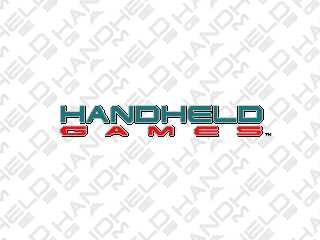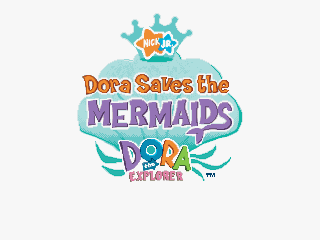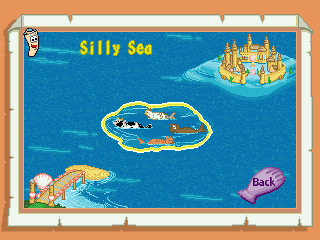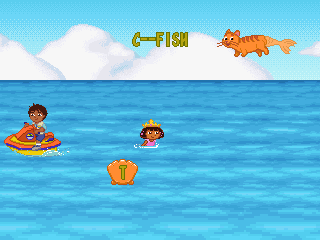 Scooby-Doo! and the Pirate's Puzzles is another that was developed by Handheld games.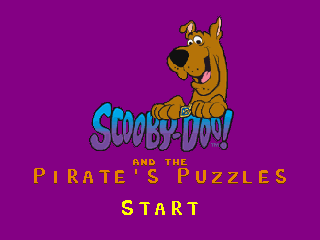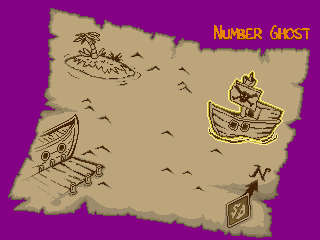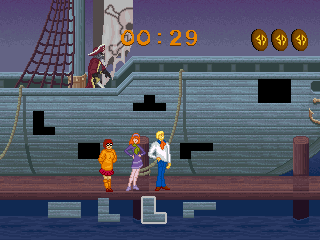 Still For A Younger Audience
Codename: Kids Next Door – Operation: P.L.U.G.G.U.H.S. is another Plug and Play unit with a younger audience in mind. It presents more of a challenge than the above Sharp Cookie games, but is still more or less an introduction to platform game mechanics.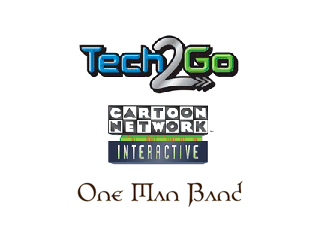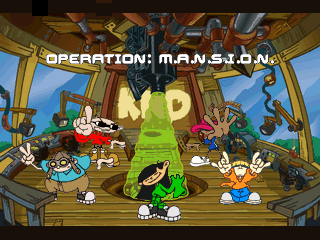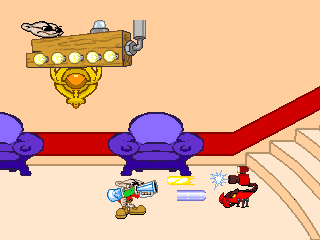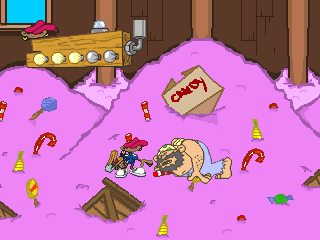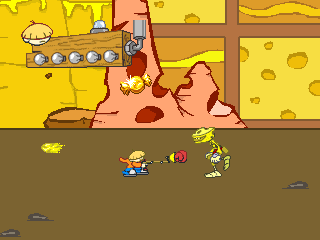 While V-Tech's main focus when it came to games that were playable on a TV came in the form of the V.Smile series of consoles, and accessories for those machines, it did not prevent them from releasing other dedicated TV games. One example of such a toy is the Dora the Explorer TV Adventure Globe, which was a globe themed controller with each continent acting as a button. The machine could also be operated in a non-video mode, which is also emulated.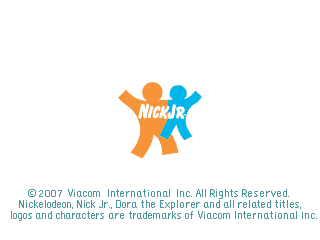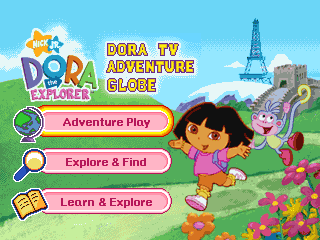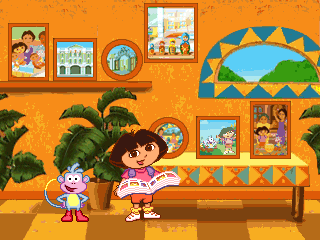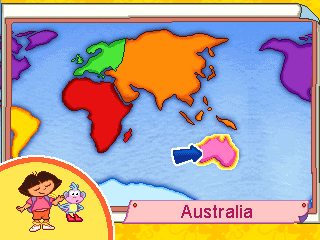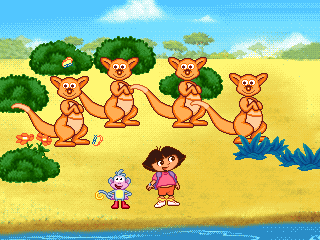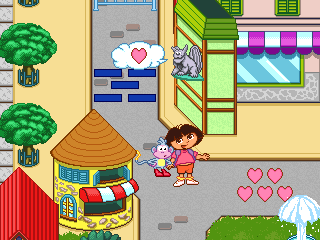 Due to the amount of voice content in the TV Adventure Globe, different regions used different program ROMs. A German version of it was also dumped.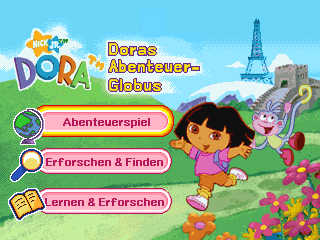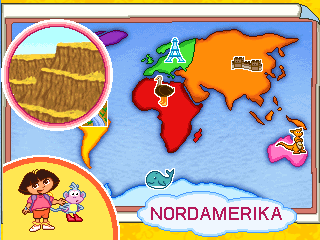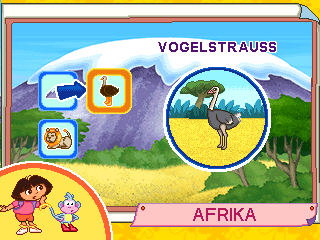 The Dora TV Explorer Phone, which identifies on screen as Boots's Special Day follows a similar formula; a novelty device with both TV and non-TV modes.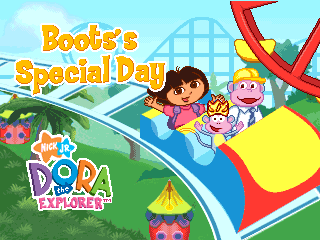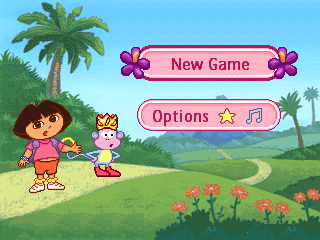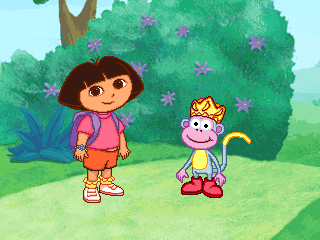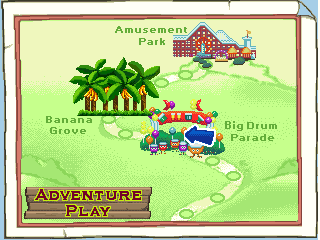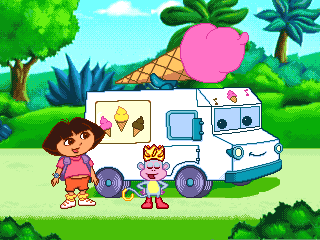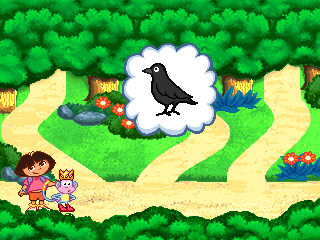 Fruit Machine Progress
It had been a long time since the Fruit Machine drivers got much attention in MAME, but JPM's 68000 based 'Impact' platform saw emulation improvements, resulting in a number of classic Fruit Machines, including Roller Coaster and Sonic the Hedgehog running with (at the time of writing) internal layouts.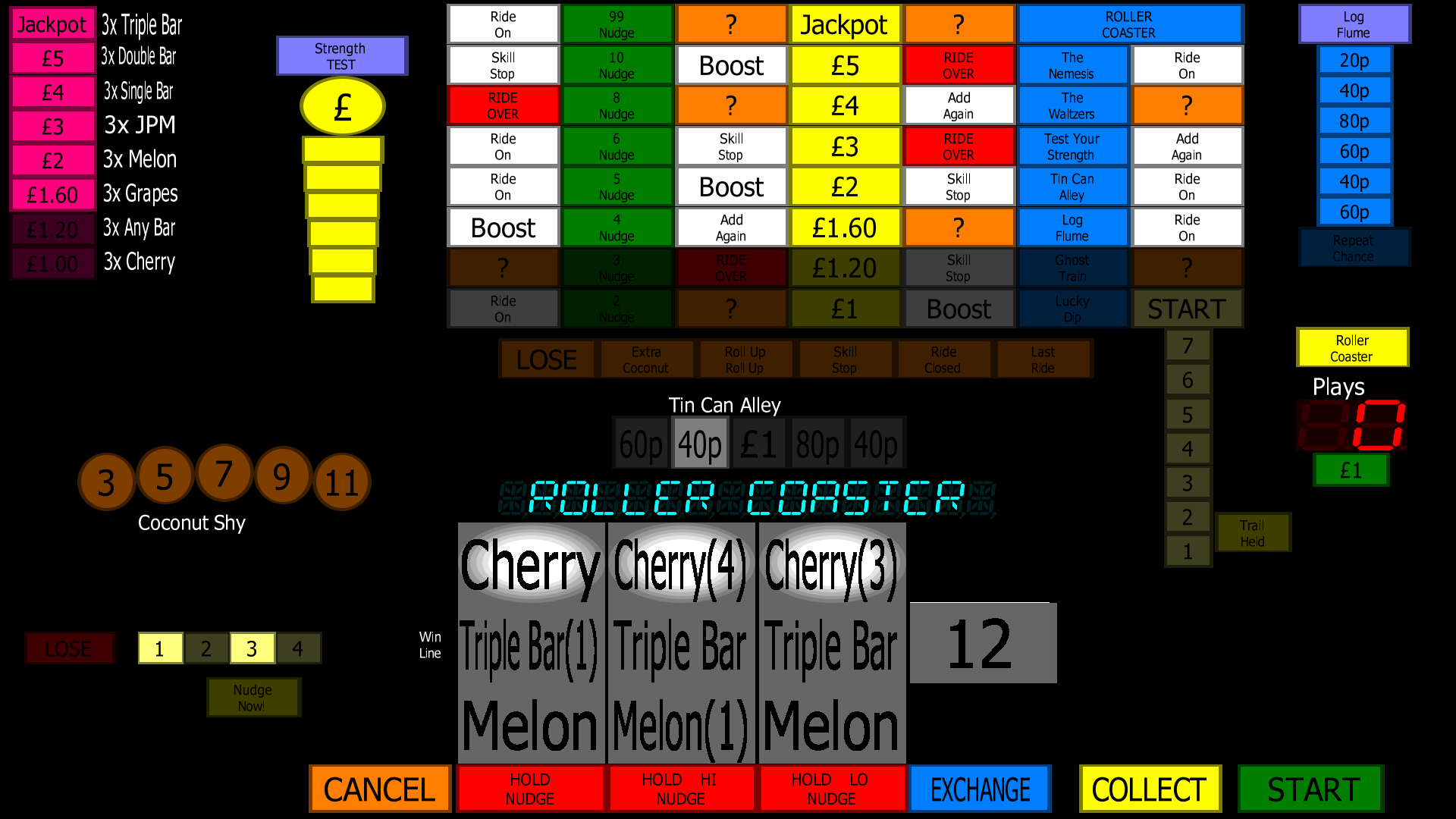 Board Yet?
The TV Board Game Plug and Play units were a set of 5 devices, licensed by Hasbro, featuring recreations of popular board games. The freedom you get with owning the original products is completely lost however; some of these don't even have any gameplay to speak of, with Candy Land being a game of pure chance, where all you do is watch the game unfold. This is a major step down from owning the real games, where in such cases you could create your own rules to keep things interesting, and games like Hungry Hungry Hippos cease to be fun when restricted to a single human player with no physical game board.
The first of the 3-in-1 units contained Silly Six Pins, Hungry Hungry Hippos and Match 'em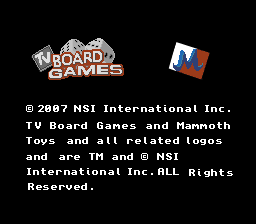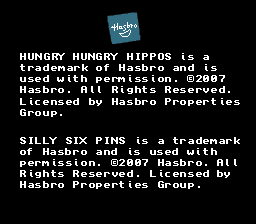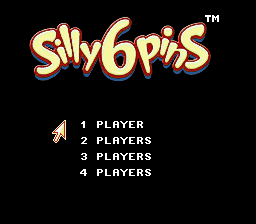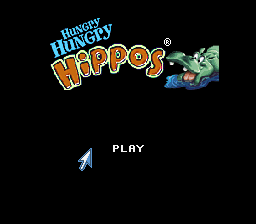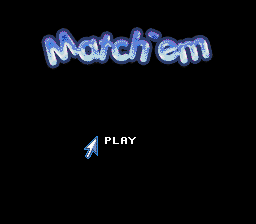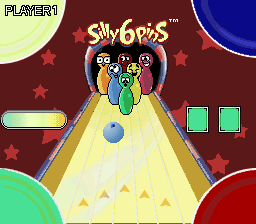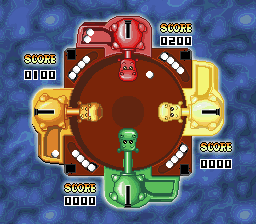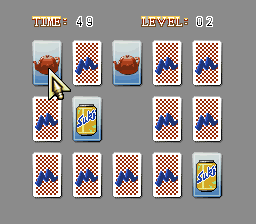 The second of the 3-in-1 units had Battleship, Simon and Checkers.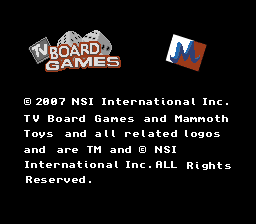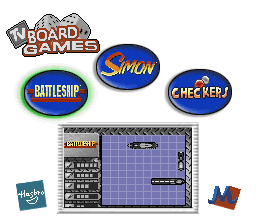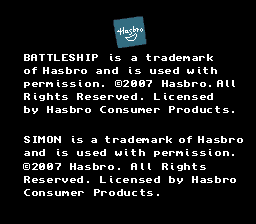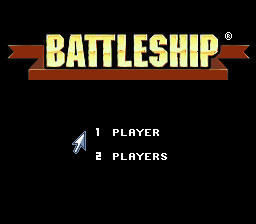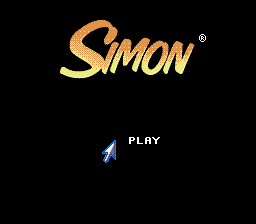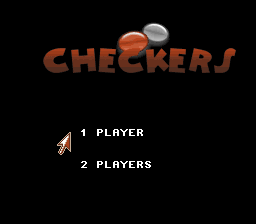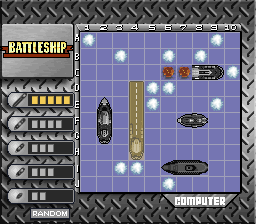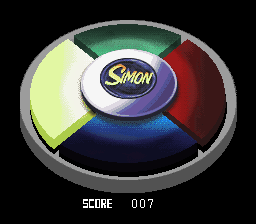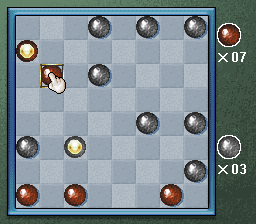 The final of the 3-in-1 units featured Boggle, Connect 4 and Roll Over.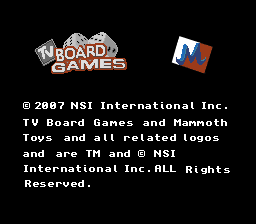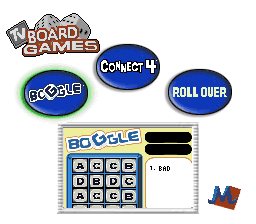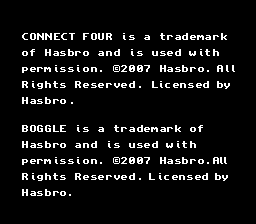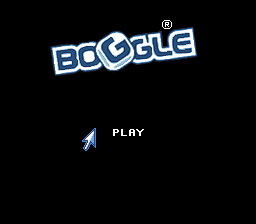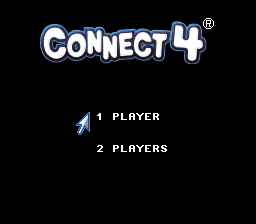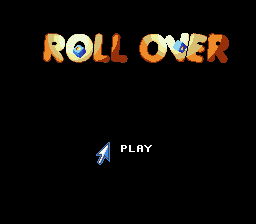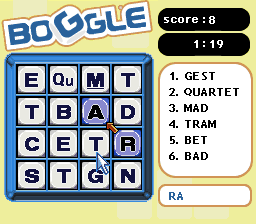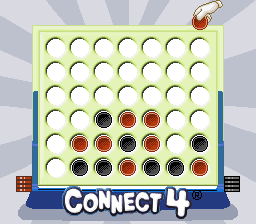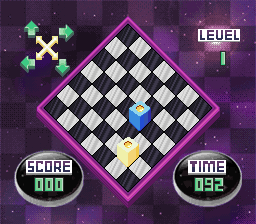 While the original TV Board Games releases contained 3 games each, 2 of them were reissued in 6 game unit form, each adding 2 games previously not found in the lower capacity units. The Boggle 3-in-1 however did not see a 6 game reissue.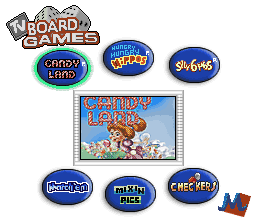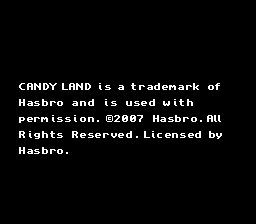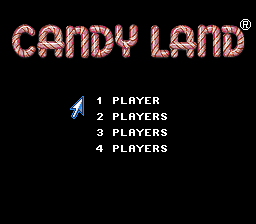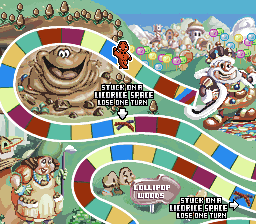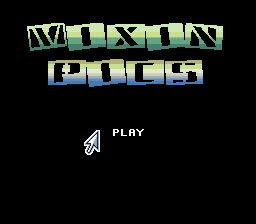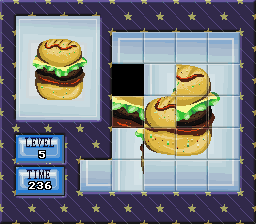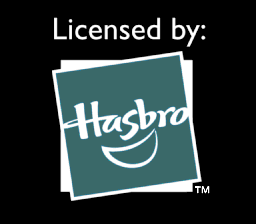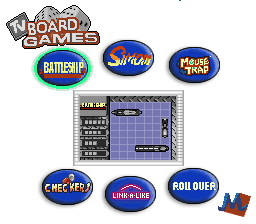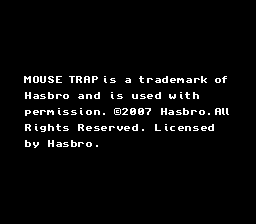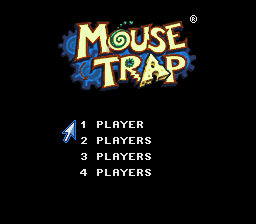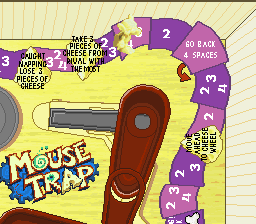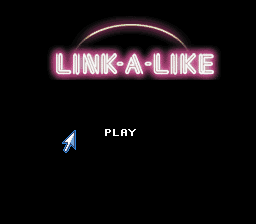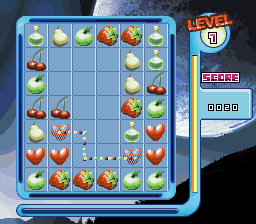 Rare Arcades
Understandably by 2021, the number of new Arcade games for which support is being added to MAME has dropped considerably; almost everything common that is a realistic target has already been found. That said, rare material does still show up in the form of machines that were leftover from failed location tests and such.
Universal's Mrs. Dynamite is one such rare game. Flyers exist for both Japanese and Export versions of the game (with the game showing different presentation in each) but to the best of our knowledge neither version of the game hit full production. A PCB for the export version did show up, and was emulated in MAME. Universal would of course become better known for their male protagonist "Mr. Do" instead. The game features a rendition of "The Loco-Motion" during the cutscene.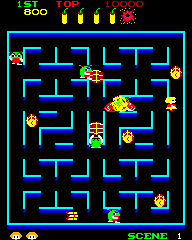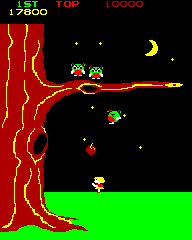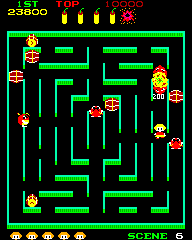 Capcom's Dokaben 2 is another rare one, a sequel to the original Dokaben, released a few months after the first to a very limited market, it's basically a slight reworking on the first game, with new cutscenes / graphics. The game itself is nothing to write home about, being closer to a redemption title, just requiring you to pick random cards to see the story progress.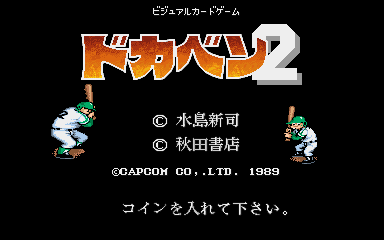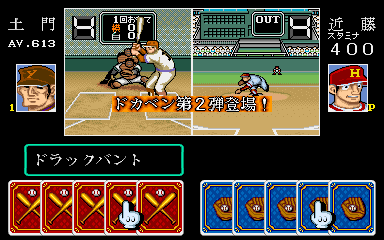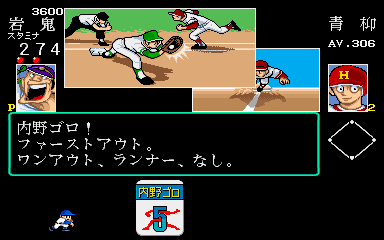 Warp 1 is a rare Sun Electronics "into the screen" crosshair shooter that was distributed by Taito. It offers simple 'aim and shoot' gameplay, although sound is discrete components and not yet emulated.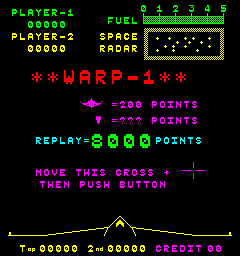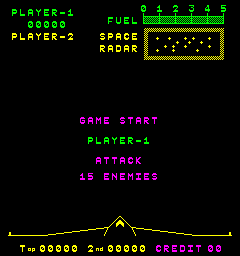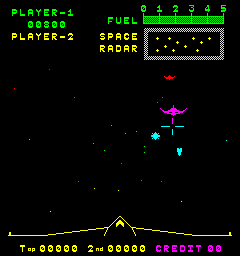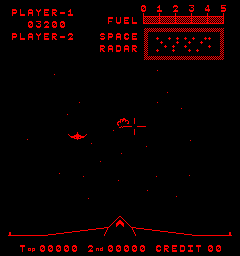 Run Away is another rare Sun Electronics game using the same hardware as Warp 1. This one takes the form of a Head-On clone, apparently licensed by Sega, but instead of cars, uses a running figure and a pursuing alien, giving the game a slightly different pace.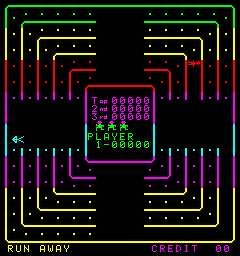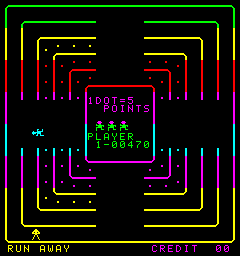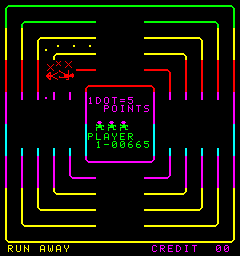 Ms. Pac-Man Twin is a rare hack of Ms. Pac-Man from Argentina, modified to support 2 players simultaneously. It's an incredibly elaborate hack, although is quite buggy, and strips away some elements of the original game, such as the cutscenes, to make way for the 2 player support. People had asked about this one for the best part of 20 years, so it was good to finally see it.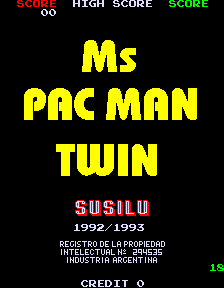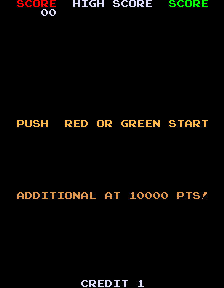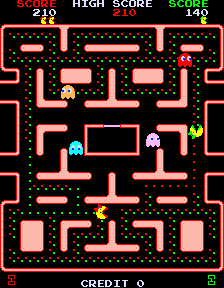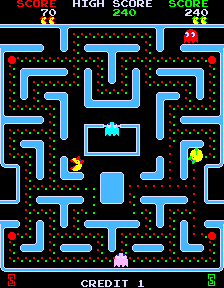 Another Universal game, and this time one billed as the first 16-bit arcade game. Get A Way uses the TMS9900 CPU, although like many early games this has discrete sounds, so until the ciruits are traced and a netlist created, this one runs in silence.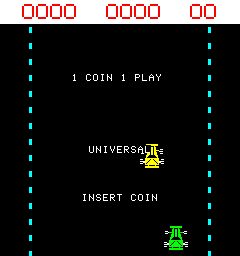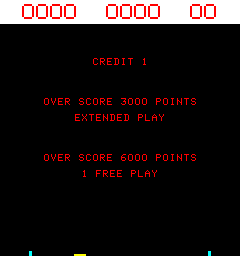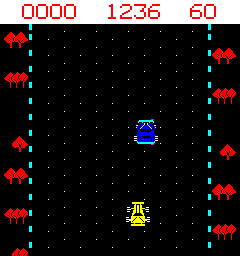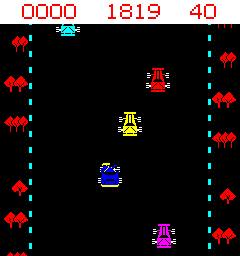 The most expensive machine for which support was added in 2021 (although the driver was submitted at the end of 2020) was Namennayo, an 'up the screen' avoid the obstacles driving game, with slight chase elements. It features distinctivly styled cat characters on both the title screen and in cutscenes.




Several prototypes on Sega C2 hardware also surfaced, although unfortunately not in untouched form, so they ended up being marked as hacks. The most impressive of these is a game from Success that was to be set in the Cotton universe. This one was designed to use a spinner, but the dumped version uses a joystick instead. The sample ROM is also from Thunder Force AC, an entirely different game on C2 hardware from Technosoft rather than Success, so it's possible some sounds are incorrect if that ROM is being used.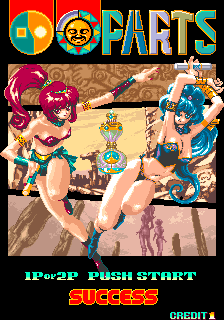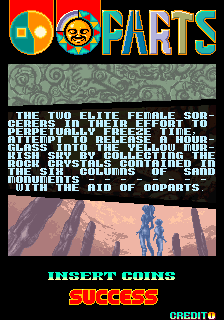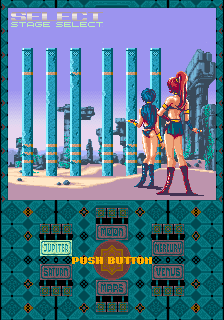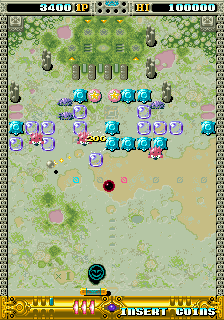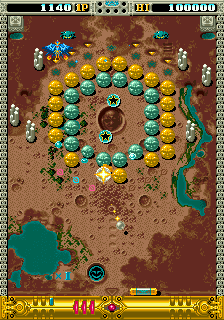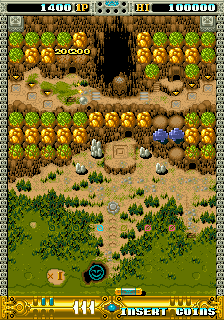 Another C2 prototype was Head On Channel, again sadly the protection has been hacked out of the only ROM available, as it was from a bootleg conversion rather than the original prototype. This was an attempted update of Sega's classic Head On, although it fails to really build on the concept with very little added between stages apart from new themeing. It has a certain charm, but maybe not enough for a 90s audience.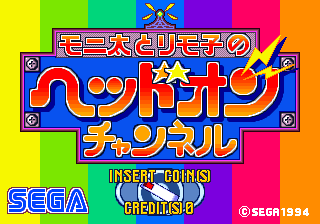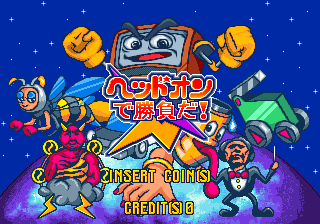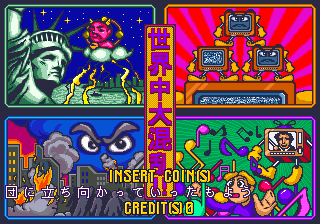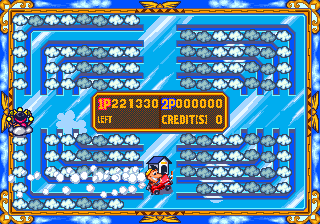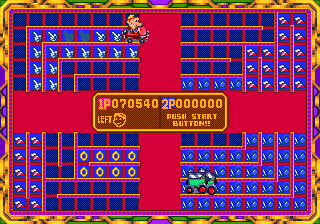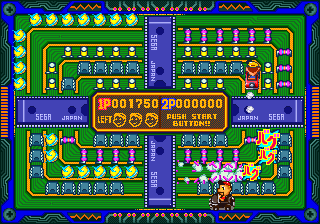 The most famous of the C2 prototypes was undoubtedly SegaSonic Bros, a failed Sonic arcade puzzle game where coloured pieces drop in 2×2 blocks similar to Jaleco's Soldam, but where the gameplay revolves around enclosing areas similar to the later released Cleopatra Fortune from Taito.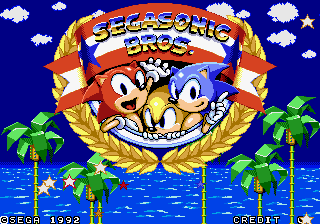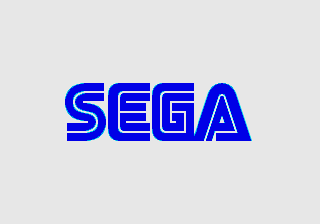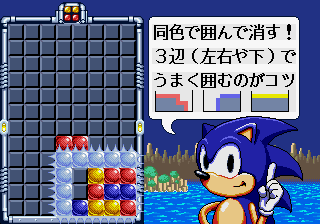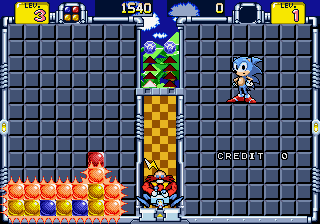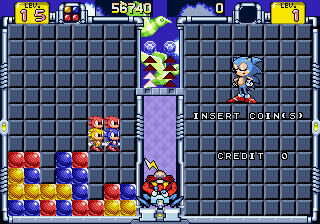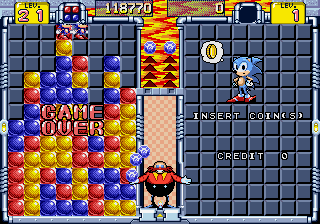 By the start of the 90s the quality of Atari's arcade output had plummeted to an all time low with infamous releases such as Guardians of the Hood. While the quality of the Atari games that failed to hit the market in the 80s was better than many of their competitors games that did the same could not be said in the 90s and the failed prototype Danger Express once again highlights how Atari had gone from being innovators to imitators, seemingly more interested in creating mindless over-the-top credit guzzlers rather than anything creative.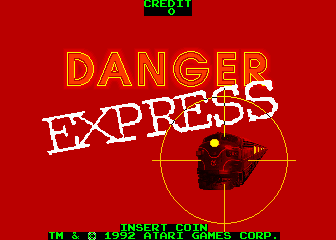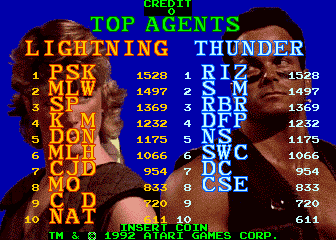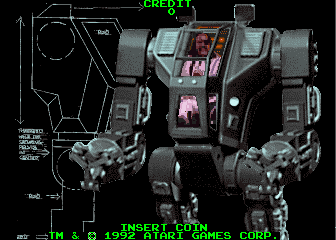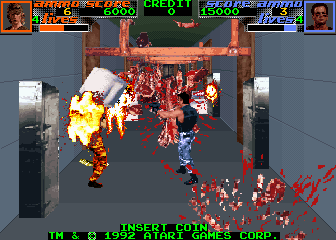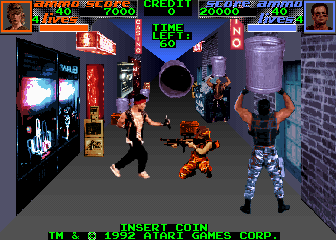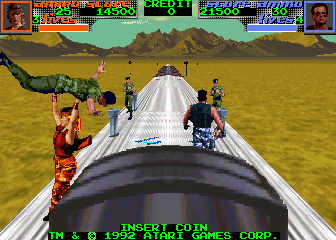 Rewinding back to the 80s we have Monster Zero a game from 'Nihon Game' which previously had improperly emulated protection, leaving it in an unplayable state. As of one of the releases in the later half of 2021 it is now playable however.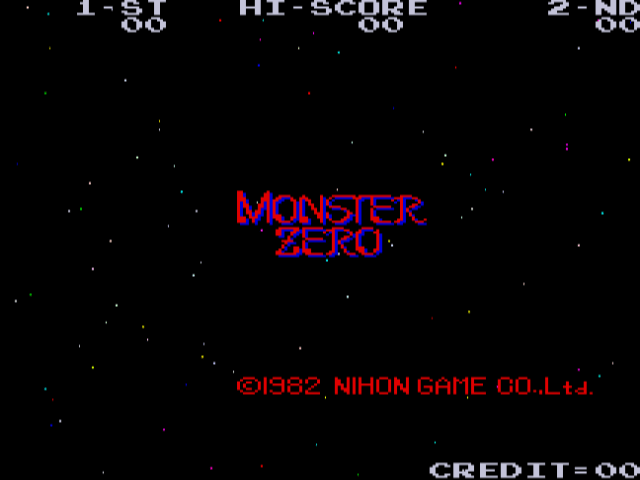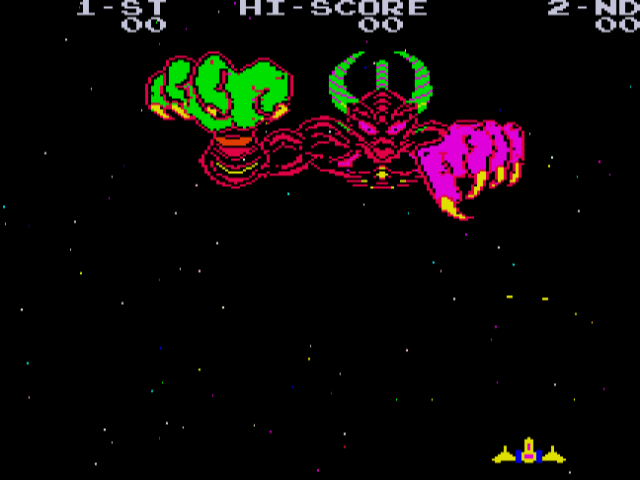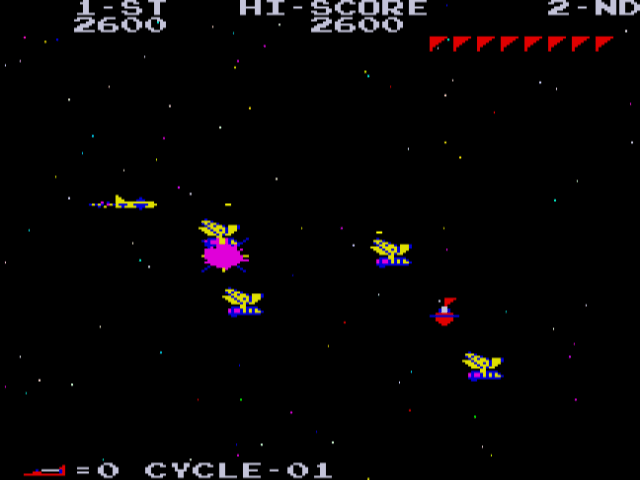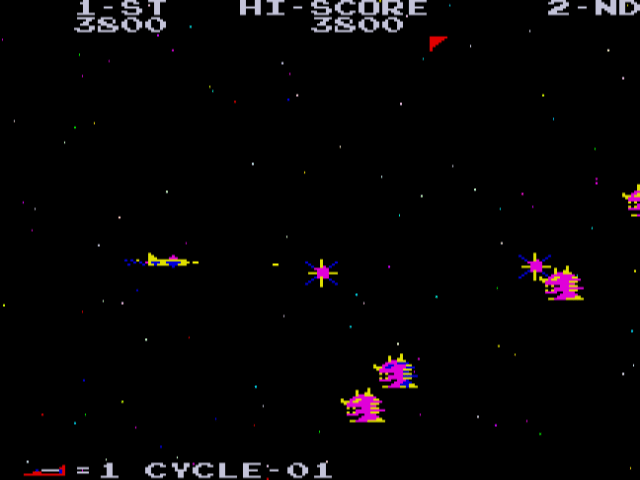 Power Up Baseball is an interesting prototype. It's the result of Midway combining forces with Incredible Technologies in an attempt to produce a trackball controller baseball game that followed the the fast-paced over the top mould of NBA Jam. Unfortunately it ended up combining the worst aspects of each, producing something that just felt like it wanted to relentlessly drain your pockets of money while being too fast paced to understand what was going on, and with a control scheme that didn't make a whole lot of sense. Great to see it emulated, but easy to understand why it never made it to market; while the Incredible Technologies games are shameless coin munchers they do it slowly.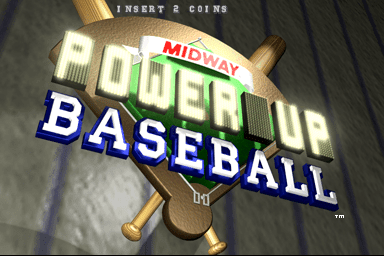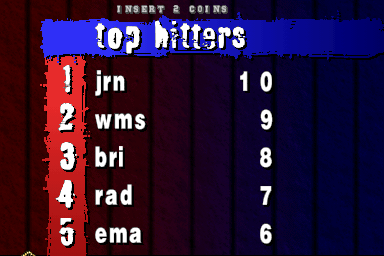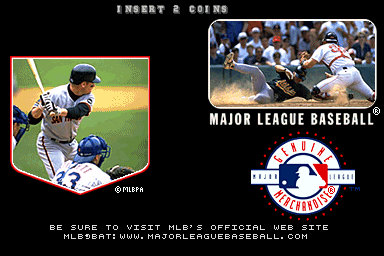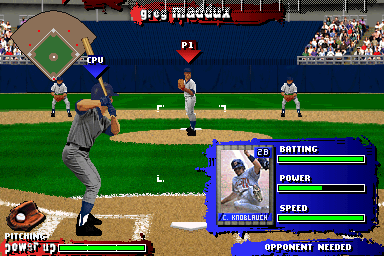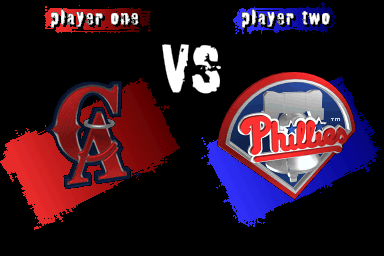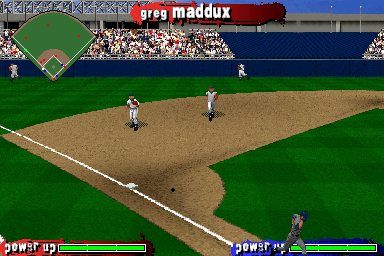 Unreleased Plug and Plays
Maybe even more surprising than rare arcade games still turning up was a handful of unreleased Plug and Play games. It was known that there was a 2nd GameKey in development for the JAKKS Pacific Star Wars "Revenge of the Sith" unit containing 2 games "Catamaran Strike" and "Coruscant Fire Patrol" but the release of it was cancelled when JAKKS abandoned the GameKey idea. Amazingly the software for this did end up showing up, with support being added to MAME.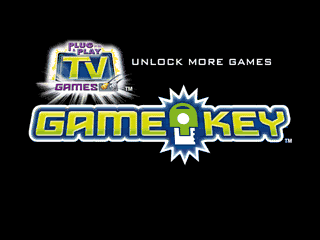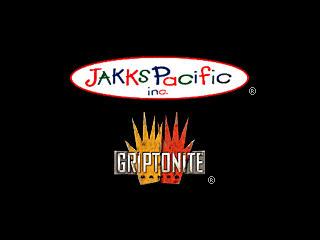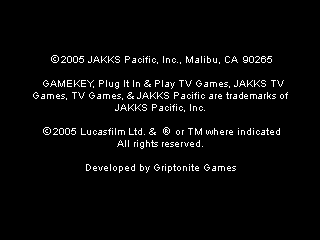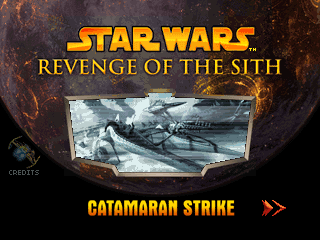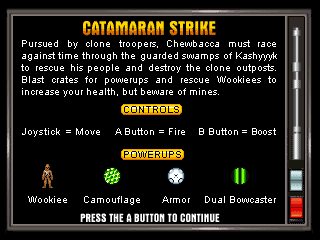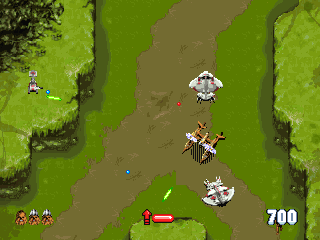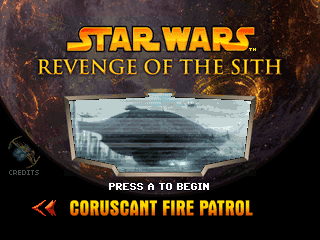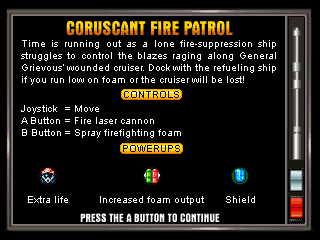 Even more surprising is that there was yet another Star Wars GameKey in development, this one designed to tie in with the Star Wars Original Trilogy unit, a unit that ultimately shipped without any GameKey port at all. This one also contained 2 games "Imperial Gunner" and "Escape From Cloud City"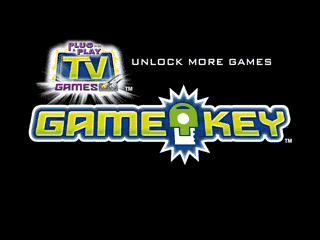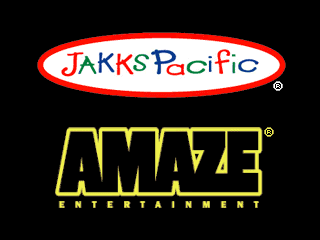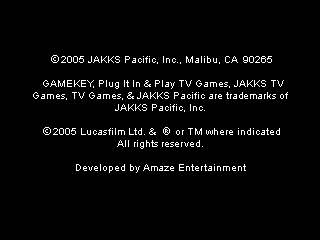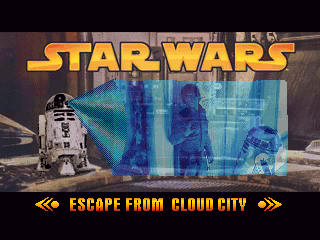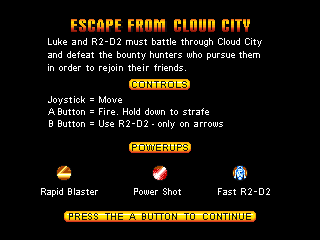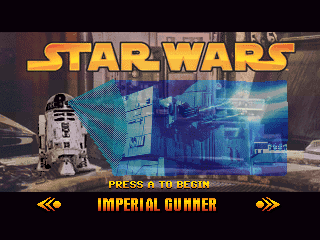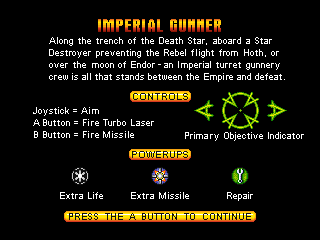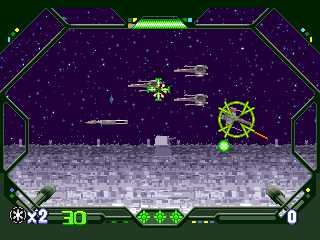 Topping off the highly surprisingly discoveries was an entirely unreleased Plug and Play unit. Dreamworks Movie Night had been developed to completion, and features games based off 4 Dreamworks movies. The product however ended up being shelved and no retail units were ever produced. The Shrek game in this one, featuring Fiona, has an unusually in-depth control scheme for a Plug and Play, featuring a decent set of moves, such as wall climbs, rolls, air punches, flying kicks, attack combos and more. Considering just how bad a lot of Plug and Plays are this one should really have made it to market.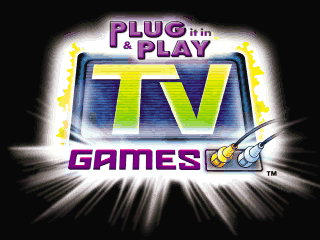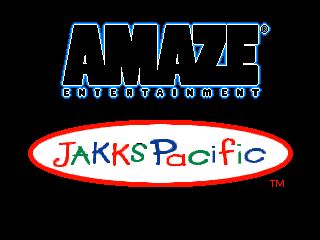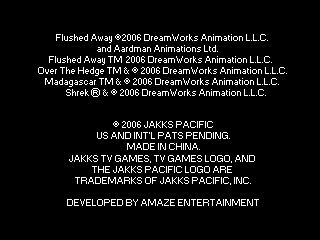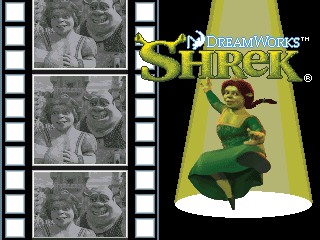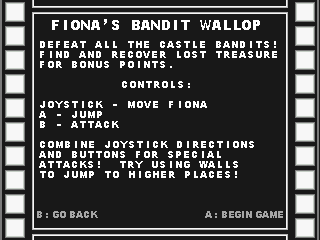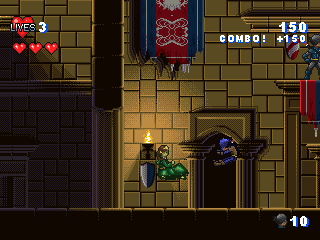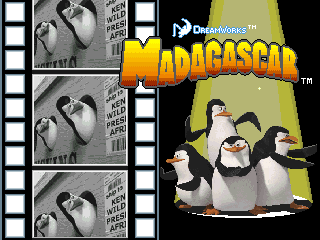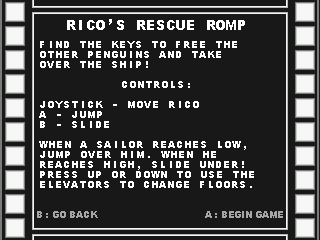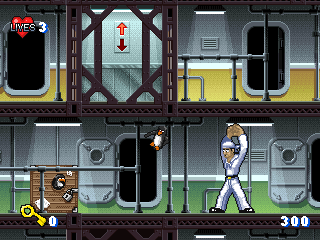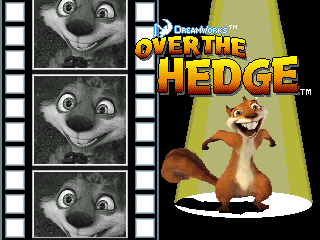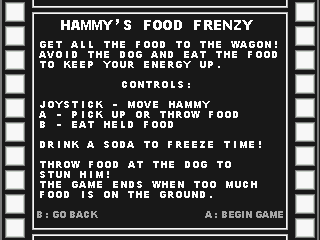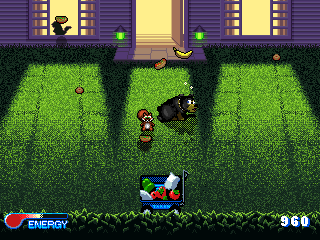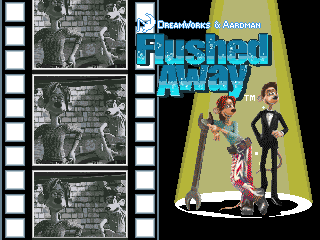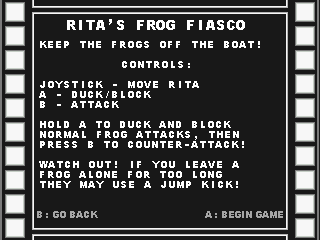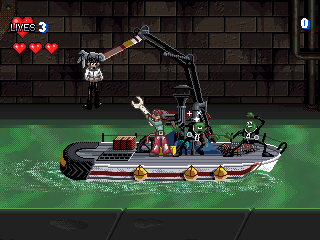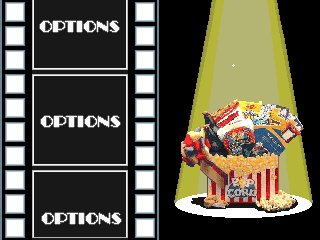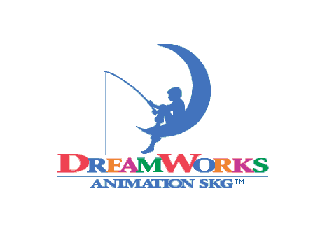 Other JAKKS Pacific Plug and Plays
Some builds of JAKKS Pacific Plug and Plays that were released also turned up. The Star Wars Original Trilogy unit, for which only the later 'Touch' version had been previously dumped, was one of those units. This is the device the 2nd of the GameKeys covered above was designed for, as you can see from the theme of the menus.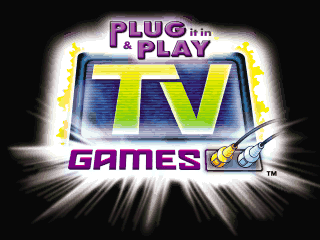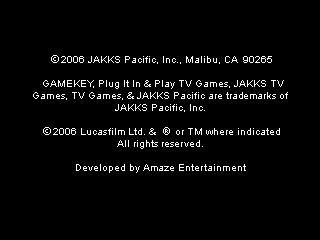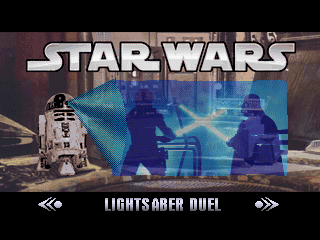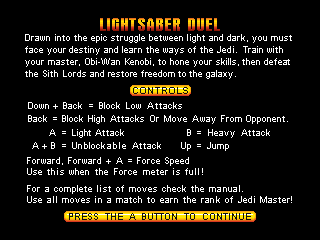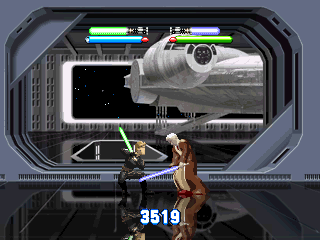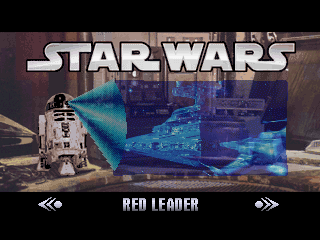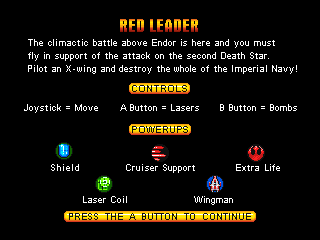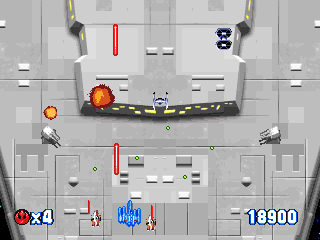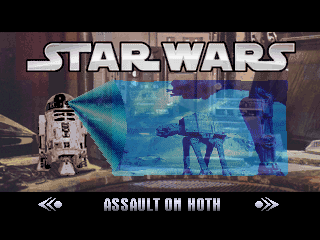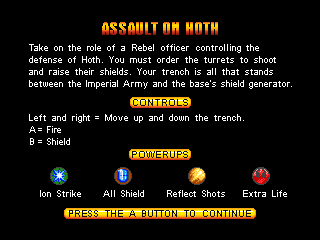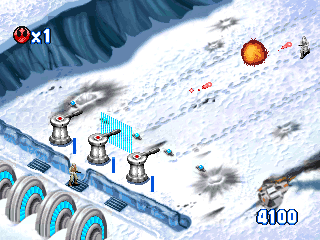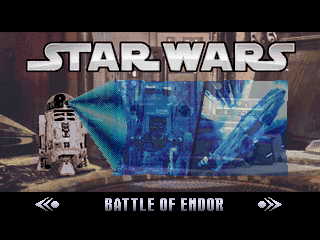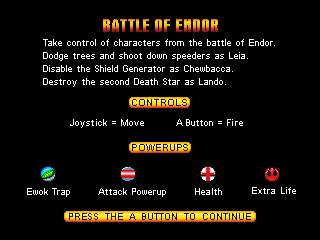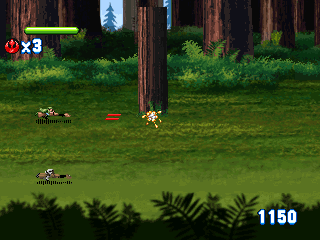 Another unit that did get released is the JAKKS Pacific X-Men one, a 5-in-1 with Wolverine styled pad.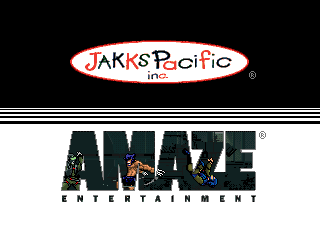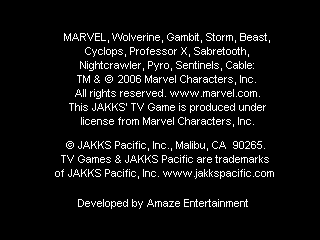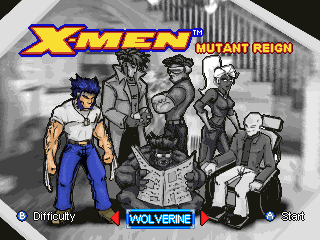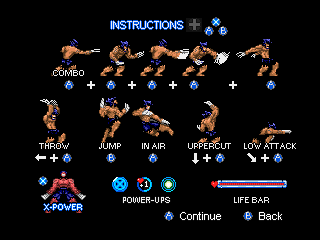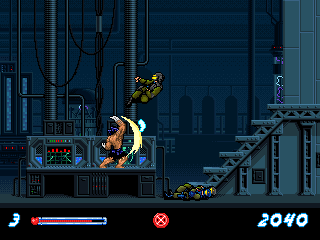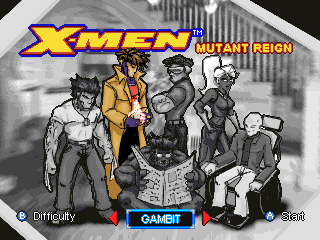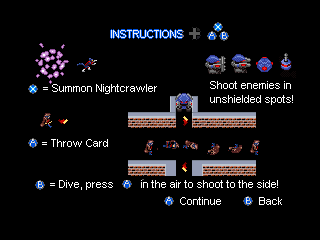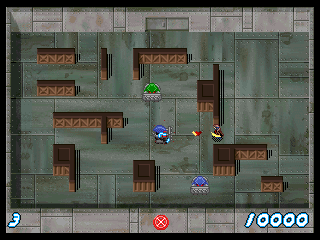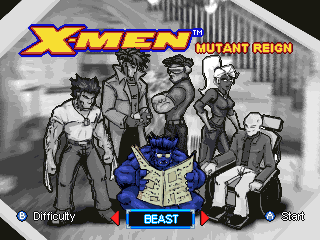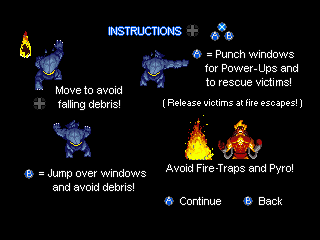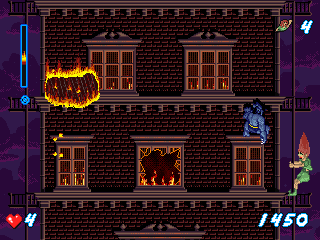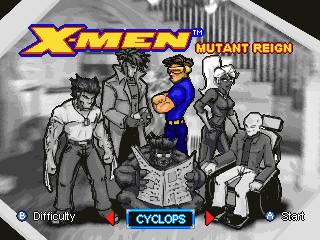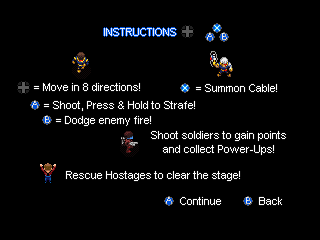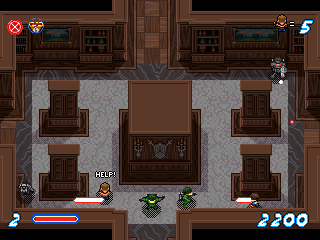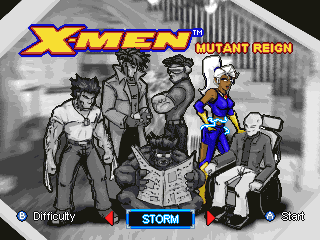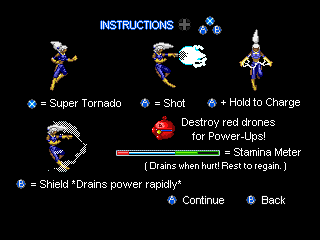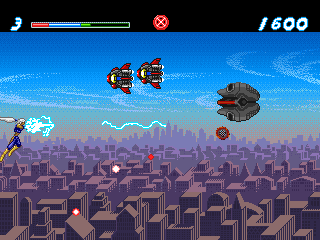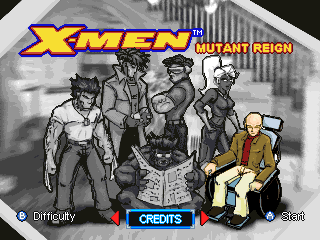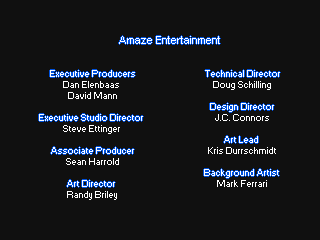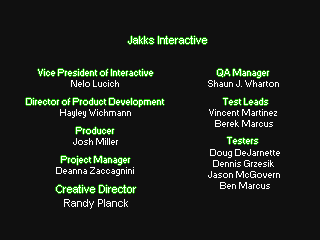 SpongeBob SquarePants was a regular showing on these Plug and Play devices, and another one of the JAKKS units to feature the pourous cartoon star is JellyFish Dodge, a 4-in-1 unit from 2007. This one surprisingly reuses the 2 games found in the SpongeBob Nickelodeon GameKey from 2005, but the first two titles in the unit are new games.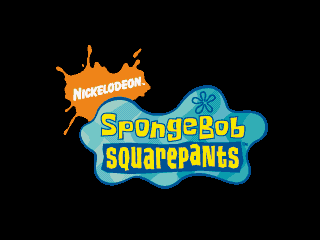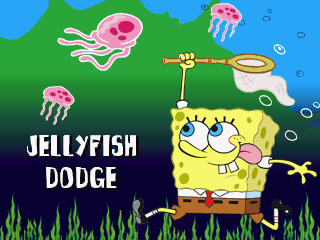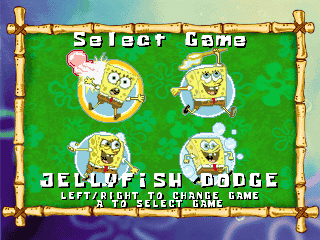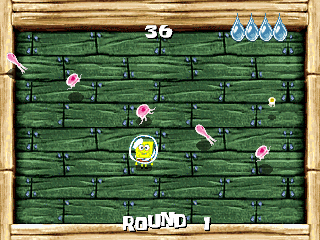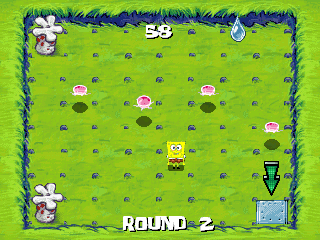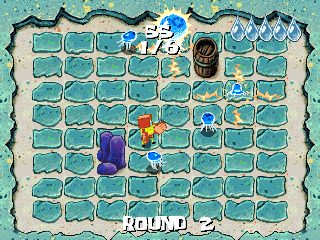 Juicy!
Some products, even relatively recent ones, stick out like relics of their time. The Juicebox is no exception. It was a video player, aimed at kids, where cartridges containing episodes of popular TV shows or music videos could be purchased. The system had a video resolution of 240×160 and ran at about 6fps with a block based encoding that makes the video look even lower resolution. It's awful, especially when a large amount of the content is meant to be fast moving video or sports material demonstrating precision skills. The system had actually been emulated in MAME for quite a few years, but slipped under my radar at least. Strangely in that entire time only 2 cartridges had been dumped. 2021 saw dumps of plenty more appear.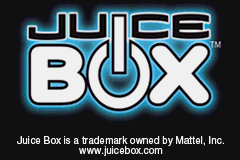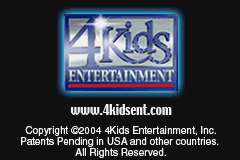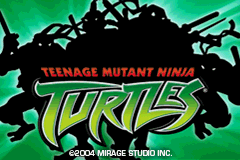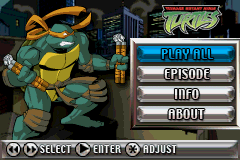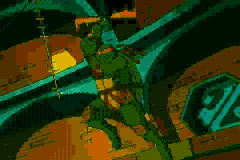 Namco Racers
Namco's 2D racing games had been poorly represented in MAME for over 20 years. The engine sounds had never worked properly, and there were glitches galore with the visuals. 2021 saw many of those problems addressed, the engine sounds were fixed across the board, and individual games saw improvements too.
The original Final Lap, it turns out, ran on a unique Namco System 2 derivative, or possibly it should be said that the boards after it were derivatives as Final Lap was the first released Namco System 2 game, launching to the arcades in 1987. There were a few subtle differences in this first board, it had a lower sprite ROM capacity, and some sprite attribute bits were in a difference place. Prior to the fixes made in 2021 these differences were not emulated, resulting in a corrupt title screen and many missing effects in the game, such as the sparks behind cars and the flag marking your position on the course display uptop. A common problem with the Namco System 2 racers was also the road offset, which was displayed at an incorrect horizontal position. These were all fixed, and with the aformentioned sound fix, Final Lap went from an incredibly poor level of emulation to one more on par with the quality you'd expect in 2021.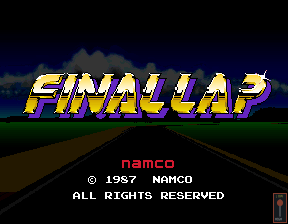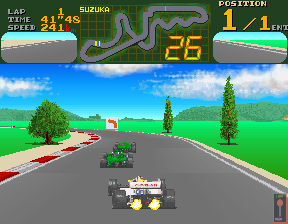 Of the Final Lap games to show improvements, Final Lap R was the most dramatic; previously the sprite code in MAME was failing to render the majority of the trackside objects, as well as a number of other ingame elements. It feels like a brand new game compared to the state of the previous emulation.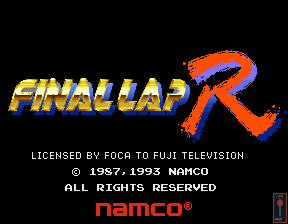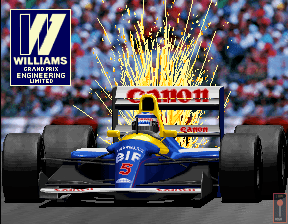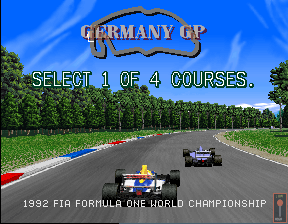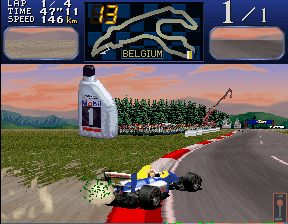 Gaelco Improvements
While Thunder Hoop had been 'supported' in MAME for quite a long time, calling it a working game would have been a push. 2021 saw the broken video priorities, used in many places through the stages, fixed, and maybe most importantly a crash when you died on Stage 4, which turned out to be a very devious protection check, where the game would measure the frame timing. MAME incorrectly had the game set to 60hz, as this is usually what drivers are set to if correct frequencies are unknown. In this case the game expected a refresh rate of around 57.4hz and actively times parts of the game to ensure that it is with the delayed protection fail kicking in at level 4. Evil I have to say.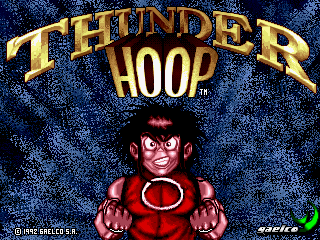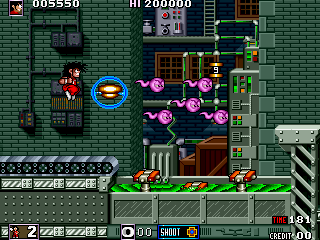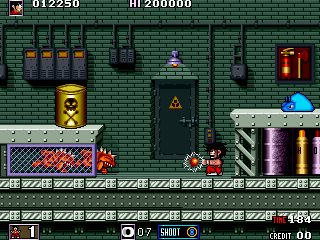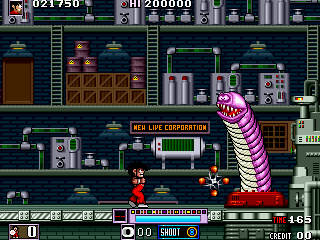 Forget This!
Sometimes it's clear when a series has run it's course, and much like the final entry in IGS's Knights of Valor series flattered to deceive, Cave's final DoDonPachi entry marks a series low. It's a curious one to see in emulated form, but it mostly just shows the lack of direction the series had at this point having already previously pushed the genre to its limits. This one was not especially well recieved in arcades, nor with the subsequent Xbox 360 port.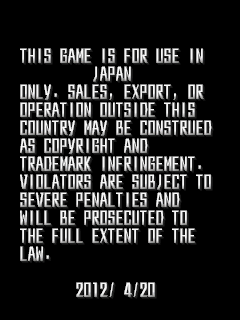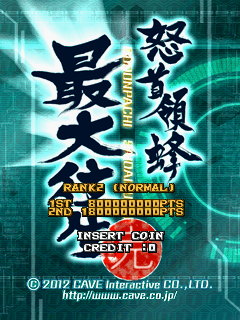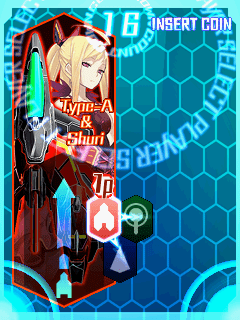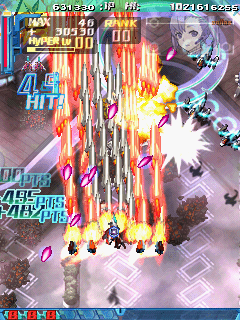 Curiously, prior to the original version of the game being emulated, a bootleg verison which replaced a number of the art assets surfaced. A number of PCBs used in arcades were converted to this version, but again the reception was mostly negative as it was obviously a hack, although much of the critisism was directed at the gameplay and cluttered visuals, which ironically were unchanged from the original.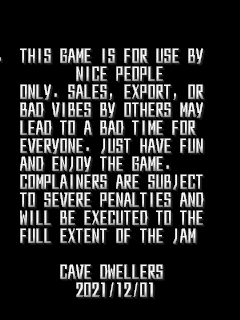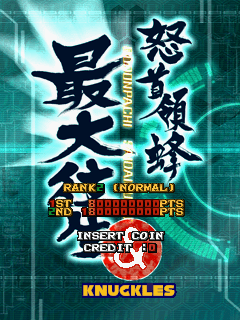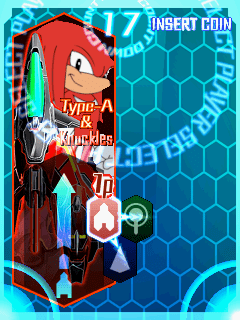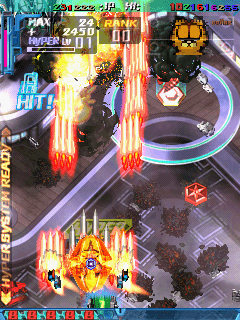 Bootleggers and some other circles weren't happy with there only being a defaced version of the game available as it was more difficult to pass it off as original, so in the short time it was the only version available, hacks of that set were created, attempting to restore the game to a more 'original' look by removing some modified elements entirely and using assets extracted from the Xbox 360 port fr others. Again the reception was mostly negative with players, although it did fool some operators who weren't meticulous enough to spot that it was not an authentic version into installing it in their arcades.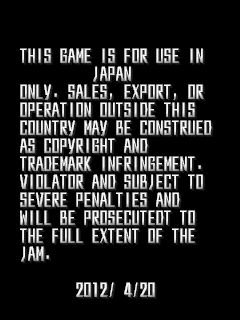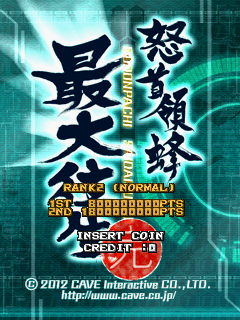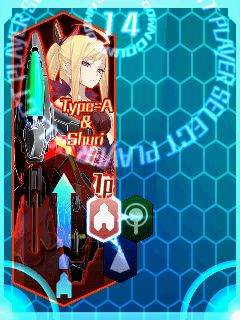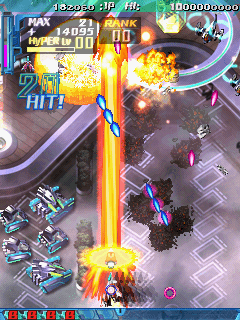 Voodoo Optimizations and Improvements
One widely appreciated improvement in 2021 came in the form of improvements and optimizations to MAME's emulation of the VooDoo chipset, a 3D acceleration technology from the 1990s, designed for use with PCs of the period, but also used extensively on arcade boards to provide 3D graphics. Many Atari and Midway games saw significant performance improvements, including the popular Blitz series and later Midway racing games such as Road Blasters and Cart Fury which had always struggled even on higher end machines.
There were some fixes to go alongside these optimizations, including one for the Korean dgPix title 'Funky Ball' which is somewhat unusual in that it used what was basically PC hardware, but on a single dedicated PCB. This one does not yet run at full speed in MAME, because it was powered by a 233Mhz x86 processor, and MAME has no recompiler for the x86 series of processors, but the visuals are now correct at least; previously textures were corrupt and characters frequently vanished. This was actually a simple case of the game trying to read a write-only register, and setting incorrect bits as a result; sloppy coding in the game. Sound was also hooked up for this one, but is still mostly incomplete due to the sound CPU used.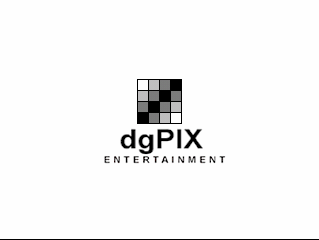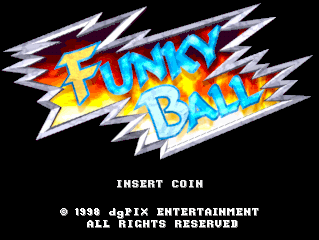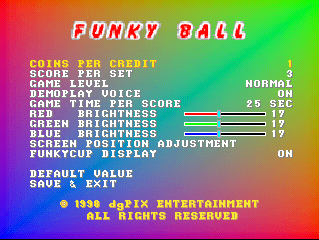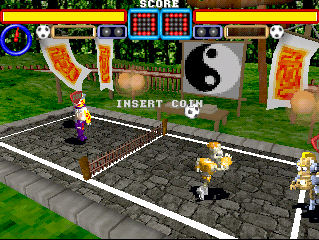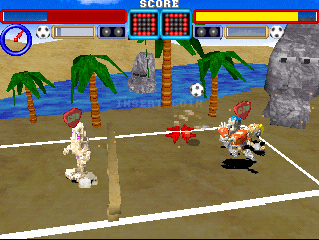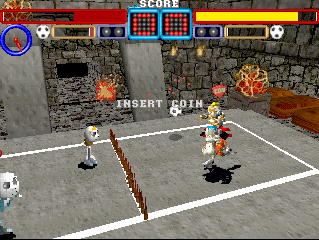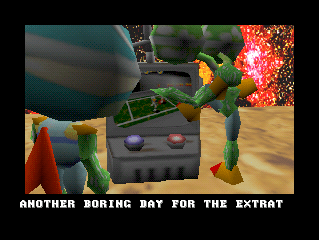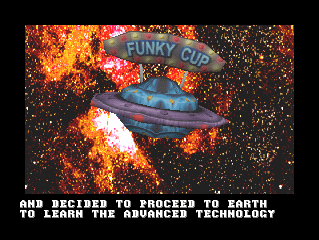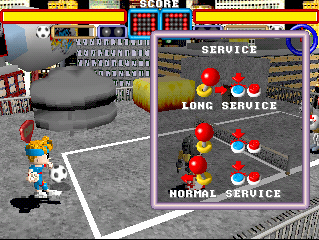 Mahjong
Even in 2021 there are quite a few unemulated Mahjong games, especially if you include variations of already emulated ones, for example ones with payout, and ones without. A number of Mahjong games with more complex set-ups also still remain unemulated, but 2021 would see an early example of a dual-screen Mahjong game crossed off that list. "VS Mahjong Triangle" is a 1986 Dyna (Dynax) arcade Mahjong game, with a single PCB driving two monitors allowing for either regular single player Mahjong against a computer opponent, or a special Versus mode, where you play against the player on the other screen.



Konami 3D
Massive improvements across the board were made for the emulation of Konami's 3D platforms in 2021, with improvements to Winding Heat bringing it to fully playable status. Performance is good here too.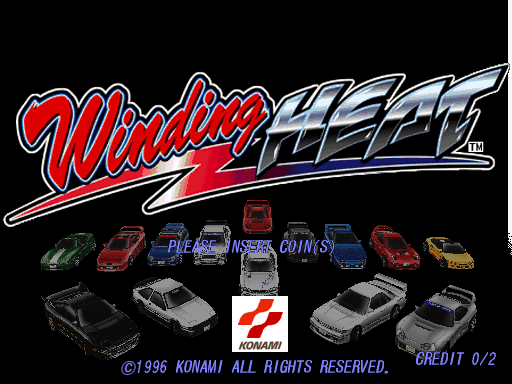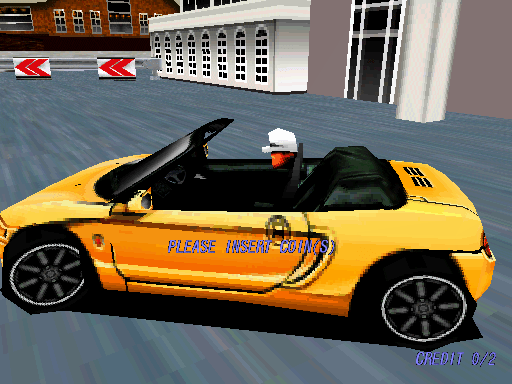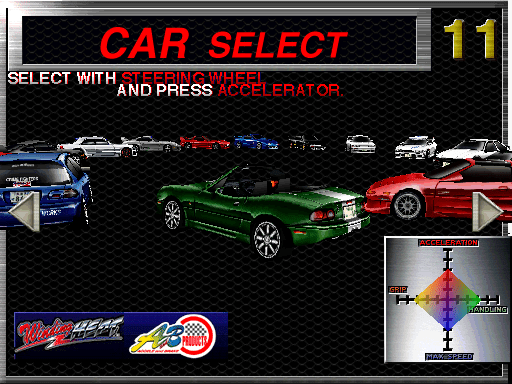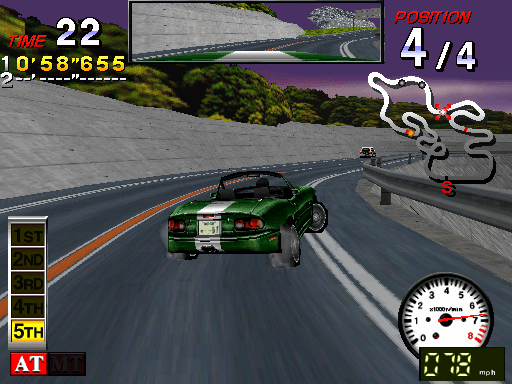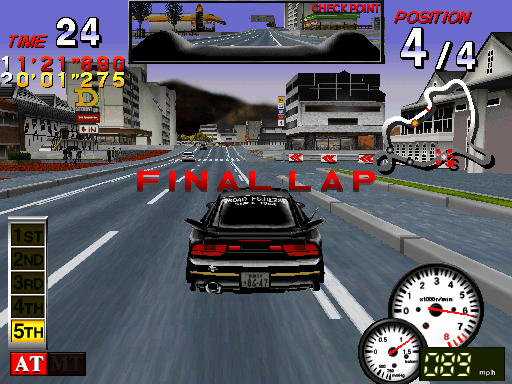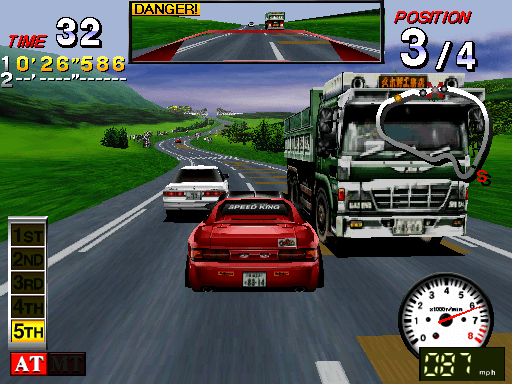 All versions of Solar Asaault were improved too, and now run stable with much better graphics
There's the export version, simply titled Solar Assault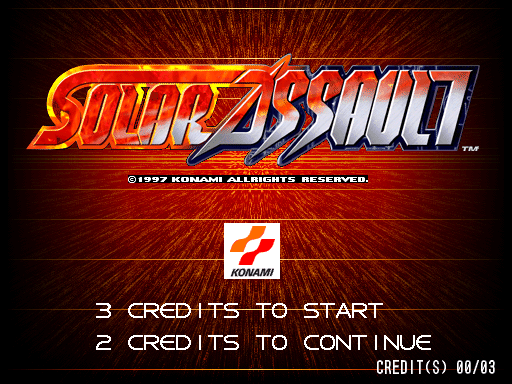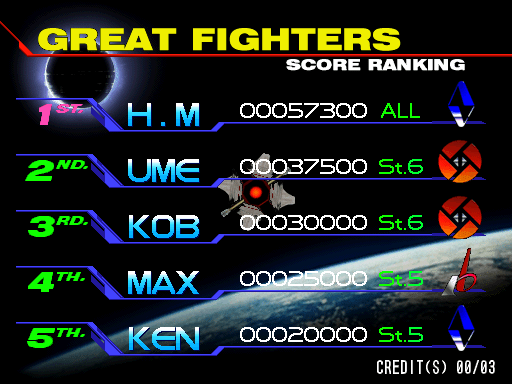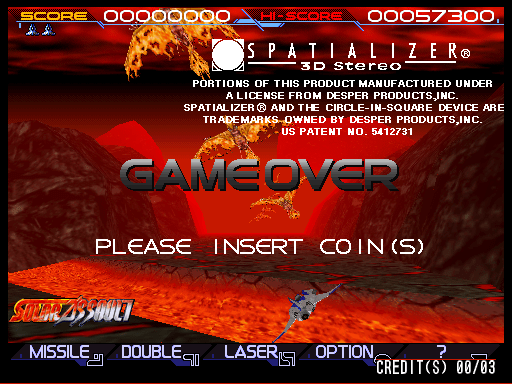 The newer Japanese version, titled Solar Asssault Revised, on which the Export version was based.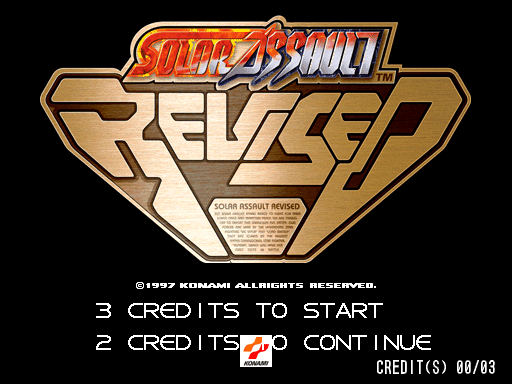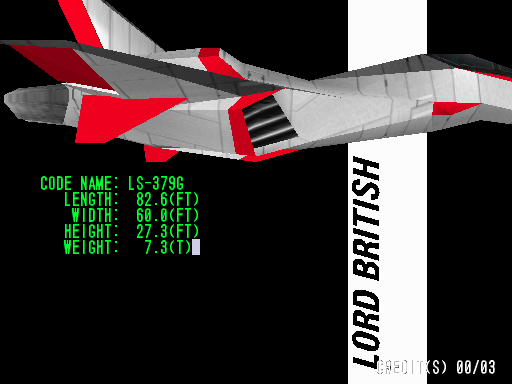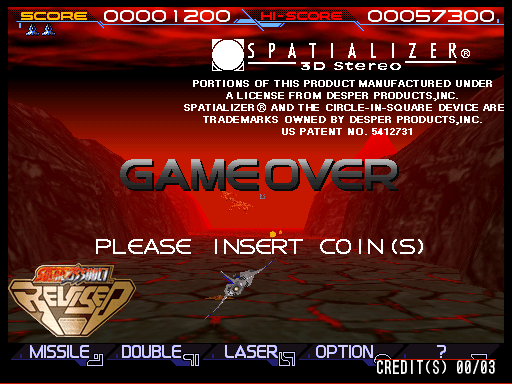 ..and the original Japanese release, which was subtitled 'Gradius' to show the ties between the games; this version never left Japan and has many differences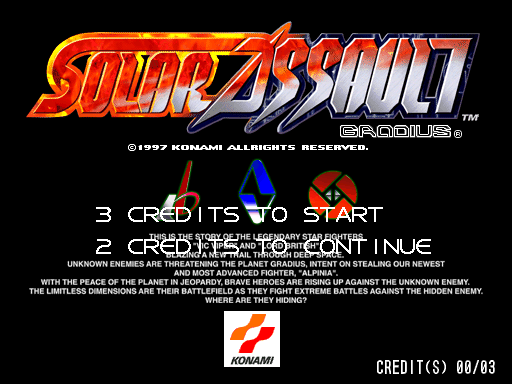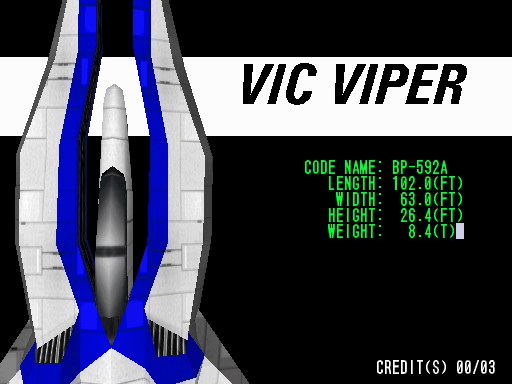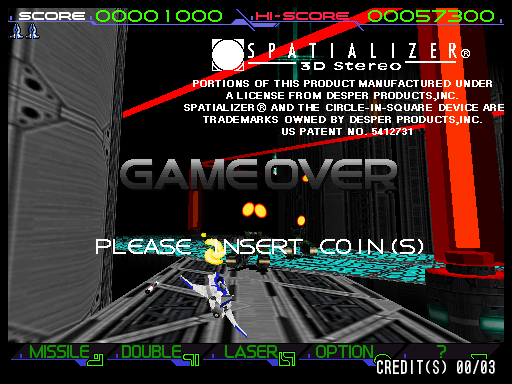 OIther 3D
It wasn't only Konami 3D games that was improvement in 2021, Taito's Operation Tiger, the 4th game in the Operation Wolf series, was promoted to working status, although it does currently lack sound, and seem to have some moments that run slower than I'd expect original hardware to run, so definitely isn't perfect yet.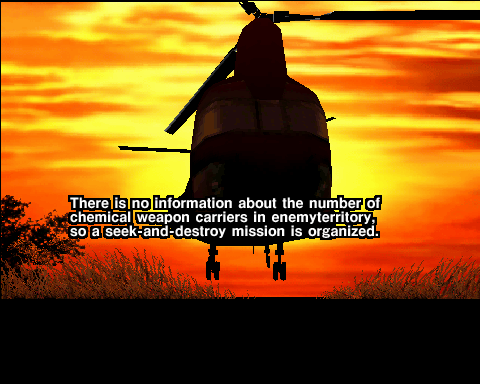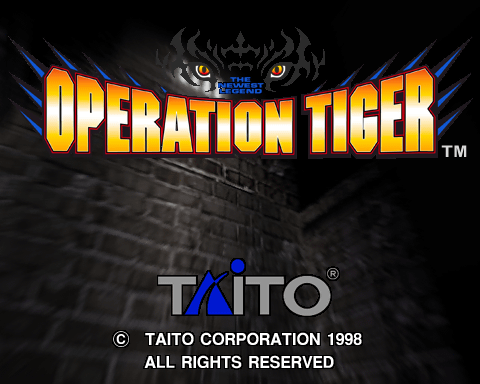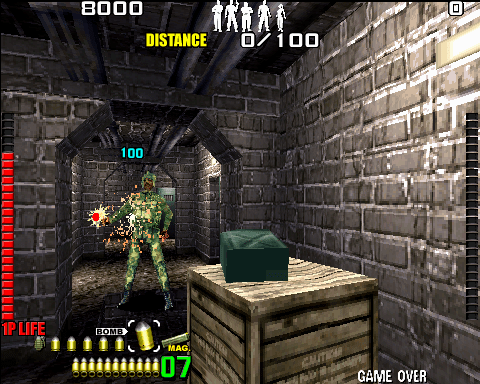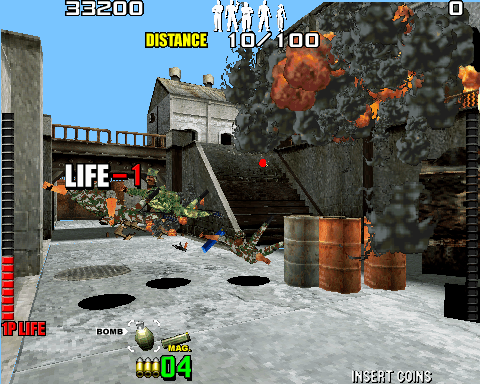 Rare Variants
Finding and dumping PCBs for less common versions of games remains an important task in 2021; even if something looks the same on the surface it might be a different code revision that needs documenting.
Some games are obviously different however, and Konami's Magical Twinbee was previous an unknown, and undumped variant of the Japanese System GX game Twin Bee Yahhoo! The game has minimal localizations, and was likely quite a limited release, but is an authentic regional variation of a game in a popular Konami series and while with Konami games it is generally advised to stick to the Japanese versions, having these dumped and documented is important.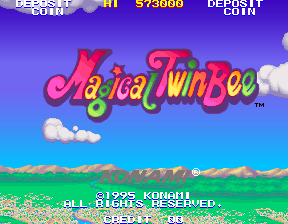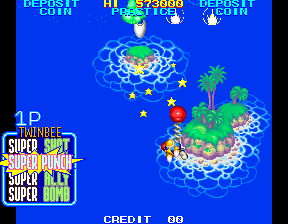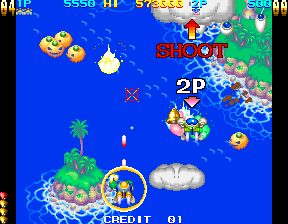 Hot Night is yet another hack of Gals Panic, this one likely further derived from the Comad hacks. Like Miss Mister World '96 this also contains male models. While the title screen is very similar to the one in Fantasy '95, but less explicit here, the game still contains full body nudity. Due to stricter selling restrictions on sites such as eBay, many adult PCBs may just end up being scrapped rather than sold, so making sure all the variations of these get dumped is important.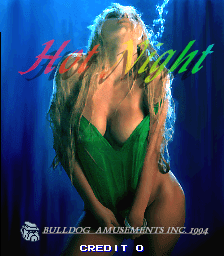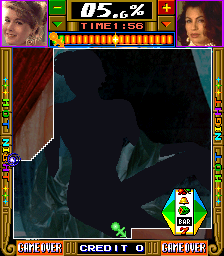 Another Gals Panic hack from Comad to turn up in 2021 was Super Model II, this is one of the game that opts to use non-nude photos, although the sound effects are still very suggestive!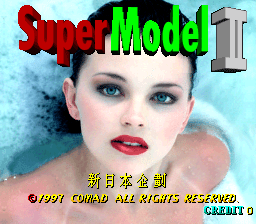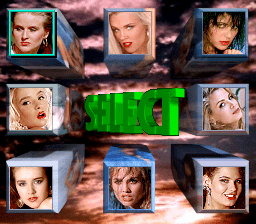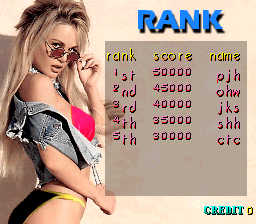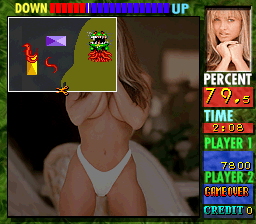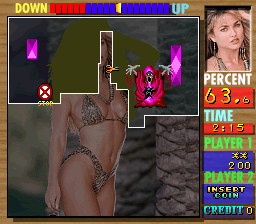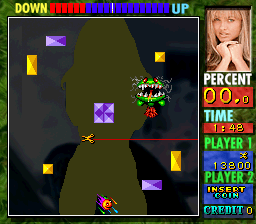 Taito's Bubble Buster is another odd one. It's the export title for the non-NeoGeo version of Puzzle Bobble. It's always been possible to access the Bubble Buster title screen, and dethemed graphics using a region hack, but the sounds were always incorrect, as much like Bust-A-Move Again on the F3 platform, the real Bubble Buster expects a different sound ROM and samples when compared to the Japanese release. This was dumped from what appears to be a US prototype board found in Mexico, although strangely the build time-stamp on the code is identical to the Japanese version despite appearing to be a different compile of the game, with code shifted around. Interestingly the US release on the Neo-Geo carried the title Bust-A-Move, but didn't drop the Bub and Bob themeing like this game. The sequel, Bist-A-Move Again on the F3 platform did drop the theming, much like this one, and even uses a remixed version of the musical theme found here. It is unclear why Taito felt the need to strip the theming out of the game, especially considering how popular Bubble Bobble was!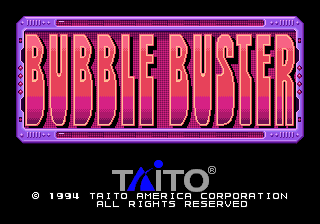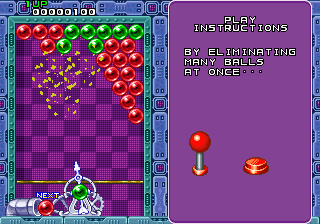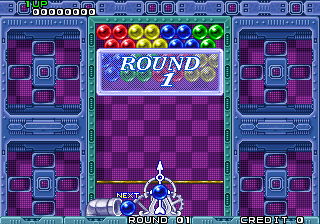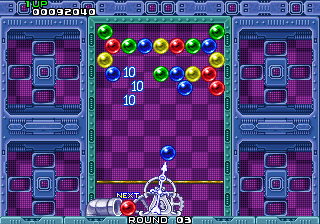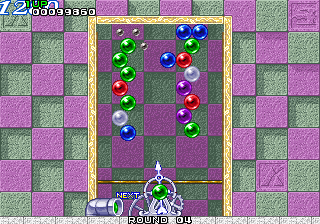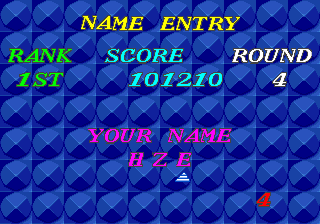 A rare, earlier, version of Semicom's 3-in-1 New Hyperman game was also discovered in 2021. This build, which is possibly a prototype lacks one of the enemy types in the final version as well as all of the larger boss enemies and has less flashy presentation in places. This means that many levels play differently, and the stages that were boss stages on the better known release are unique regular stages in this version.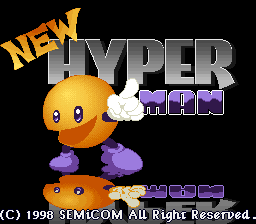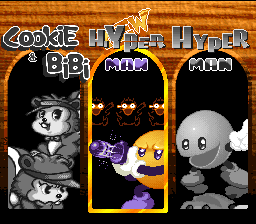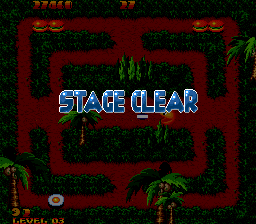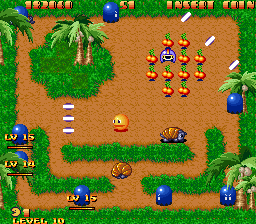 Gambling
The Korean poker game 'Royal Poker 2' was improved so that the game can be booted. This is a well presented Poker game running on Hyperstone based hardware, it was developed by F2 Systems. It was previously failing a protection check.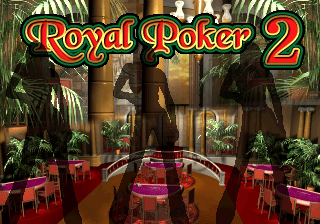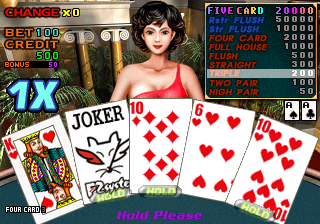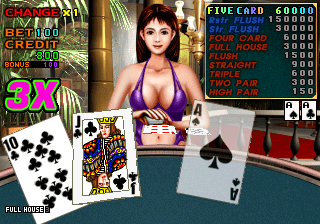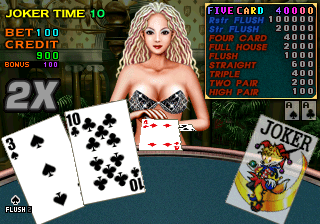 As well presented as Pac-Carnival is, this Pac-Man themed game is nothing but a roulette style game with Pac-Man as the ball.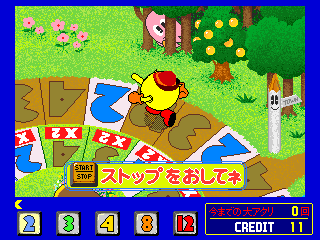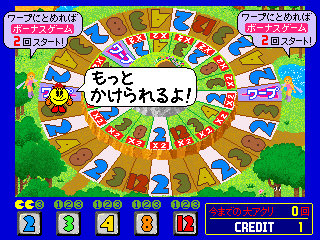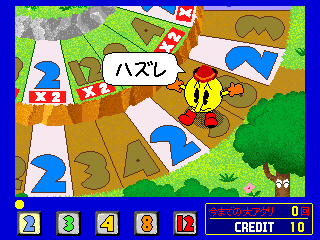 Treasure Quest is a quiz machine from Ace, the emulation was improved when the JPM Fruit Machine emulation was improved. I'm not sure where this one sits, as it does seem to be a purely skill based machine, or at least I'm not seeing the mechanic for ensuring a player can't win the jackpot.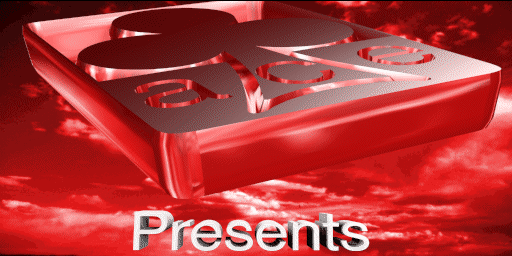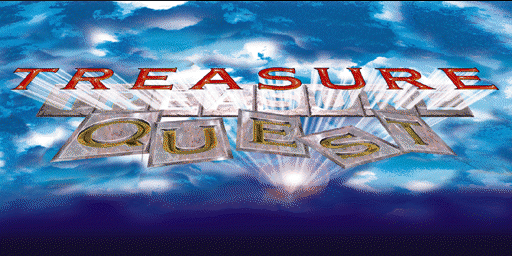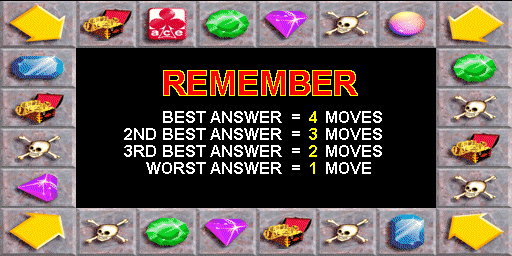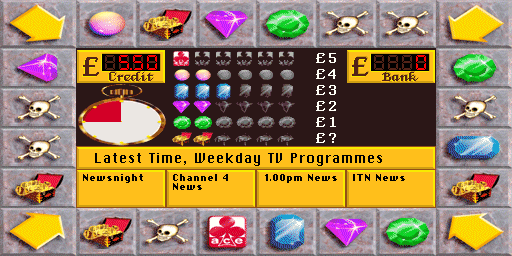 Konami's Run Run Puppy is a redemption game where you throw bones for dogs. It acts a bit like a slot machine where each dog that catches a bone acts as one of your 3 symbols. Cute, but pointless.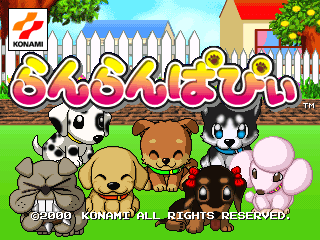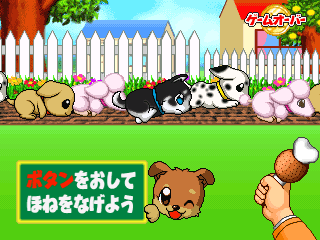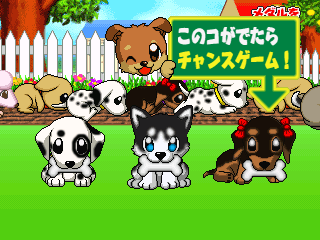 Musical
A number of music games were also brought up to playable status, also video backgrounds are still missing for many of the Konami ones.
Here is beatmania IIDX 2nd style (GC985 JAA)




Seeds for the Future
As with any year, some progress is made, with interesting results, that doesn't necessarily result in playable games or otherwise working machines. Such has been the case for a number of relatively recent Basic Fun 'mini arcade' style units which were found to be based on a variant of the GeneralPlus GPL16250 hardware. A way was found to make them boot, but they run at the wrong speed (far too quickly) lack sound, and don't have fully working inputs. As ports go these aren't the best, but are interesting to study. The real value of them is the novelty mini-arcade cabinets to have on your shelf which of course is not something MAME can be a substitute for.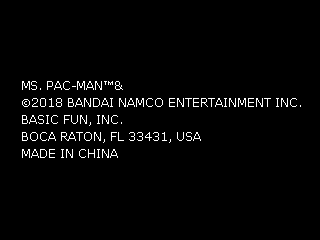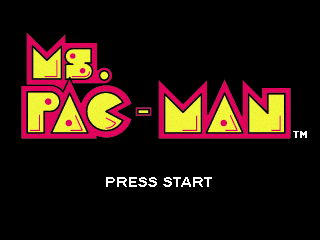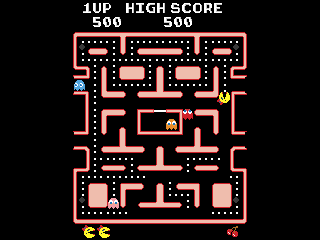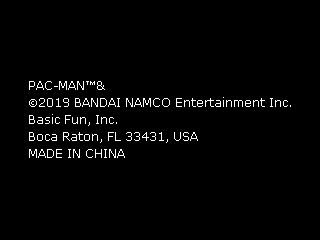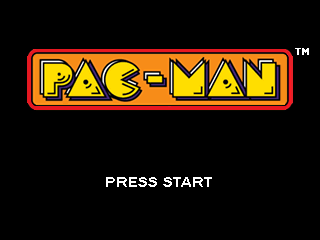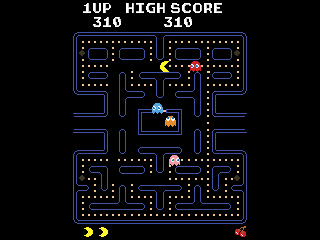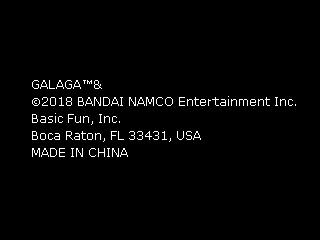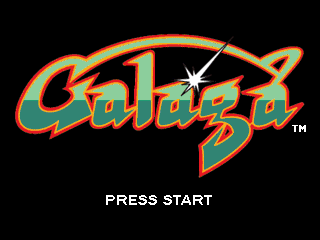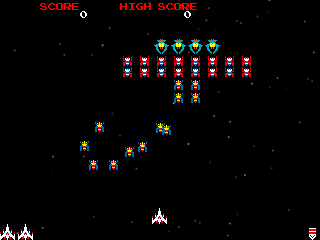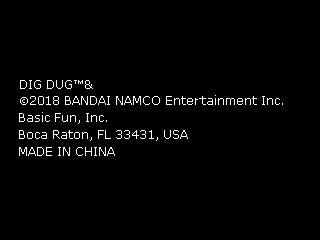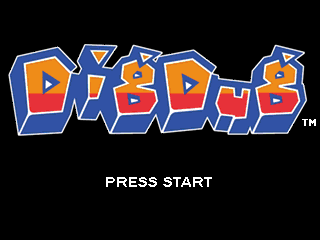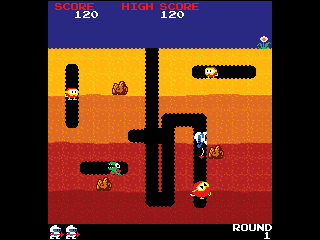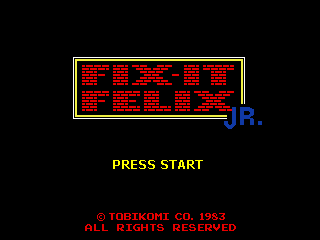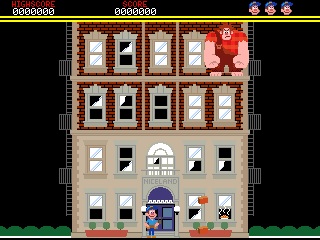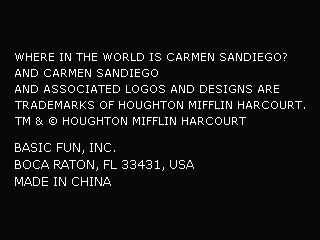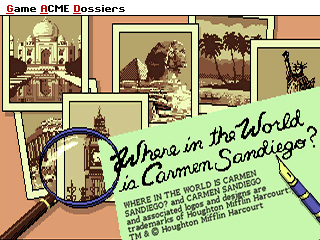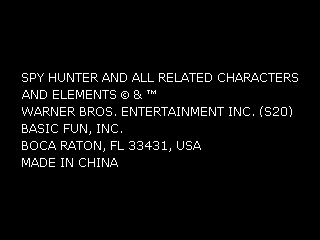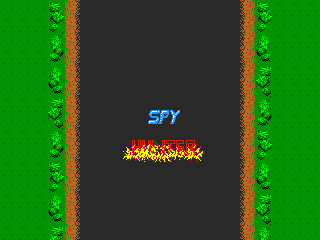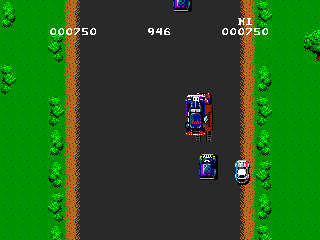 Concern for the Future
It's always a worry to discover that a relatively uncommon game made use of a Hard Disk for data storage, especially given how fragile such drives can be; even for mny popular games there are no dumps of a lot of earlier revisions, and some drives even for major manufacturers have yet to be locaed at all. Therefore while it was pleasing to see a dump of the ROMs for Para Amusement's Zooty Drum, the revelation that it should also have a HDD is of some concern as it will not be possible to emulate the game without it.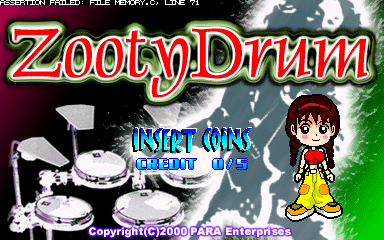 Obscure Home Computers
The RX-78 Gundam was a Japanese home computer from Bandai that prior to 2021 had only very preliminary emulation support, with very little software dumped. 2021 saw the emulation greatly improved and a good amount of software dumped and supported. Much of the software was in Japanese and required keyboard overlays to make sense of, so isn't the most accessible to non-Japanese speakers, but that isn't the case for all of the software.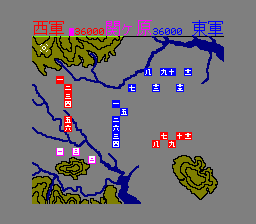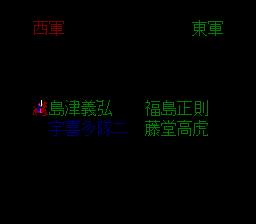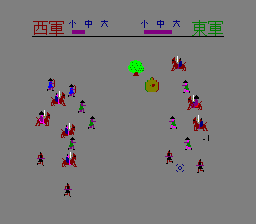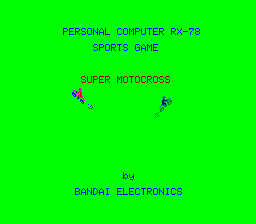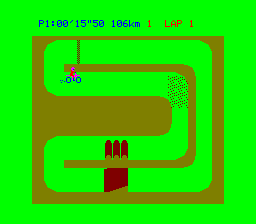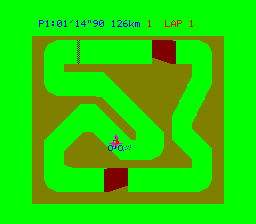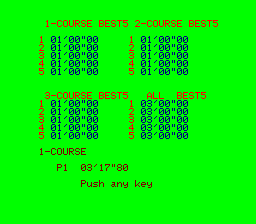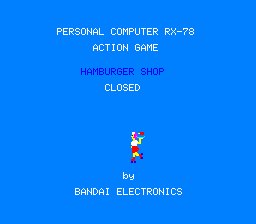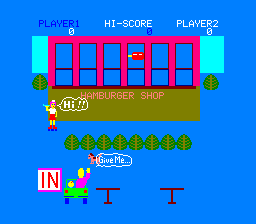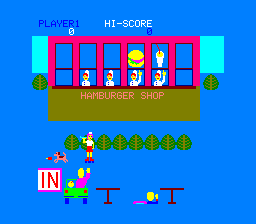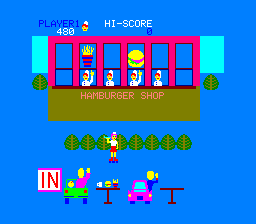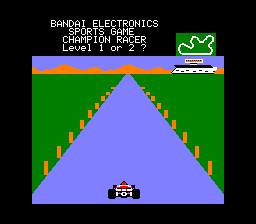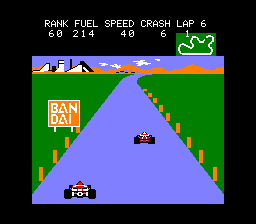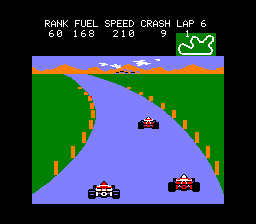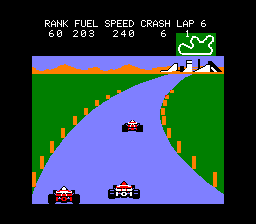 More Electronic Games
While the Game and Watch emulation was the star of the show in previous years, and some soviet clone modes were emulated in 2021, there was a great deal of progress on other handheld LED, LCD and VFD type games.
One example is the LED based 'Black Knight Pinball' from Entrex which takes its name (and license) from a real table but here is shrunk down into a very primitive handheld game.