Another feature of SSV is the ability to disable certain bitplanes on sprites. The driver implemented this to switch between 6bpp (64 colour) and 8bpp (256 colour) sprites, pre-decoding the tiles in both of these formats. The actual hardware is much more flexible than that however as you can disable any 2 bitplanes, and it turns out Eagle Shot Golf was making use of a different, previously unsupported masking combination for the 'Birdie' and 'Eagle' text at the end of holes, which was causing Japanese characters to appear over the text. Presumably Sammy did this to save memory, and if they want to display the Japanese characters different bitplanes will be enabled (the set we have seems to be a US set, so there's no Japanese text used to test that side of things)
Here's what it looked like before.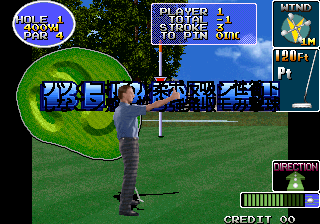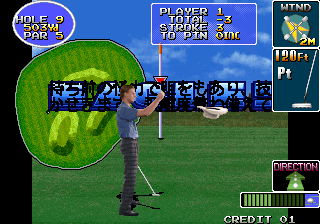 and here's how it looks with the fix.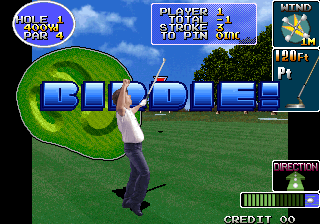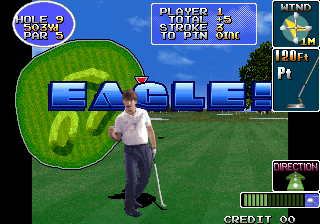 This was a much easier fix than the previous ones, however there must be some kind of global enable / disable for the feature, as while it's explicitly needed by Eagle Shot, a few other games dislike it. Like the others, this bug has existed in MAME since the game was added (0.75, from 12 Oct 2003 – 15 years ago)
Again, this is likely to be in the end of December release (0.205) as the deadline for the end of November release on Wednesday has already passed.