Now that a certain idiot has stopped spamming me with 'do this!' requests at every opportunity I'm taking the time to write a piece on some of the remaining tasks that lie ahead of Mamedev just to show that there still are a number of interesting things we still need to discover and figure out properly!
It's no surprise to see progress winding down, the last 3 u updates have shown a significant slowing of new discoveries, and the busy period before that was more like an anomaly than any sign things are shifting back up a gear. Even MESS has been relatively quiet in the past month or two, so like with my 2012 writeup I'm going to focus on elements of both projects here.
This is also a live article, I'll be adding notes to it over time, and the content is in no particular order, I'd appreciate people not linking to this until it's more complete than it is now.
AMT Games – Beauty Block & IQ Pipe (Arcade)
These run on cloned Sega System 16 hardware, without any sprites, basically Tetris style hardware. We've seen other Korean titles like Atomic Point and Snapper on similar cloned boards but these two AMT titles have another problem in the form of protection. I'm not actually sure what the protection involves, it could just be some convolute ROM/RAM mirrors with scrambled access, or something more complex, either way they don't do much at the moment. Beauty Block currently cycles through some random undressed women, IQ Pipe does nothing at all.
Emulating them might just be a case of getting a good understanding of the 68000 code, it depends how nasty the protection actually is.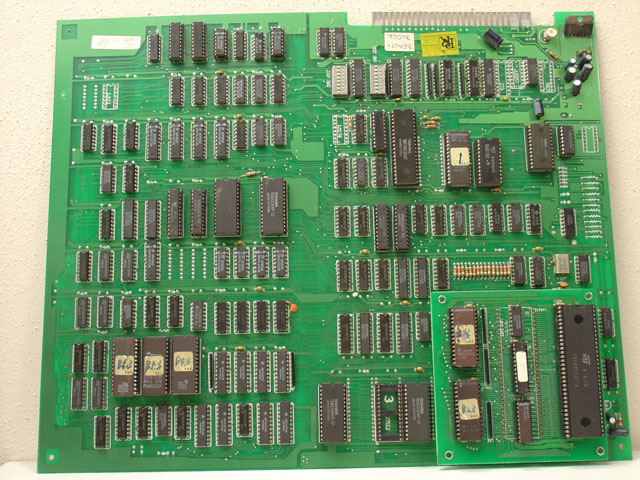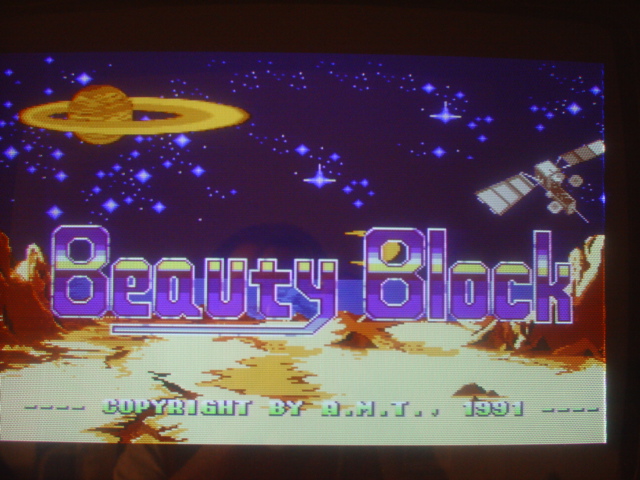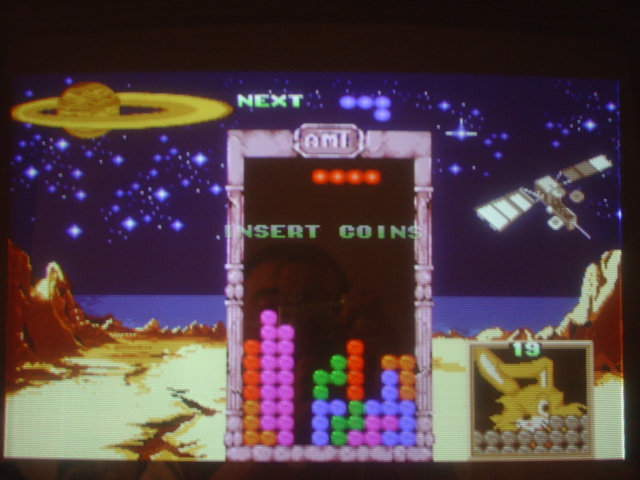 (Beauty Block pictures from Mame Italia dumping team)
Konami – GX Type 1 – Racin' Force & Golfing Greats 2
(Arcade)
These GX titles present a unique challenge. Due to the flexible nature of the GX System games could add their own video chips, and for these two Konami pulled out something incredibly unconventional. The games rely on a special video chip performing post-process graphic operations on the output of a regular ROZ to give individual areas of the floor height elevation effects, thus creating pseudo 3d graphics when otherwise it would only be possible to do basic hills / corner as seen in almost every other racing game. The nature of this chip isn't understood properly, nor how the ROZ plane mixes with the rest of the Konami video output.
This will be a challenging driver to work on both in terms of understanding the feature properly and getting a desirable level of performance; it's already slow without the effect implemented although there is almost certainly room for optimization in the existing code. 6 rather nice videos, which must be taken from real hardware were uploaded to YouTube last year. Note, the crowd and many out the roadside boundaries are completely FLAT in the basic tilemaps and have their pixels stretched vertically by this post-process effect, it actually looks a little ugly at times (especially entering tunnels) but was certainly unique, I'm not aware of any other hardware, arcade or home that had a chip dedicated to doing this.



(more videos)
https://www.youtube.com/watch?v=cYqLbSjwR0g
https://www.youtube.com/watch?v=iqta6n-dImE
https://www.youtube.com/watch?v=2O-Man0yQ3c
https://www.youtube.com/watch?v=3X0Mjw32CLY

(YouTube videos of Racin' Force running on original hardware, uploaded by 6224836)

VM Labs – Nuon (Home)
The Nuon was a gaming technology built into a number of DVD players, there was an experimental emulator released around 10 years ago called Nuance, but the author is unfortunately no longer with us.
As a piece of technology it's quite insane, offering something like N64 level visuals, and a multi-core design somewhere between a Jaguar on steroids and a PS3. It makes for a very difficult emulation target, especially because the existing emulator rather than using 100% original ROM dumps makes use of it's own HLE code and replacement bios system. I'm not even sure there are any 100% clean dumps of the system bios, nor am I sure what it would take to get started emulating it (you might need to emulate the entire DVD players just to get started) The multi-core nature of the thing (and an apparent need to run much of the code in near perfect step sync) make it a daunting task to say the least and with a number of games using the DVD technology patents could prove to be an issue too (although for something like Tempest 3000 that shouldn't be a problem) Currently MESS has no driver at all for this system, although the lack of certainty over the correct firmware files might be playing a role in that, I'm not sure. One for the truly insane to tackle (not me..)

(Tempest 3000 and Merlin Racing running on an actual Nuon enabled Samsung DVD player)
Jaleco – Megasystem 32 Extended – F1 Super Battle (Arcade)
Jaleco's Megasystem 32 hardware is annoying enough without any expansions, and it's fair to say it still isn't fully emulated because many games still have noticeable glitches. F1 Super Battle is however twice as annoying due to a number of factors.
First of all there is extra, unknown hardware on the board, this gives it an extra graphic layer used for the road, as well as some kind of maths co-processor used to calculate scaling data. This co-processor interacts with the game in quite complex ways, and has associated interrupts etc. so understanding how it hooks up, and simulating it is a non-trivial task, especially with only the one game using it. This is all the more annoying because we don't actually know what the extra hardware is, if it's a known DSP with internal ROM, or if maybe there is a program uploaded somewhere for it (I don't see one)
Secondly there is no useful information about the game anywhere, outside of MAME it may as well have not existed, no PCB pictures, no YouTube videos, you'd be lucky to find even a screenshot. Having reference material can be very helpful and for this game we have precisely none. *edit* There is at least a flyer, as mentioned in the comments, but all it gives are some low resolution screenshots that may also be doctored for the flyer.
If anybody fancies reverse engineering the behavior from the code (bearing in mind that it uses the obscure V70 processor) then that might be our only hope of seeing this one running properly, because guesswork based on behavior just doesn't seem like it's going to cut it.
(No original hardware videos / pictures because we have none)
Atari – Playstation Hardware – Primal Rage 2 (Arcade)
With the recent progress shown on the Playstation emulation I'm cautiously optimistic about this one, although so far none of the changes made to the Playstation emulation have actually shown any sign of improving the emulation here, suggesting it could possibly be a problem with how some of the game specific devices are hooked up, or some crude form of protection. Apparently the game specifies invalid destinations for some transfer operations, and takes out key code in the process, although I haven't verified that myself. There are plenty of videos of this game about, which according to the original developers was actually complete at the point it was shelved. I guess we'll have to see if anything comes of the emulation of this one over the new few months.

(Primal Rage 2 on original hardware)
Atari – Space Lords (Arcade)
You would be forgiven for thinking this one had been forgotten altogether, but the reality is this Atari classic sits as one of the most protected games they produced, and thus emulation of it remains difficult. The protection involves various bits of data being passed to a device and decrypted, that might not sound significant compared to many other games which have been emulated, but the device is used frequently and isn't really understood at all. Some studying of it was done by various members of Mamedev, but it remains undefeated.

(Atari Space Lords, original hardware)
Continued on next page..