From time to time something really cool will show up, lost boards, prototypes, you know the story by now. Sometimes the owners feel generous and allow us to emulate their boards for them, other times they keep them locked away.
Well, an exceptionally rare board showed up a couple of weeks ago, as this post on Arcade Otaku shows. The board in question is a Taito F3 prototype board running a prototype version of Bubble Bobble 2 / Bubble Symphony. The owners / finders 'Dsyde' and 'muddymusic' were kindly emulation friendly, so the version found on his PCB will be supported in the 149u2 release. *edit* It has been pointed out to me a few times that the Jamma+ forums where Dsyde is an admin is the original source of this news :-)

As shown on the page there are many, many differences from the final version, it's almost an entirely different game, lacking even a title screen at the point in development it comes from. Levels are different, graphics are different, enemies are different, sound and music are different, gameplay is different, stage names are different, stage selection is different, no story sequence, no high score sequence, no game logo during attract, it's really more of a proof of concept sequel than anything close to a finished game at this point and that's what makes it fascinating. The build date is close to a year before the final game, as you can imagine, a lot changes in one year of development, there isn't a single rom the same as the final in terms of content.
As observed in the original thread the actual game on show here is much closer to the original Bubble Bobble than Bubble Symphony, the pacing is slower, the controls act more like they do in the original, and the music you get is a redone version of the original theme!
Here are some pictures of it running in MAME, although I suggest you check out the original thread for more information! (and say thanks to Dsyde and muddymusic while you're at it) Other than working on how the roms should be loaded in for this prototype board layout (a trivial task) it really was no work at all on my part, I only thought I'd mention it because findings like this can give a real insight into how games developed from concept to release, plus I love Bubble Bobble (who doesn't?)
Proto Left, Release Right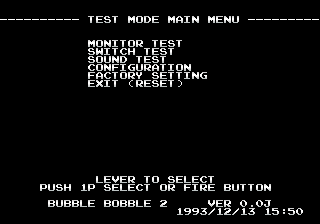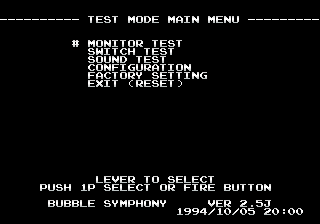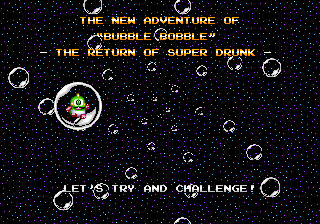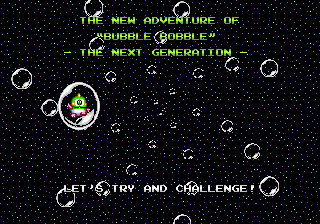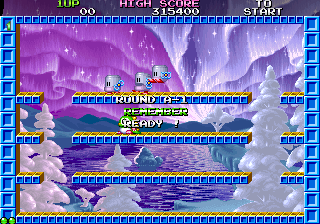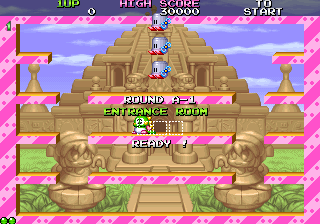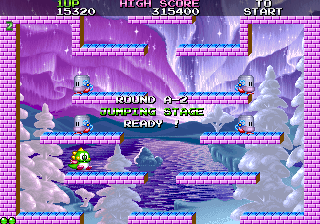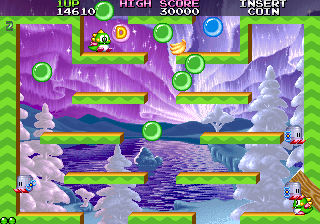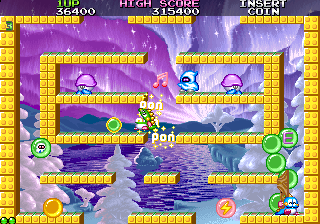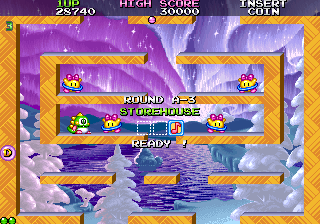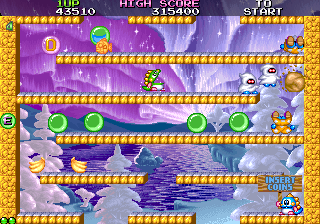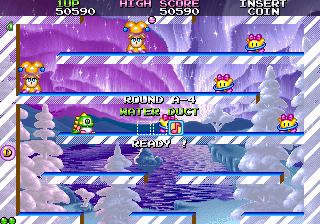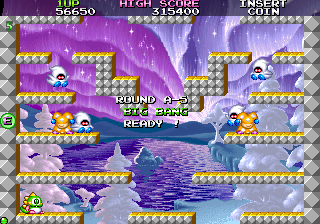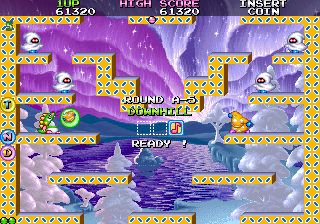 (these 3 don't appear here in the release version at all, only the proto)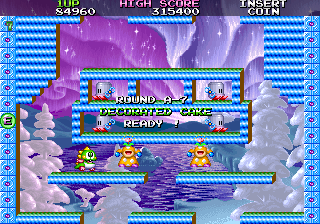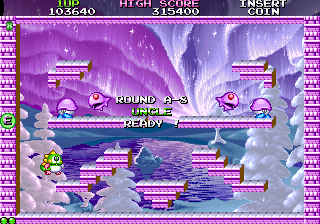 (back to levels in both)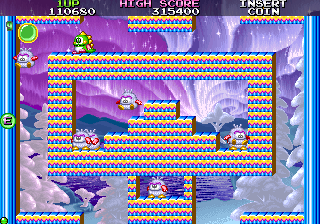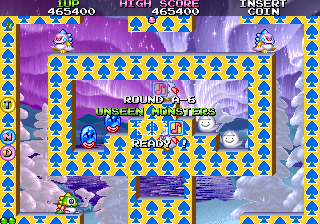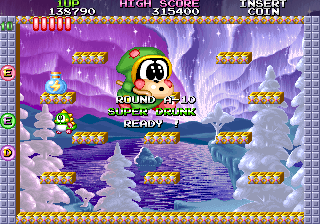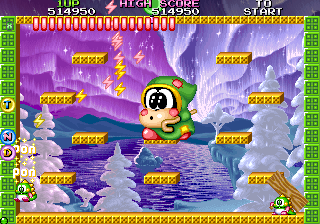 Reminder of the day of course is to check your PCBs, if you have a PCB or access to a PCB it's always worth dumping what's on it to see if it matches MAME. Bubble Bobble 2 here was an obvious case because it's a well known game and the changes were very obvious, especially to somebody who knows it, but plenty of other protos and undumped revisions might appear on the surface to be the same as the released versions; not many manufacturers used 100% unique ROM labels throughout their entire history like Sega did to make knowing easy from a glance at the board. I do wonder what some of the other boards in the piles where this was found were, for somewhere to have what appears to be a trade show demonstration version (seems too early to be a location test) of what would have been a high profile Taito project they must have had some significant ties / contacts in the industry and might have other unidentified prototype versions of things too.