I've mentioned the history of Afega here before, and how their earliest known release 'Twin Action' is really a bootleg of USSAF Mustang with completely new graphics / sounds.
Well thanks to Renato Mucciarelli, Brian Troha and The Dumping Union another Afega game from that early period has turned up, this time Dolmen from 1995. The game is really just a Puzzle Bobble rip-off, with some unique / pointless rounds where you simply have to shoot moving targets for points (I guess you could consider them bonus rounds, you can't die) The first time this happens it's cavemen descending on ropes, the second time it's dead cavemen floating up from the ground, after that it repeats.
The game appears to be a prequel to the 1998 'Hot Bubble' / 'Bubble 2000' release, although it isn't actually yet clear if Afega released a version of that with their own name on it, or if that game is just the result of Tuning taking this game and tweaking it. Said 1998 title is clearly a more developed piece of code than this with points screens, how to play instructions in the attract and extra game features so I'd guess there is an undumped Afega original of that out there too and that this game is simply a prequel rather than an early clone.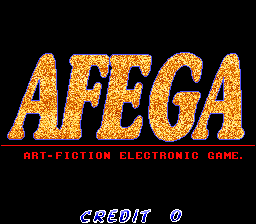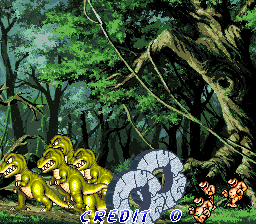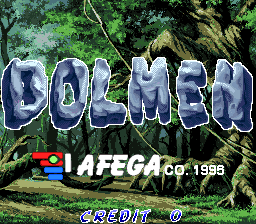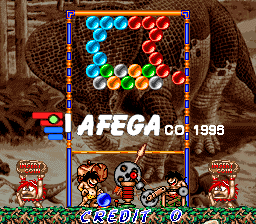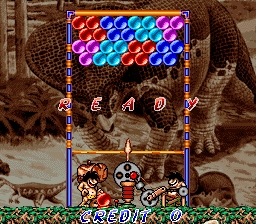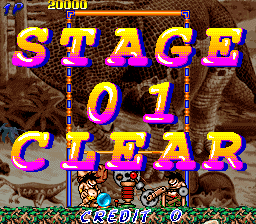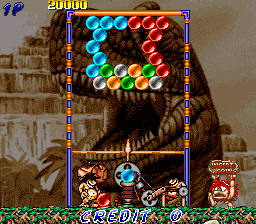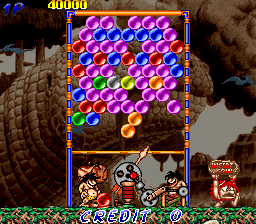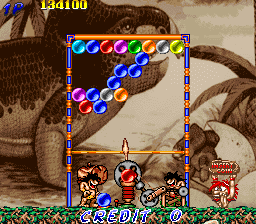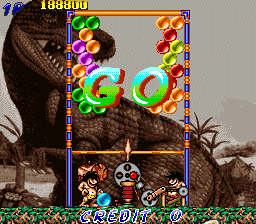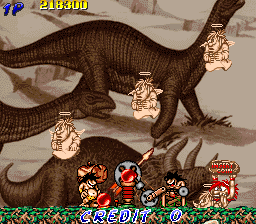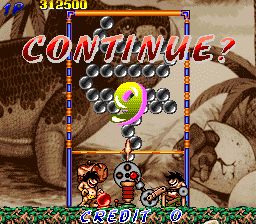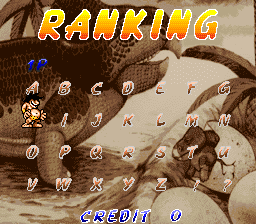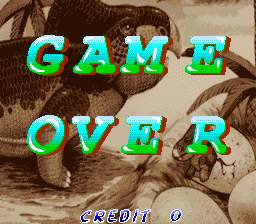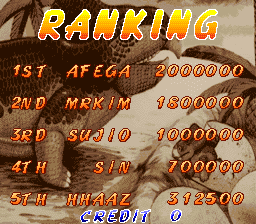 Unlike Bubble 2000 there don't appear to be any adult images in this one, it's all Dinosaurs, so I guess we now know that porn was responsible for their mass extinction, not an asteroid or anything like that.
Difficulty level seems ridiculously easy, but the dipswitches haven't been figured out yet so one probably makes it harder. Music is just annoying short sample loops like most Korean titles. There is little variety in the graphics either with backgrounds repeating frequently. It's an early effort, but a significant one in the history of Afega.
This game is using the same hardware as Twin Action, an earlier board than Bubble 2000 etc. There appears to be a trivial 'protection' check on 2 bits of an unknown input port to prevent the games simply being rom swapped, everything else is the same as Twin Action hardware-wise so getting this running was trivial.
Support for this will appear in the next release, which will presumably be 0.151.