When a game shares a name with a different but much better known game it can prove tricky to track down, and, in cases where nothing is known other than the title it's difficult to know if you're looking for an original game, a license, or a bootleg.
Philko's Lock On is one such game, sharing it's name with the still rather obscure, but better known (in part due to emulation) Tatsumi game from 1986.
Until yesterday we didn't really know what to expect from this game, but completely out of the blue a user called 'marcus' dumped a PCB for it and submitted it for us to emulate.
There are a few Philko games in MAME already, a couple of shooters running on hardware that was cloned from Side Arms (Whizz / Dyger / Turtle Ship) and some simple puzzle style games on a sprite-less System 16 hardware clone (Atomic Point and Snapper)
Looking at the PCB / roms the hardware here didn't quite fit either of those profiles, it was 68k based, so no the sidearms derived hardware, but it also had sprite roms, so it wasn't identical hardware to the System 16 titles, also it had an OKI M6295 in sound section which none of those have either.
The sprite roms were clearly non-tile based, and looked clearly like Sega System 16 format sprites, so the first and most logical route to explore was that this was a more complete clone of Sega System 16 hardware than used by the other Philko titles. There were a couple of issues with this assumption, first of all, the tile roms were clearly 4 bits per pixel graphics whereas the original System 16 hardware and Philko clones were all 3bpp. (In English this had 16-colour per tile, not 8-colours per tile)
Either way, I quickly hooked it up in the System 16 driver, and it booted, even showing me some sprites, the assumption WAS correct, however it would need further work, Philko had made significant changes to the hardware while copying it. It was immediately obvious that the palette RAM was bigger, again, fitting with what had previously been observed, if you have 16 colours per tile then you need more colours in total. Oddly, even with that all set up, and the base of the sprite palettes adjusted accordingly the colours were still off. It turned out that palette format had also been changed here, from the xRGBRRRRGGGGBBBB format of the original hardware to a simpler xBBBBBGGGGGRRRRR (where each R/G/B letter represents a single colour bit) Adding support for that alt format fixed the colours.
Sound was also different, I used the emulation from Whizz as a base, because clearly, from observing the reads / writes that's what Philko had done, but here there was also an extra port used to access the OKI M6295 sample playback chip. As none of the clocks were measured on the PCB, nor the divider pin for the OKIM6295 I'm not 100% sure the sound is perfect.
With all that hooked up, inputs sorted out, and dipswitches deciphered to a usable level the game was playable. It seems like it was heavily influenced by Capcom's US Navy / Area 88.
Interestingly the game doesn't show a copyright on the title screen, but there's a Philko disclaimer on the startup, Philko tiles in the tile ROMs, and a 1991 date on the bottom of the high score table, one of the dipswitches flips between 'Korea' and 'Europe regions. Philko was also one of the few Korean manufacturers to actually have their own marked custom chips too (albeit only one of them on this PCB, the others had generic markings)
Also of interest is that the game does attempt to program what appears to be a clone of the Sega memory mapper chip (used for dynamic memory maps on System 16 etc.) although I haven't currently hooked it up as dynamic, might have to see if it really does program valid values tho.
Again Big thanks to marcusfor dumping his PCB here. The picture provided alongside the ROMs is shown below.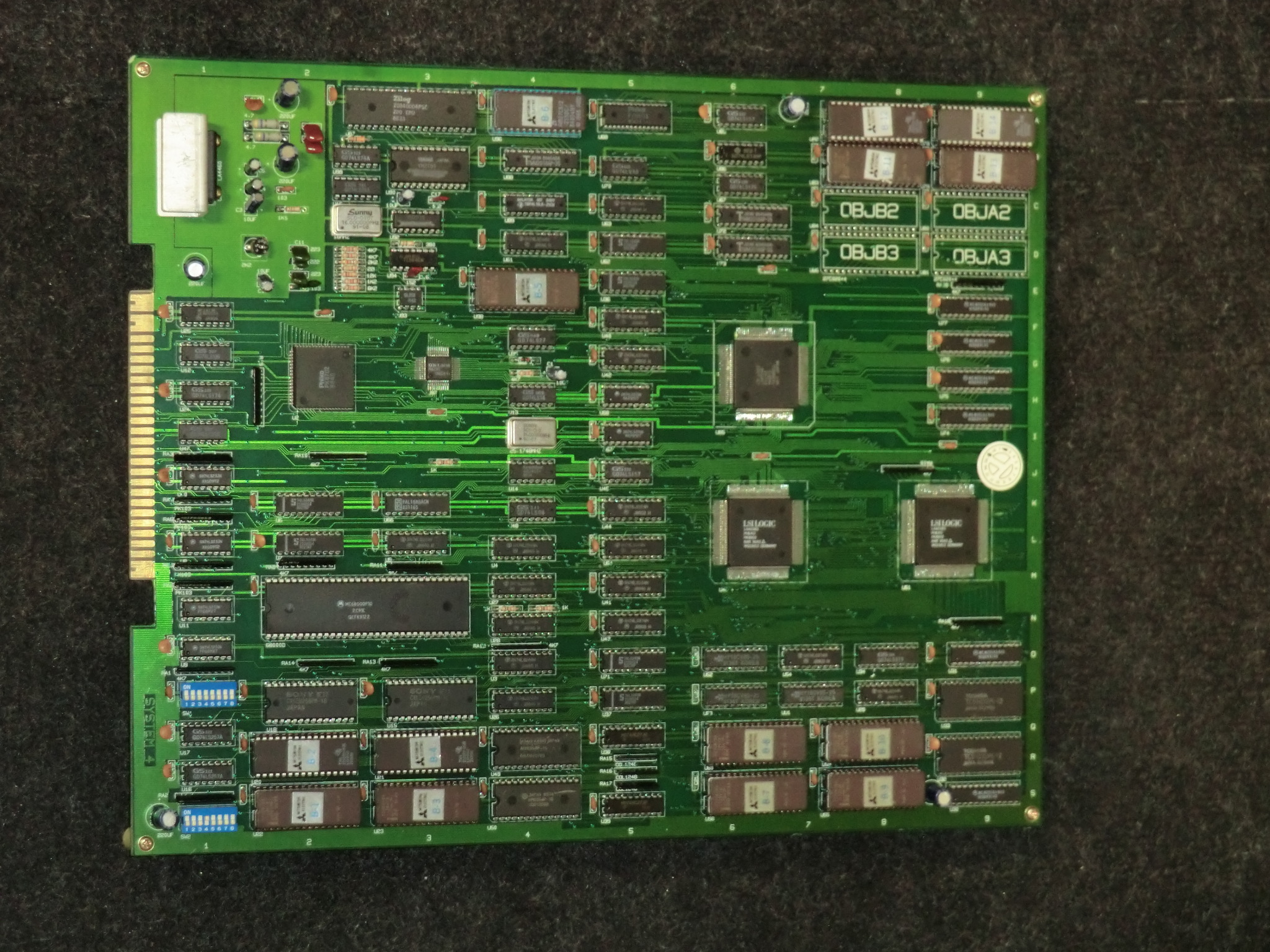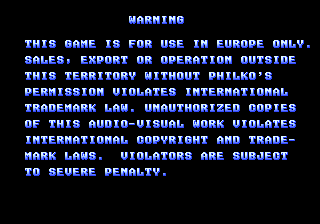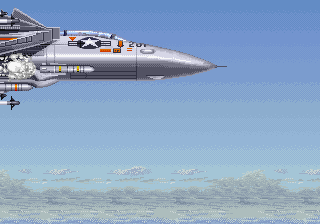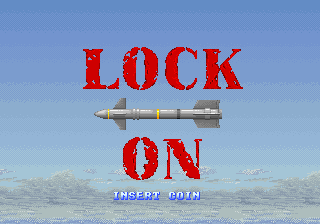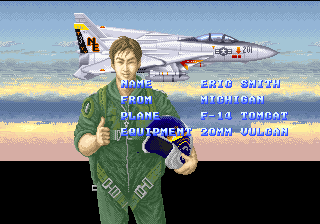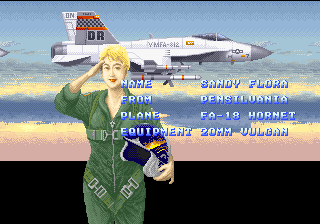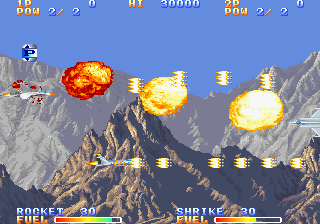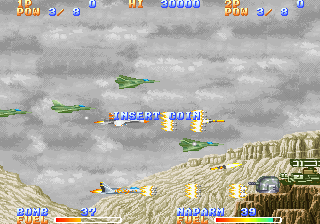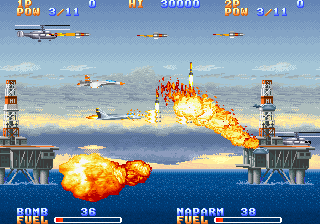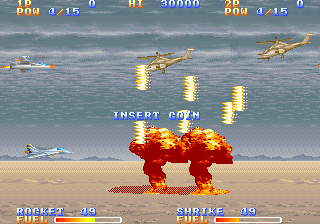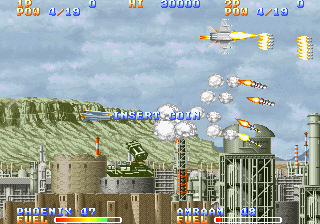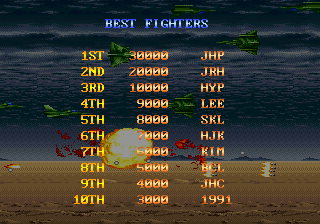 I've also uploaded a video below, you can see some minor clipping issues on the left side in attract, but I'm 99% sure those will happen on a PCB too, the image it's scrolling around is part of one of the tile layers and simply isn't wide enough to cover the area where you can see the blank space.
Another one that was all but forgotten this time last week saved from extinction.