It isn't even halfway through 2017 yet, but I think it's a good idea if I create this page for notekeeping etc. in order to make an actual writeup at the end of the year easier. As always this is a general commentary on progress in MAME over the course of the year rather than being anything specific to my work (I've not actually done a great deal this year myself compared to other years)
The main thing I've noticed so far is entirely unexpected, and that is a strong shift away from new playable arcade titles with more focus on non-arcade stuff and technical improvements to the codebase and emulation (such as using correct devices in drivers even if they make no difference to the end result)
There's also been a lot of work on handhelds gaming devices once again, and some of the most noteworthy work is definitely in that field meaning that unlike the 2016 article I really can't get away covering only the arcade bits. (I definitely need to revisit the 2016 article and fill in some key items that I never had time to cover)
Game and Watch
One of Nintendo's most iconic products is the Game and Watch series. The Game and Watch titles were primitive LCD based games that were hugely popular before the rise of more traditional handheld consoles and even managed to maintain their popularity long after that due to their low cost. Nintendo made effective use of their most popular IP when producing these, placing characters such as Mario in simple 'arcade-like' gaming scenarios, presented simply by turning on and off small images on the display.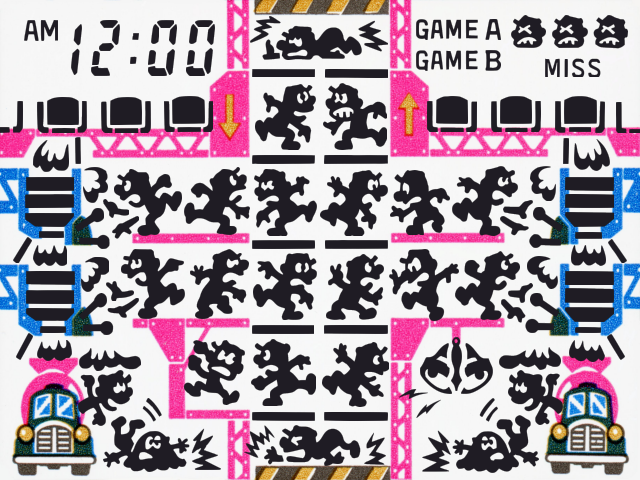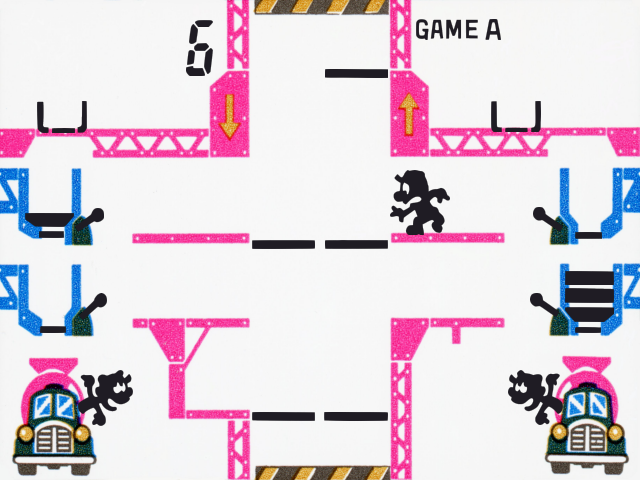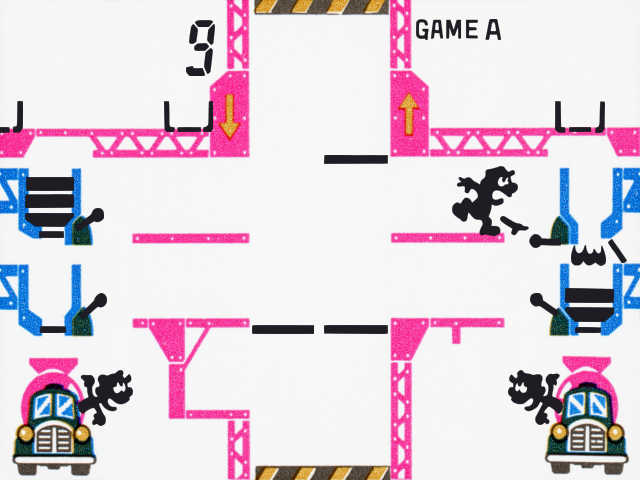 Mario's Cement Factory
Loose Ends
There are times when we've been fairly sure something exists for a while, but unable to track it down. In the case of the Sega Megaplay driver that something was the last known remaining game, a version of Gunstar Heroes. Like all Megaplay games it's received a number of tweaks to make the game less fair and keep play time down compared to the original Mega Drive / Genesis release, but is otherwise mostly intact. There's still the long-standing bug with the Megaplay driver where the start buttons don't register properly, causing the 'Press Start' text to often stick on screen during gameplay; I'm actually tempted to downgrade the entire driver to NOT WORKING status for this reason.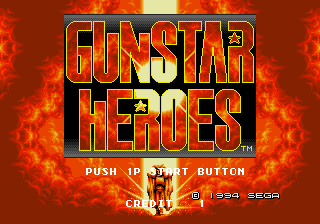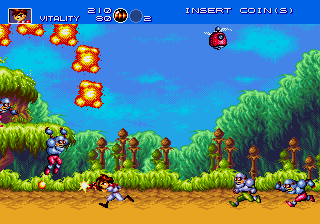 Rare
Omori games seem to be rare compared to those produced by many other manufacturers so it's always good to see a new one turn up. DodgeMan is one such title and runs on the same board type as Battle Cross and shed some new light on the driver, allowing for emulation improvements. This walk-along shooter is very playable and it's existence certainly dodged our attention for a very long time.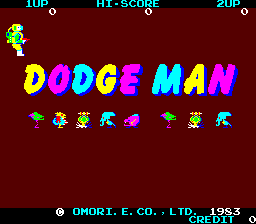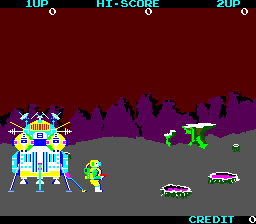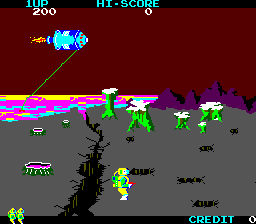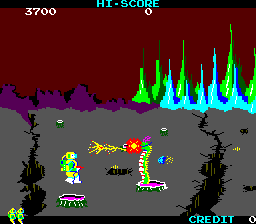 EPOS boards aren't exactly common and have a habit of turning up with broken ROMs, so finding a working Revenger '84 was another highlight from 2017.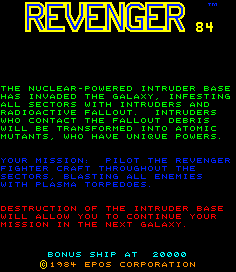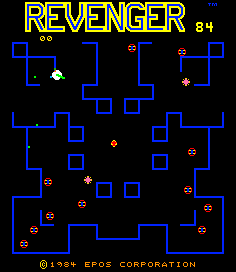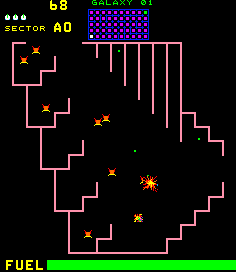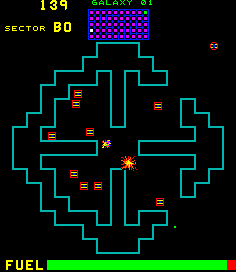 Omega is some kind of sequel / official modification of Gigas, with new levels and the ability to curve the ball by holding down fire and moving the mouse without requiring any additional powerups.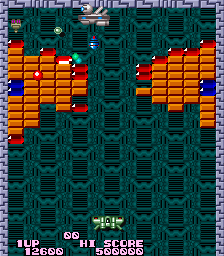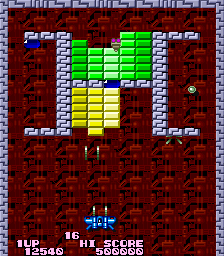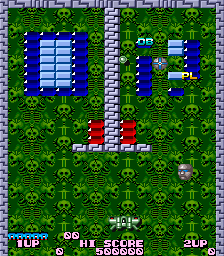 Deco Cassette
I've stated many times over that Deco Cassette games are rare and fragile and that new dumps are always good to see. In 2017 a version of Flash Boy was dumped. This game, also known as 'The Deco Kid' was released in both Vertical and Horizontal versions, the version dumped is a vertical one, for Japan.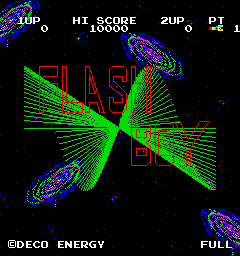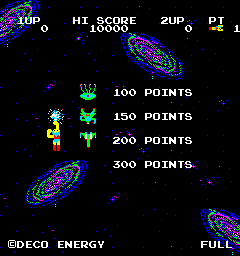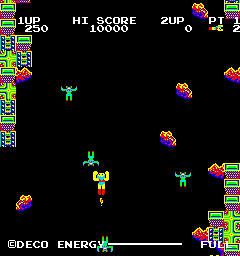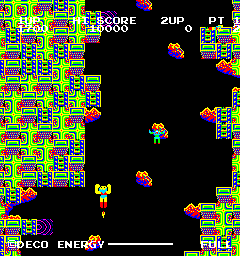 but that's not where Deco Cassette news ends, different versions of Graplop and Lock 'n' Chase were also dumped and a set of Treasure Island that has been in MAME for many years was finally decrypted, with a bit of a surprise, it has a region code of 'D' and expects a bios that checks for that region code, so while the set is otherwise unremarkable and seems close to the existing sets it must be very rare as we weren't even aware there were more than 2 regions for these.
The Japanese version of Lock 'n' Chase is actually one of the most interesting versions of the game as it shows the influence Pacman had on the development of the game a lot more clearly than other versions, with a maze layout close to that of Pacman and sound effects lifted almost straight from it!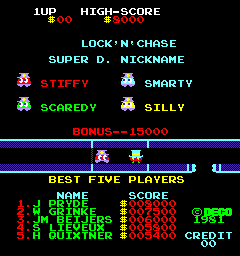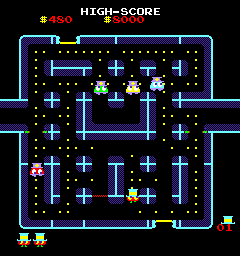 The Japanese version of Graplop actually has a title screen showing the name of the game unlike the early US version which lacks a title screen and later US versions, released as Cluster Buster, that change the game in other ways (actually making it a lot closer to the later released Flying Ball) This is the first time we've actually had a set showing the Graplop title.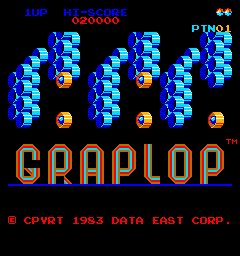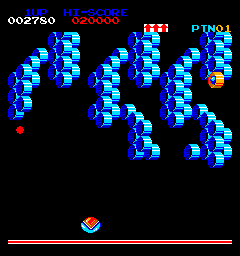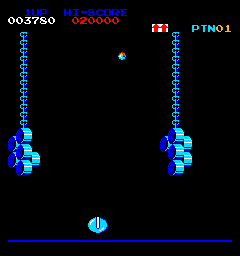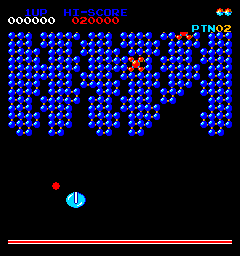 Maybe the biggest surprise with Deco Cassette was when a ROM board turned up for Explorer. This rom board is needed in addition to the cassette for the game to function, and while the cassette had been dumped 16 years prior, no rom board had been located. It actually turned up by complete chance, sold as something else entirely.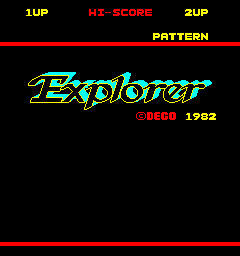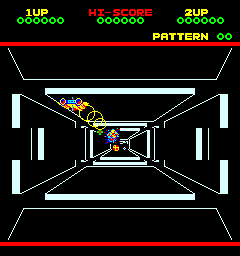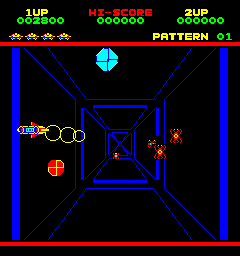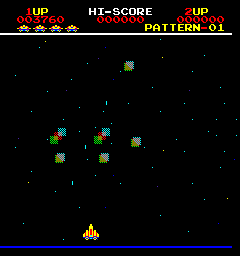 The final piece of Deco Cassette news is a probably a little less interesting, but the unofficial ROM-based multigame kit was also emulated. The kit is from around 2008 so a lot of the more recently dumped games aren't included in it, but it's a piece of history now like everything else. Loading times are quicker than the cassette, but some of the games required significant code changes to get them working in this setup so it's an interesting one to study, also Treasure Island was changed to require diagonal inputs for whatever reason.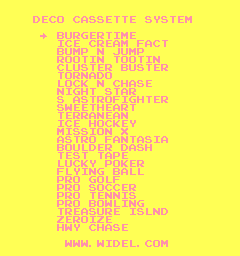 Restored Drivers
During the license switch-over a number of drivers had to be dropped, a very small number, but those drivers would eventually need rewriting to restore the old functionality. That's what happened with Popper, where we saw the driver full rewritten and the game restored to working state, so while this isn't actually new news for 2017 it's progress because without the rewrite people wanting to run this would have been stuck with old versions forever.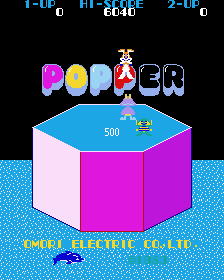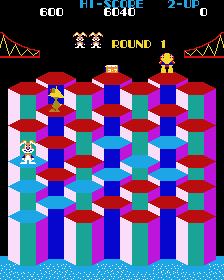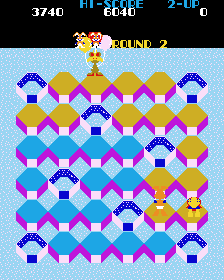 Ticket Games
One thing that is unlikely to stop any time soon is the trickle of redemption games that gave out tickets, there are thousands of them not yet sourced or emulated in any way. This type of game is not limited to the smaller arcade companies and was a big part of the business of even the larger manufacturers such as Konami. One such game from Konami is Pirate Ship, a polished sprite scaler where you steer your ship to pick up coins while avoiding obstacles; visually it could easily pass for a real game.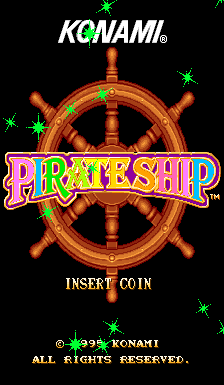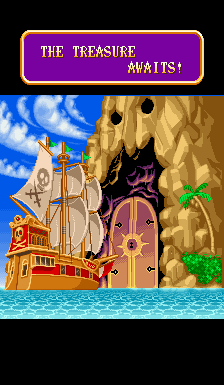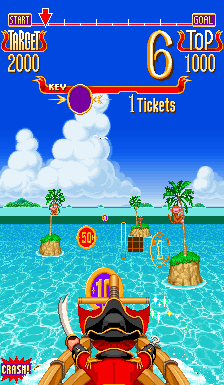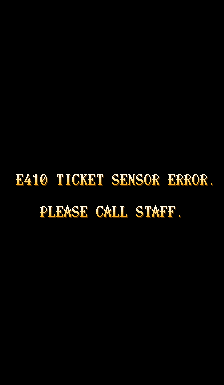 Soreike Kokology Vol. 2 – Kokoro no Tanteikyoku is an odd combination of hardware, it uses a Sega System 32 board for most of the game, but bolts a CD drive on in order to play various audio clips. Pair that with a printer and I *think* it's some kind of ticket game, I'm not entirely sure tho.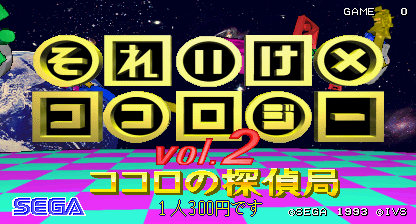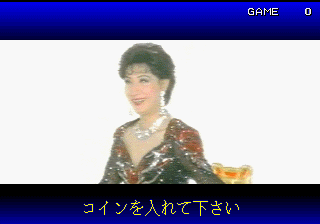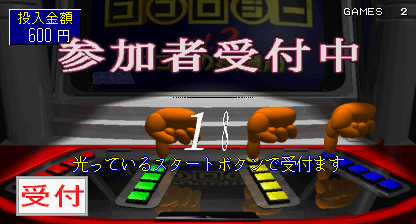 Rides
Waku Waku Ultraman Racing is a similar thing from Sega.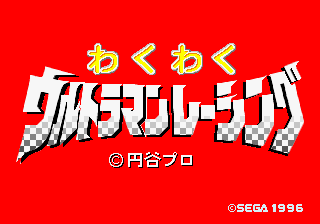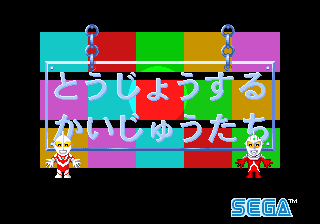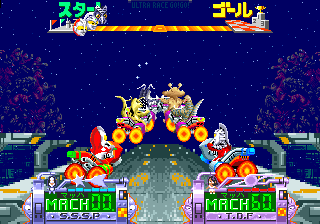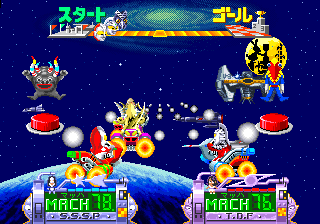 Sega Sonic Cosmo Fighter is another kids ride, similar to Waku Waku Patrol car that was emulated the previous year. This time it takes Sonic and places him in a shoot 'em up type scenario. The game is very simple and you can't lose, you'll just be graded out of 5 stars once the experience is over; there's nothing especially challenging about getting all 5 stars either.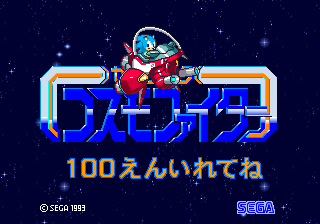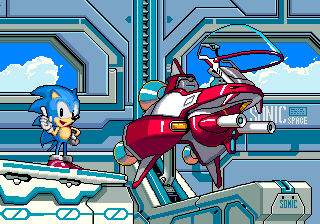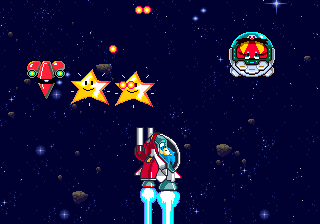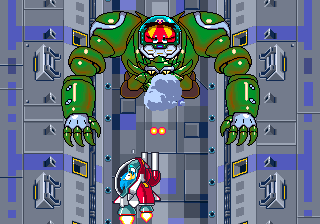 Also following on from last year, another Sega Popcorn machine was dumped. This one isn't Sonic themed but instead uses characters from the Soreike! Anpanman series, a popular cartoon for children in Japan. No real gameplay to speak of here as it existed only to allow you to select which popcorn you wanted and pass the time until it was ready.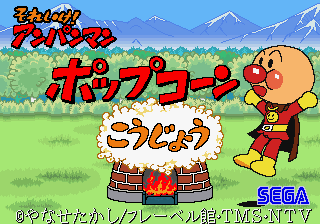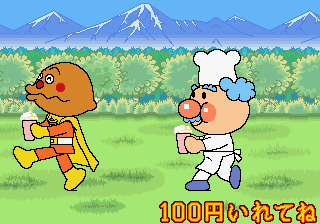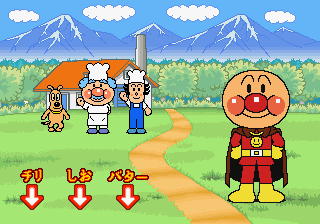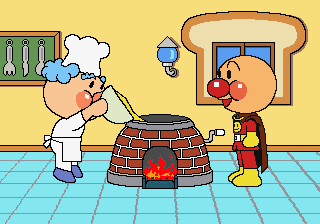 Fixes from unexpected sources
Sometimes when you're fixing one thing a completely unrelated thing ends up being fixed too, that's what happened with 7 Smash, an otherwise unnoteworthy video slot game running on Wing hardware. It uses a Z180 type CPU and required correct DMA behavior so in the process of implementing that for another system this one started working.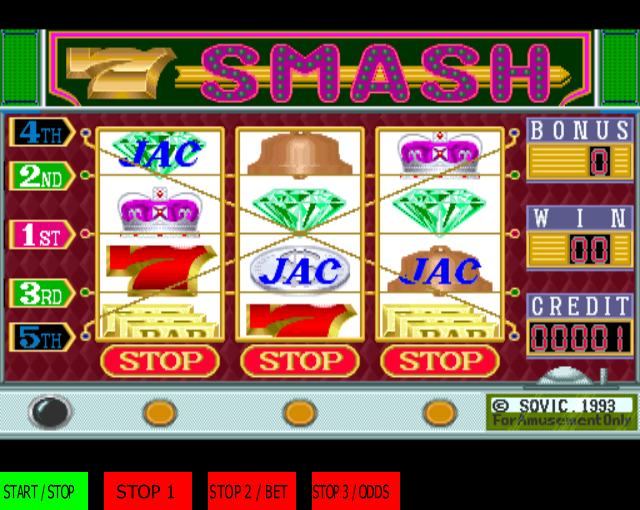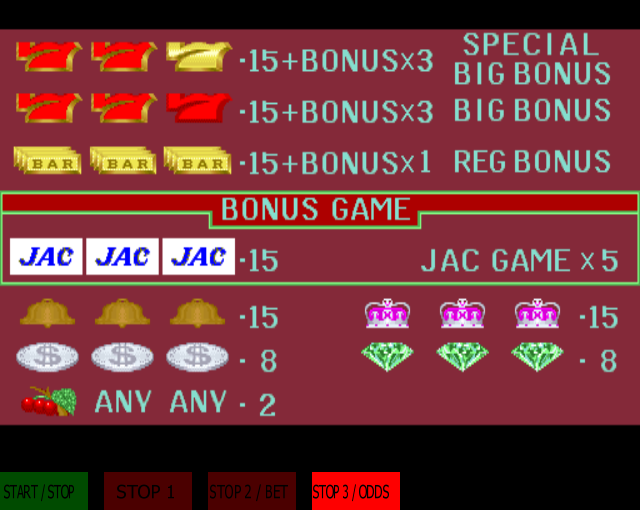 Years of Work
The Seibu protection systems have caused problems for MAME for many years with various developers chipping away at them over the course of the project. In 2017 it was decided that the simulation of these devices had reached the stage where both Legionnaire and Heated Barrel (both games from TAD) could be marked as working as they no longer had any obvious faults due to the protection. Seibu Cup Soccer however remains non-functional.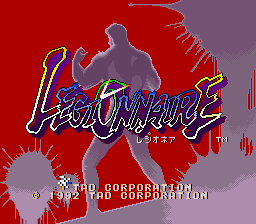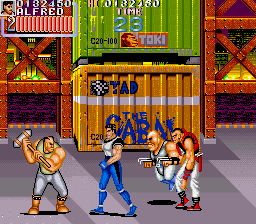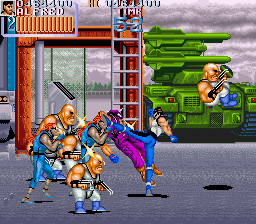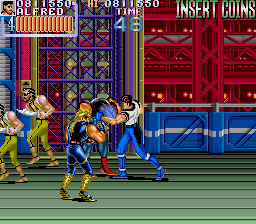 68705 Dumping
The 68705P5 security MCUs were used to provide protection functions for many arcade games. In 2017 a way to read out even the ones with the security fuse set was found, meaning the internal ROM of the chips could be dumped and in many cases protection simulations replaced with emulations.
Larger manufacturers as well as smaller ones used 68705 chips, they provided a cheap way of adding security to a board or an upgrade kit. Blitz's Mega Double Poker for example, was a conversion of Golden Poker boards but in order to stop people making copies of the conversion they used such a chip.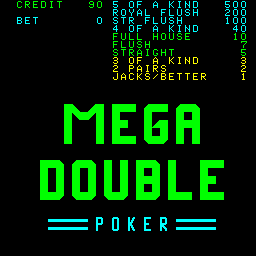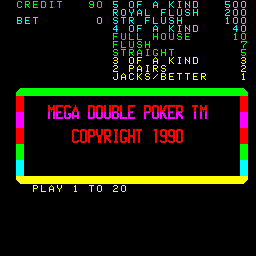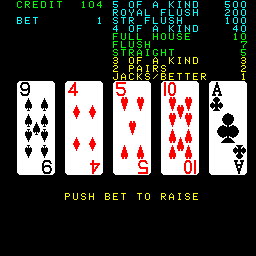 One of the larger manufacturers to make extensive use of 68705 MCUs was Taito with a large part of their 80s catalogue protected by such chips. Many had been dumped previously from chips where the security bit was not set but there were still a number that we'd been unable to read out previously. For many of these MAME required code to simulate the protection functions rather than running the original (undumped) code but simulation is rarely 100% accurate so having the proper dumped code from the PCBs running means the emulation can be trusted a great deal more.
In other cases, again with Taito it turned out that older 68705 dumps we had were actually from bootlegs; with Return of the Invaders the MCU code that MAME had been using for many years was from a bootleg and had been completely reprogrammed by the bootleggers from scratch; the actual MCU code was an entirely different piece of code. We'd long suspected this as the MCU dump we had did not handle the flipscreen commands correctly and having access to the real code confirmed these suspicions.
DS5002FP Dumping
While it concerns a far smaller selection of games there was one piece of protection related news from 2017 that from a preservation point of view outshone even the Taito MCU dumping. That news was a method to dump the SRAM used by Dallas DS5002FP MCUs so that the proper protection code could be used on games using them. The only arcade manufacturer known to be using these chips was Gaelco (although a gambling game exists from another company, but the hardware is the same as Galeco's boards)
The reason this was such a big piece of news is that these devices have anti-tamper suicide logic built in and rely on batteries (that can't be replaced) to keep the content of the SRAM alive. We're talking games from the mid 90s and batteries that were meant to last around 10 years so the situation wasn't great. Gaelco had actually kindly provided the DS5002FP code for one of their games, World Rally, many years ago as part of a promotion they were doing on their website, but for the others we had no way of emulating them.
Fortunately with a method to dump the chips the situation became a whole lot less worrying, and World Rally 2 was the first of the previously non-working games to become playable in MAME.


TH Strikes Back (aka Thunder Hoop 2) followed shortly after World Rally 2, again filling in an important part of Gaelco's back catalogue that was previously unemulated.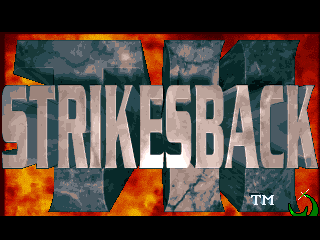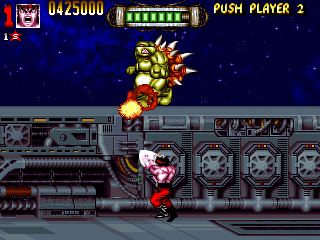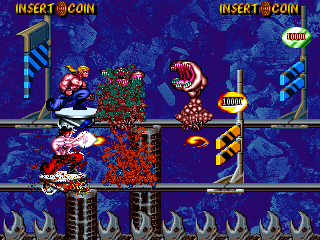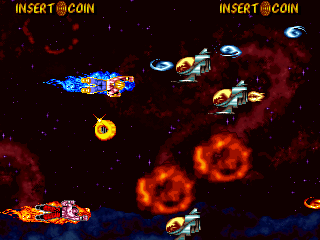 Another important one was the 'proper' version of Glass. Previously only an unprotected version sourced in Korea was emulated. The unprotected one censored, had the images between rounds replaced, and also was based on the '1994' 1.1 release of Glass which was easier and stripped away some gameplay elements. The 1.0 sets are much more interesting to play.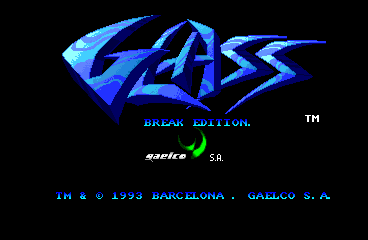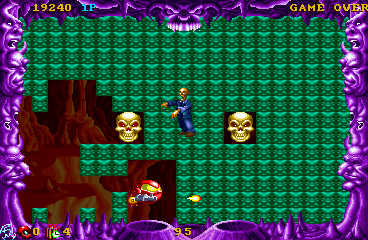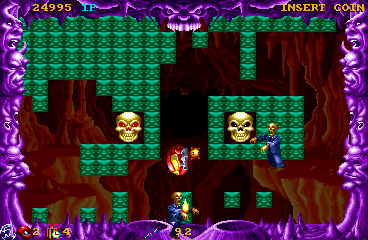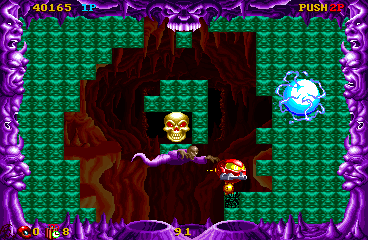 Target Hits was the final previously unemulated Gaelco game to be promoted to working.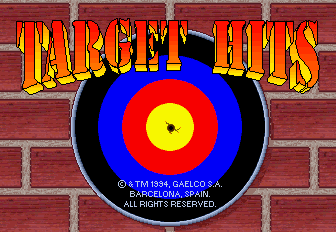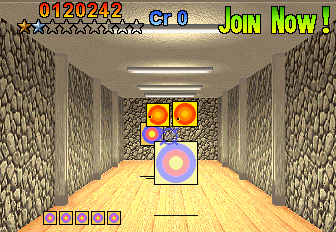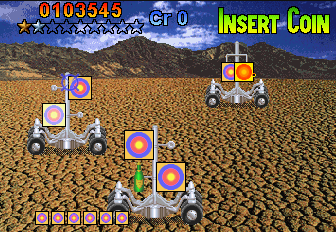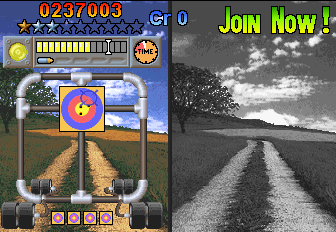 Maniac Square, Touch and Go and Alligator Hunt also benefited from this, and while there were previously playable versions of those games the protected ones can now be emulated.
I previously mentioned a gambling title using Gaelco's hardware. Unfortunately a working copy of it needed to dump the SRAM is proving to be elusive, although some work was done on trying to simulate the protection instead, however, based on the complexity of the protection used on the other games this might prove impossible without a real dump from a working board.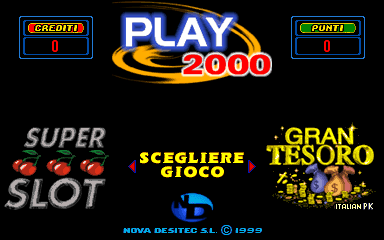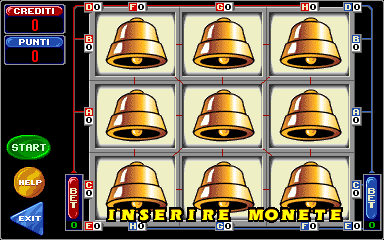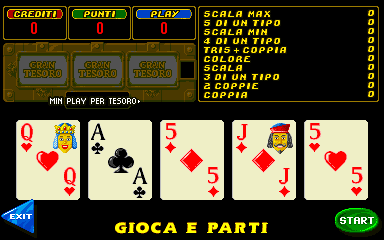 Another pleasing piece of news with regards the Gaelco work is how many previously undumped clones turned up in the process of sources the boards for DS5002FP reading, including a rather odd Alligator Hunt set with some level ordering changes and a slightly different title screen background. Ironically enough that set is unprotected, but the board was one of the few where the original DS5002FP SRAM content was still perfectly intact.
HD647180 dumping
After the dumping spree in 2016 there were only 2 Toaplan games left with undumped HD647180 MCUs. Those games were Ghox, and the original Japanese release of Pipi & Bibis / Whoopee. Continuing where things left off, those two were dumped in 2017 giving full sound and music to both games, as well as in the case of Ghox fixing a number of subtle issues that were caused by the device also being used for protection (backgrounds on the high score table and end sequence)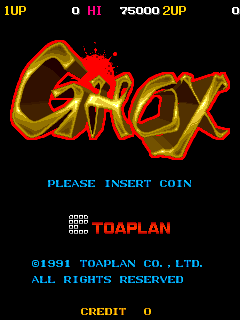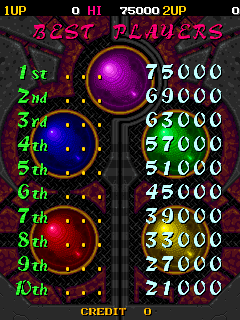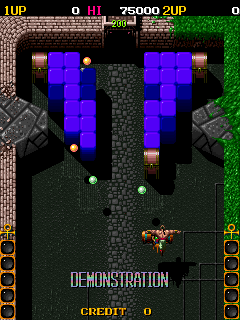 Obscure Protections
Some games used uncommon methods for protection, rather than relying on known MCU types they instead opted for custom programmed logic chips; simulating them can actually be even more difficult than working with MCUs sometimes because you don't know what you're up against. Future Flash, which is also known as Laser Base is a title employing such protection methods. The code actually makes various reads ands writes to the protection device, but it turned out from testing the chip that it seems only the reads, and read address actually altered the internal state so the writes were there to throw you off.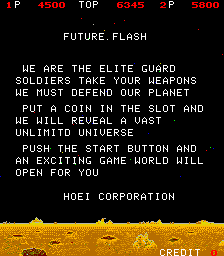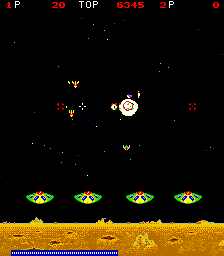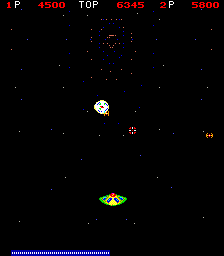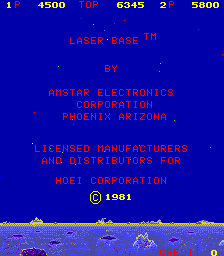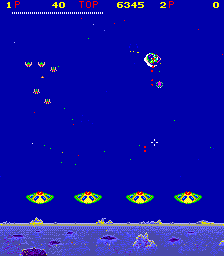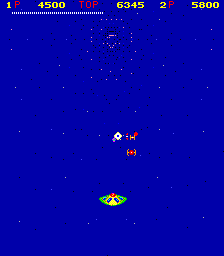 PC Based Hardware
A lot of people still seem to be living with the misconception that if something is PC based hardware then there's "nothing to emulate" because the software was designed for a PC and said people are running on a PC. That couldn't actually be further from the truth; PC hardware needs emulating from the ground up like any other piece of hardware. Any view that all the games can just be hacked to run natively is very short-sighted as PCs themselves are a moving target, everything from operating systems to the actual hardware evolves over time and often isn't compatible.
The MegaTouch XL games are very much PC-based hardware, as you can see from the following start-up screens.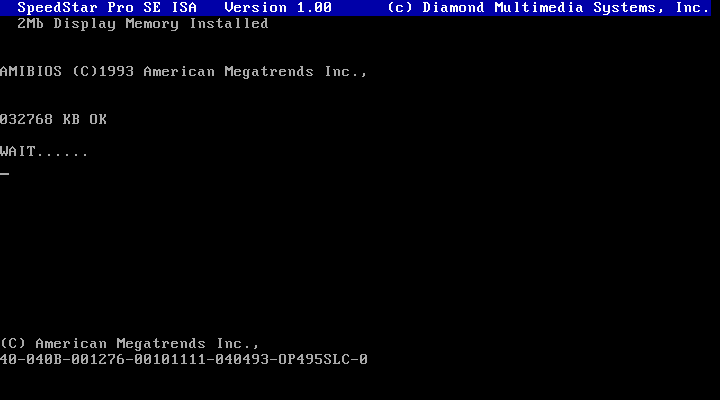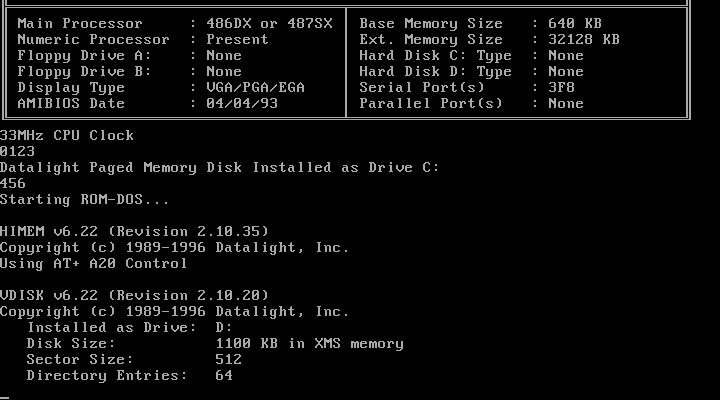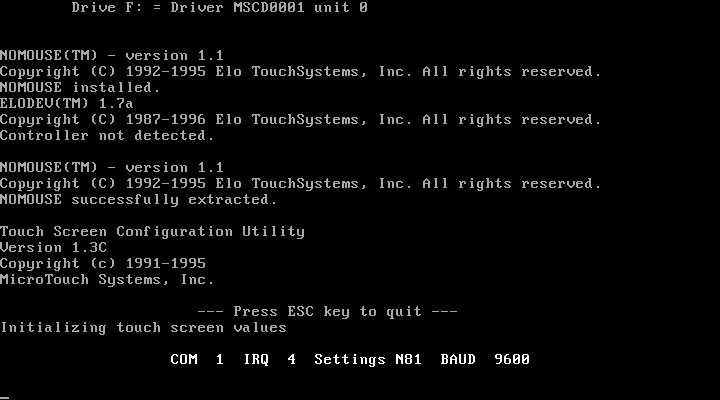 These games ran on DOS based PCs with custom touchscreen interfaces. In 2017 the security was mostly figured out, so quite a few in this series are now playable, although some will still crash and have weird defaults that need correcting. Mega Touch 5000 is still especially crash-prone and marked as NOT WORKING for good reason.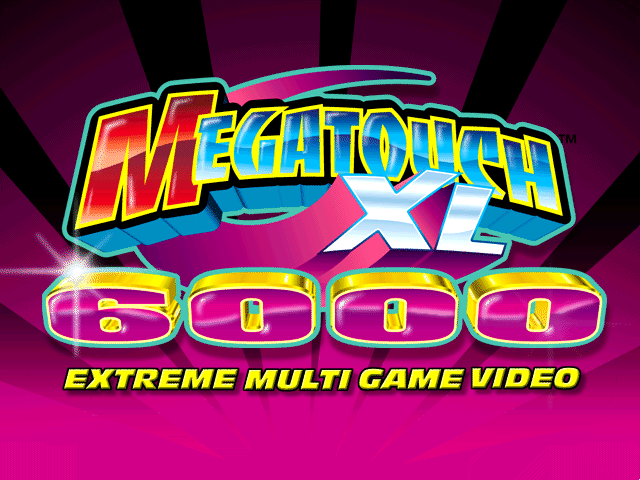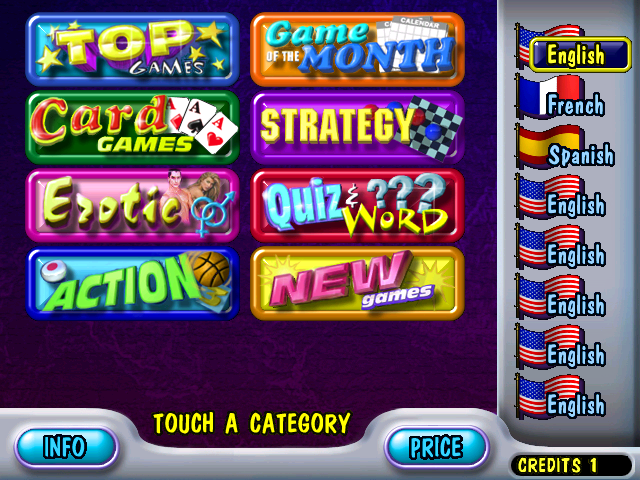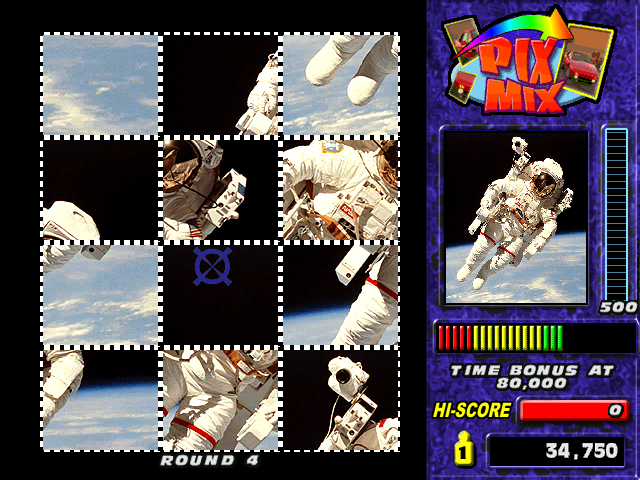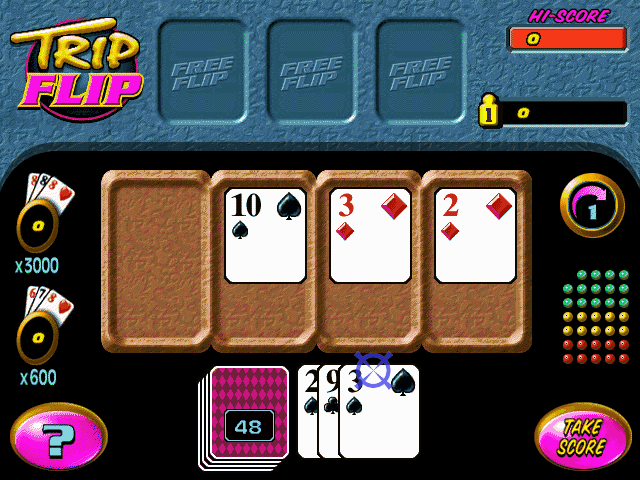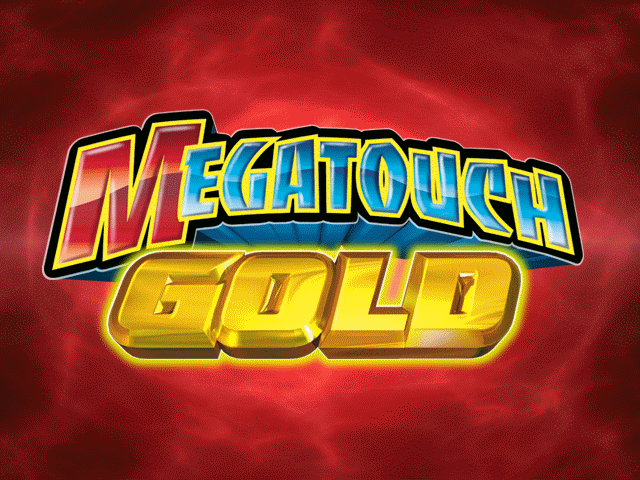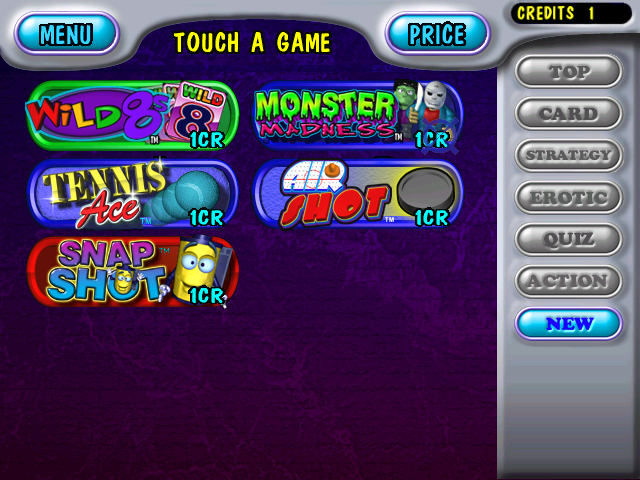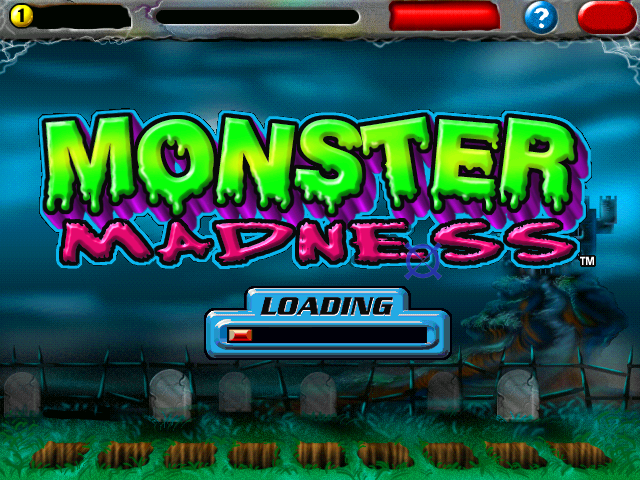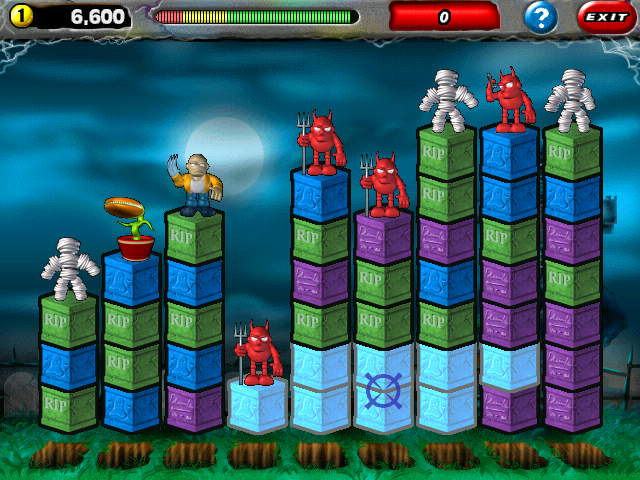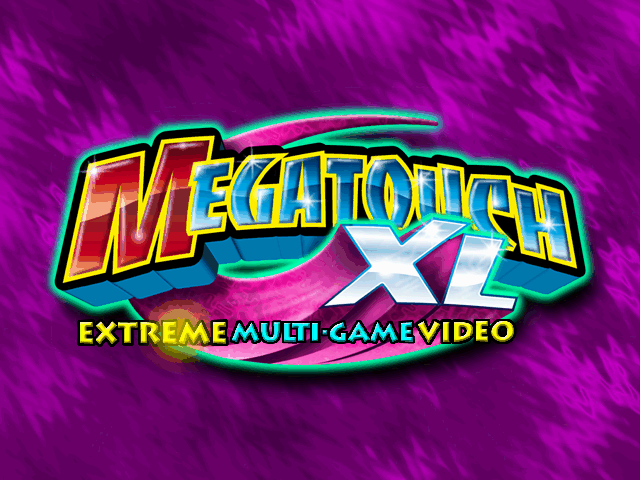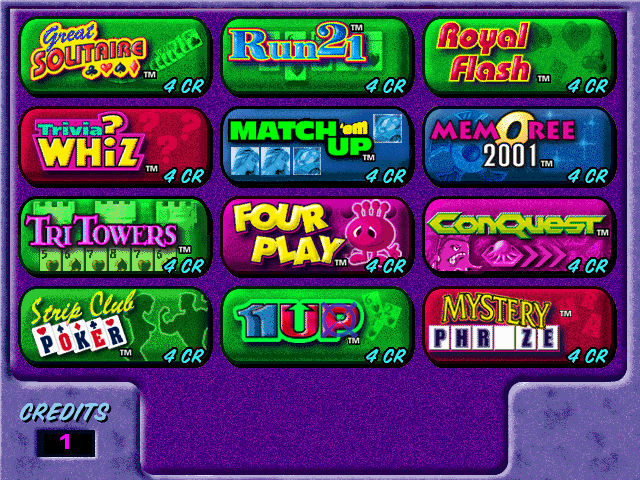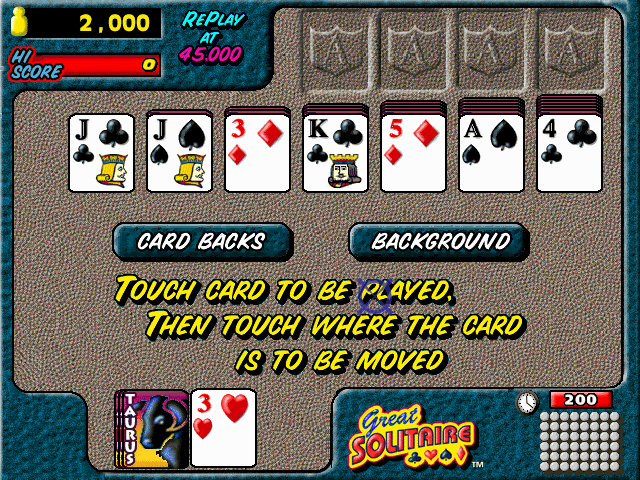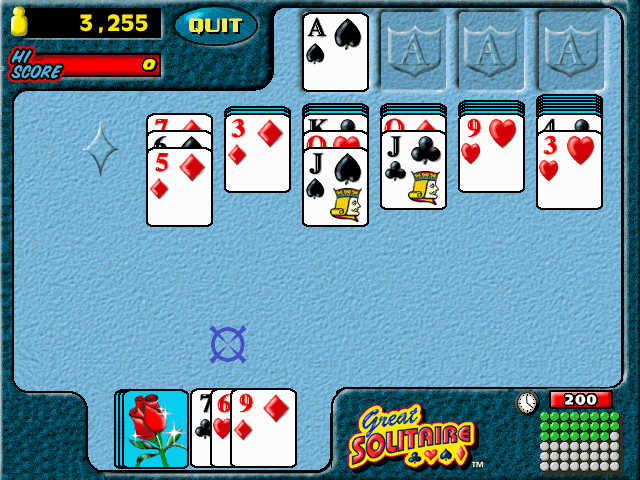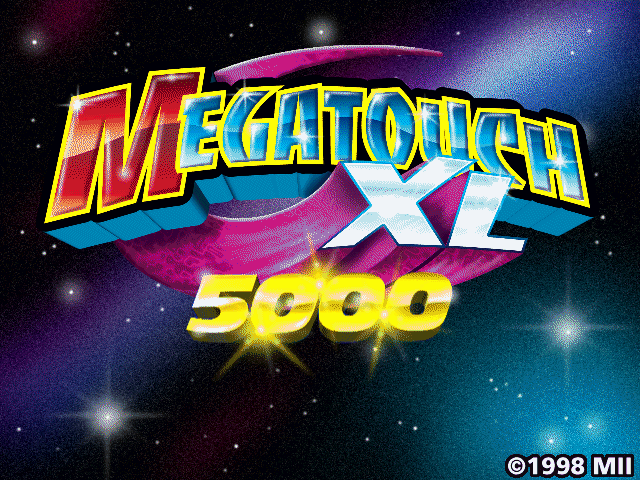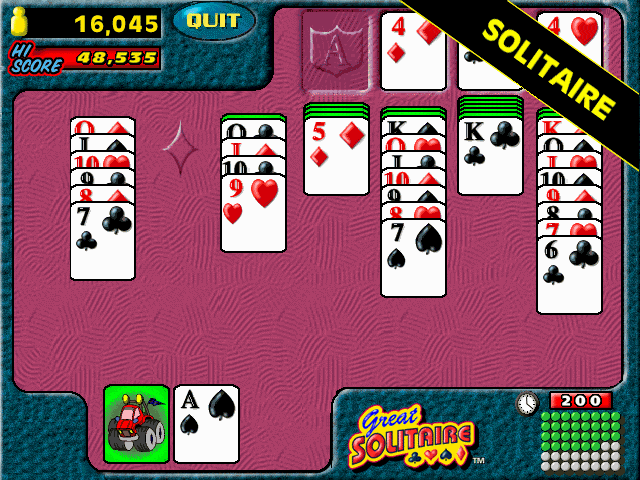 Various Gambling Titles
Sometimes there's a long gap between a bootleg version of a game being emulated and the original getting the same treatement. Often this is due to protection, or the original version being very rare, but sometimes it's because the original version used substantially more complex hardware. That was the case for Seta's Jockey Club II where a bootleg called Dark Horse had been emulated for many years, but the original had not. The original uses a complex Seta sprite setup, while the bootleg parsed all that and converted it to use regular sprite sand tilemaps, also the original is a lot more fussy about the rest of the hardware, requiring valid serial numbers in the EEPROM etc.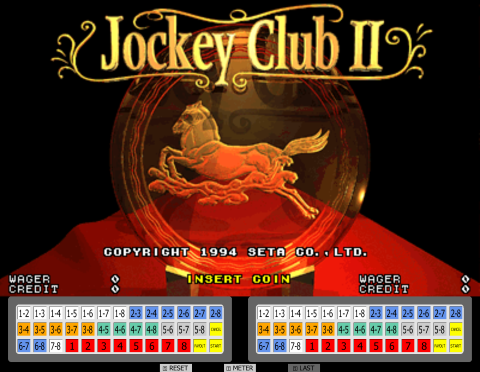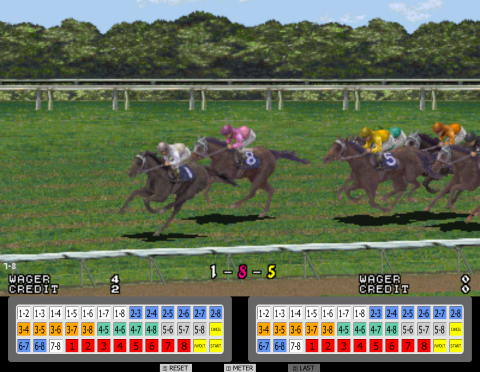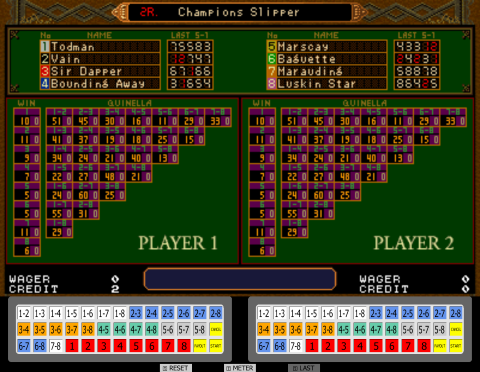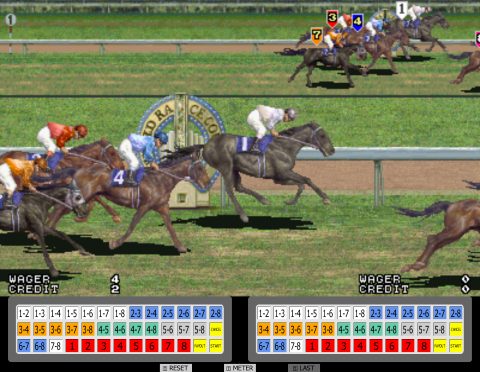 A roulette game on Seta hardware, actually developed by Visco and known simply as 'The Roulette' also attained working status in 2017. One thing that was noteworthy with Jockey Club II above was the sheer number of inputs and relative complexity of the internal layout that was created to handle them. In that sense, The Roulette is similar, every possible bet location was a different button so to best emulate this an internal layout with clickable buttons was used.