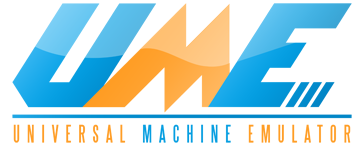 UME is the complete/combined version of the MAME / MESS project.
0.154ex4 is built from SVN revision 32369
After spending a while testing (and adding a bit more polish to the driver such as correct dipswitches, resolution etc.) I've decided to release a build to demonstrate the progress on New Zero Team etc.
UME 0.154ex4 Windows binaries – 32-bit, 64-bit and all tools
UME 0.154ex4 sources
Here is the 0.154ex3 to 0.154ex4 SVN log
Other Binaries (if you don't know what these are you don't need them)
MAME/MESS split 0.154ex4 Windows binaries – 32-bit, 64-bit and all tools
Points of Interest
The main thing that is going to interest people with this build is the working status of 'New Zero Team' and 'Zero Team 2000'
Note, the New Zero Team in MAME is from a 'Type B' PCB with Dipswitches and a maximum of 2 players. An undumped version of the game is also known to exist on the 'Type C' PCB (similar to Zero Team 2000) where the dipswitches are replaced with EEPROM and presumably 4 player support is restored as it is in ZT2000. For general play Zero Team 2000 is more recommended however as it has the correct stage order. Below is a video of me playing Zero Team 2000 from start to finish. As mentioned below the protection in NZT / ZT2000 is much weaker than the regular ZT sets, so the emulation is much more trustworthy – the regular game I believe still uses unemulated commands in some places.
The Raiden 2 New / Raiden DX combo board is also playable in this release. If you want to listen to the awful sound Seibu decided was suitable for this release you can see the video below.

and when the board is running in Raiden DX mode..