Bit Corporation / UMC – Gamate (Mobile / Handheld)
I was in two minds about including this one, because at present there are (to my knowledge) no dumps available. The system is a 'gameboy clone' although quite how compatible the hardware is I can't say right now. This article wasn't meant as a list of undumped systems, because in such cases theres nothing a dev who is a programmer dealing with the software side things can do if a board simply can't be acquired and there are no dumps. To my knowledge it isn't too difficult to get your hands on a Gamate, but thus far nobody has figured out how to dump them, and sometimes figuring things like that out, for the benefit of other people, is something the more hardware-minded members of the development team do.
Terrible name aside it seems to be an almost forgotten system, which is a shame because it had unique titles, and represents the output / creation of a more obscure part of the industry (the Non Japanese / Korean Asian market) I'd certainly like to see some progress made on it, but right now there is nothing I can do to aid that.

(The Gamate is a potentially interesting emulation target, if only somebody could figure out how to dump the cartridges and bios if it has one)
Sandisk – Sansa Fuze (2) (Mobile / Handheld)
You might say this is an odd one to include. The Fuze is/was an MP3 / media player device by Sandisk, emulation of it would serve little practical purpose. I guess I'm listing it for sentimental value as much as anything else, I liked these players so much I bought 2 of them at the time. They had everything I needed, good size internal capacity, MicroSDHC memory card socket to expand the capacity further with seamless integration of the two, a decent basic firmware but most importantly the ability to install Rockbox for many more advanced features and gapless playback across any format you could imagine. They also worked as basic storage devices, you didn't have to go through any kind of iTunes garbage to get your songs on and off, they simply appeared as 2 drives. The battery life was also great even after 5+ years of use, the screen was also excellent, and the dial control absolutely perfect and most importantly I could have no complaints about the sound quality. Sadly one died about a year back when it was dropped on the floor and stepped on, and the other I lost a few weeks back on a night out. Actually shopping around for replacements has been a pain, everything on the market right now seems to fail one of my 'essential' checkboxes, I wish they still made these things just with a bigger internal capacity and Rockbox by default, I know I'd buy one!
That's an aside anyway, it would probably also run like crap in MESS because I believe it actually has a very fast ARM processor (embedded in a SoC solution) in there, but still, would be kinda cool to see it running both the original firmware and Rockbox in MESS, there were ports of Doom and even a Pacman emulator running under Rockbox. I guess emulating it would serve to show that MESS is interested in things outside of the traditional home systems and handhelds too, which is always a good message to get across.

(Emulating the Sansa Fuze would show how diverse a project like MESS can be)
Data East – Genesis based hardware – High Seas Havoc (Arcade)
High Seas Havoc is fairly well known as a Genesis game, featuring attractive well animated graphics and decent sound but failing slightly on the gameplay front by being if anything a bit over-generic. The arcade version should be almost the same game and vast parts of the game data are identical, however there is additional protection over the Genesis version in the form of a switchable encryption method. The encryption is not complete, and the game is none functional. Interestingly the PCB ID is DE-0407-2 which might suggest there is another Genesis based board out there, if I was to place a bet I'd say Rumble Kids due to some similarities in the presentation of the Genesis version, but I have no evidence to support that. The encryption probably isn't difficult, just annoying (various bitswaps) but it remains to see if there is any further protection once those are fully figured out. This one is a realistic target, I'm a little surprised nobody has spent more time with it because 99% of the emulation is already done.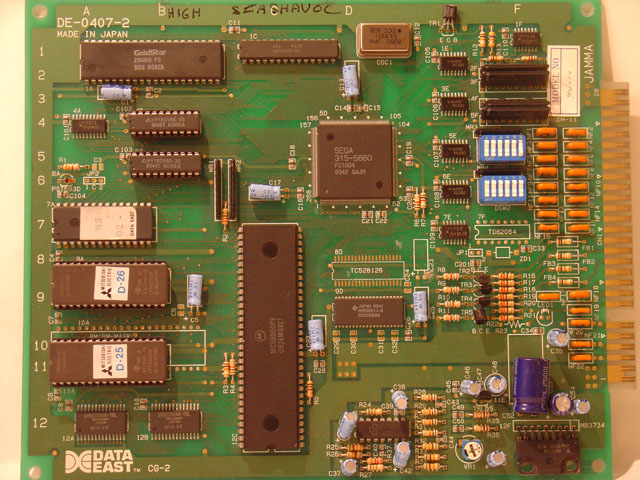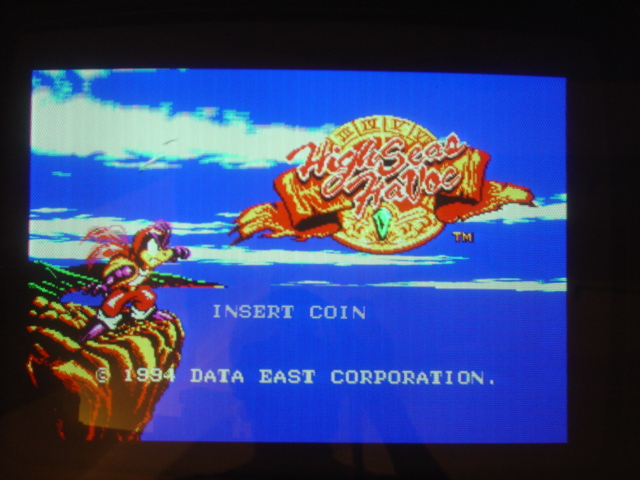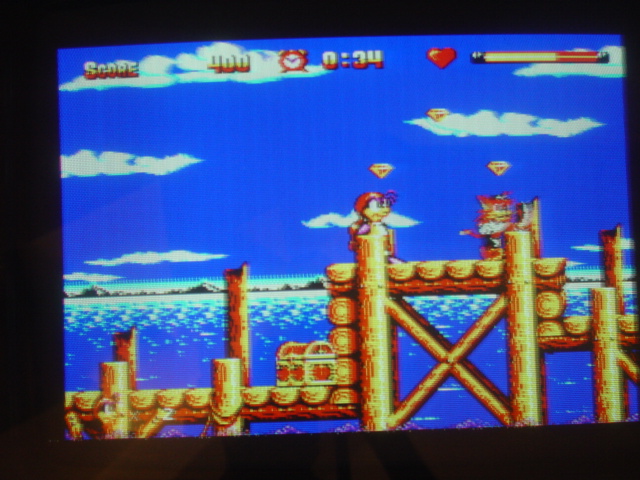 (High Seas Havoc, original hardware shots from Mame Italia dumping group)
Seibu – Cross Shooter / Air Raid (Arcade)
This is another where unfortunately the software-only developers can do little to help at this point. The problem is the graphic data is all stored in custom modules instead of regular ROMs, these modules drive both the background and sprite circuits and at present nobody has been able to figure a way to dump out the content. Another previously unknown game with the same type of modules also showed up around a year ago, but I believe sold for an insane sum of money. There are videos of the entire game on YouTube, it's a basic (if not quirky) game compared to Seibu's more famous efforts but would be good to see it done because it remains a part of Seibu history.

(One of many Air Raid videos uploaded to YouTube by RetroRealityGaming)
Seibu / Taito – Panic Road (Arcade)
This video pinball themed game shouldn't be difficult to emulate, everything we need is right there in front of us, there are no MCUs, no custom protection, no ROM data hidden away in custom packages, no technical hurdles at all. The problem is the game utilizes a way of reading back collision data and that method is not understood properly. It appears the data should come from some bits in the background tilemap data (which we already rearrange in order to show the tilemaps) but exactly which bits, and the layout of the mirror from which they're read simply isn't understood resulting in the ball movements being wrong, and leaving the game unplayable. I doubt this is the most difficult target here!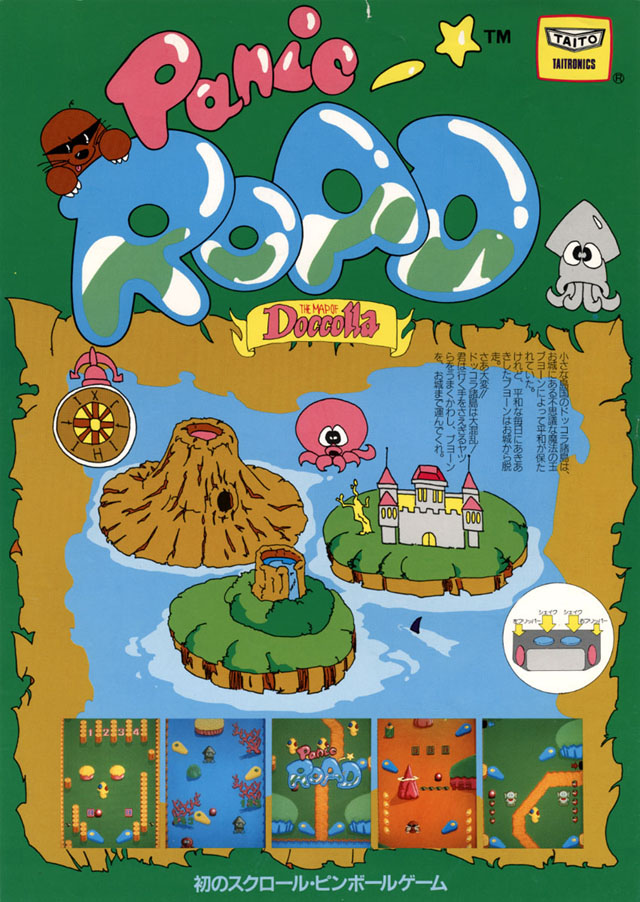 (Panic Road flyer, because there don't seem to be any real HW videos or screens out there)
To be Continued on next page..