MAME has emulated a Korean bootleg of Sega's Fantasy Zone 2 remake for a while now. Given the title of 'FZ2006 II' and released as part of a Korean multi-game bootleg by 'ISG' it appears to make use of the data files from the Sega Ages Fantazy Zone collection, released for the PS2 in 2008, with various hacks applied (different memory maps + their own protection and such)
Anyway, this bugged me a bit, so I've come up with a tiny build of MAME which can run the same game but using the original data files from the PS2 disc, to use this you must simply get your PS2 disc, copy the 'BIN.PAK' file from it, and place it in a zip called fantzn2x.zip and run the custom version of MAME linked below using that. I've done the same for Bloxeed, because it looks like their bootleg of that was also sourced from one of the PS2 versions.
These obviously aren't going to make their way into the official version of MAME in this form, but it's less annoying than having to use a bootleg with hacked title screen and copyrights etc.

Original Sega Version – left ||| FZ 2006 bootleg supported in MAME – right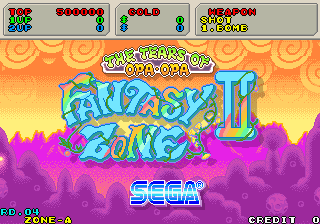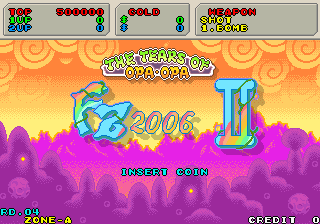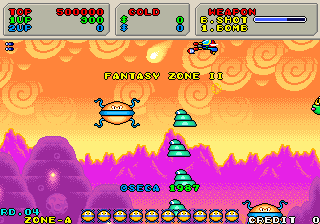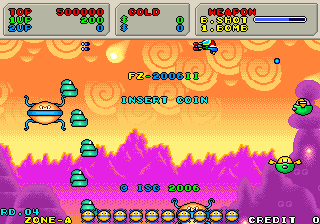 Quite why the bootleggers called it FZ2006 and used a 2006 copyright when it appears to be based off a 2008 PS2 release I don't know, but Sega were no better really, stamping a 1987 copyright display in the attract mode.
This is based on the latest MAME sources (0.143+), but with most stuff stripped out. Download Here
Article title associated YouTube Video (The Eisenhowers – 1969, nothing to do with the actual update, I just happen to like it)