Charles MacDonald has recently been posting information about the DECO Cassette system in order to get some more tapes dumped because there hasn't really been any activity on them since way back when the initial batch was added.
This is good news because these things (being magnetic media and custom dongles) are extremely fragile, and the remaining ones REALLY need sourcing and dumping before it's too late. Of course, all that work isn't much good if there's nothing to show for it, but luckily there is. Here is 'The Grand Sumo' one of the previously undumped DECO Cassettes. In the end it was a simple slot-in to the driver (Type 4 dongle, BIOS Type A) so I can't really take credit for anything, but Charles' fantastic work, and the contributors who have helped buy the game and equipment needed deserve a shout out here.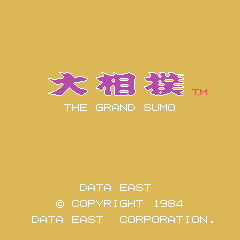 AFAIK the Dumping Union *don't* currently have access to the other rare games, and if they show up they're bound to be pricey, so please consider donating to them if you want to help source these rare and fragile pieces of history.
One of the most important things to note about Charles' work is it means the dumping is now a NON-DESTRUCTIVE process. The dongles are dumped without even opening them, so it's risk free compared to older methods. This is good news for people who own the cassettes if they're considering loaning them out.
Credit this time round goes to Charles MacDonald, Dr. Spankenstein, Kevin Eshbach, T. Huff, SteveS, E. Page-Hanify, Hikari, ArcadeDude, F. Bukor, N. Francfort, jmurjr, arcade-history.com, ThumB, Hurray Banana, Paratech, Xiaou2, Cornishdavey, A. Costin, M. Ponweiser, Tormod, Rambo, Smitdogg, The Dumping Union