Smitdogg dumped the Dragon World Pretty Chance kindly sent by 'Merlin' who offered it for working with in the Demon Front post below.
It's an IGS027A 55857F type chip which means we can almost certainly use the same technique as was used for DoDonPachi 2 to read out the ARM data meaning there's a pretty good chance this one will be the next PGM title emulated.
For now I've hacked things up to boot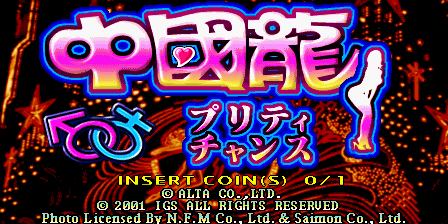 This is the only shot I consider SFW, the rest is rather more suggestive (I'll put some pics in the comments)
Like Dragon World 2001 it doesn't get ingame without the ARM emulated, so only the attract intro runs for the time being. The game appears to use a modified version of the Dragon World 2001 codebase and was released exclusively in Japan with the overall theme changed to make use of licensed adult images instead of the traditional backgrounds.