Sometimes rare games show up when you least expect them to, not in expensive yahoo.jp auctions, just in the hands of good natured people who want to see them emulated.
Planet Probe falls into that category, a PCB was recently sourced by Alberto Grego, in Italy. Some had started to doubt the game really existed, and believed it to be a figment of somebody's imagination, with the only reported sightings in and around Italy.
The board wasn't in very good condition, booted, but was very glitchy, the roms were troublesome to read (Kold666 couldn't get consistent reads, but thankfully f205v could) This game was very much at risk of being lost forever, but luckily all the roms still seem to be present, and the dumps correct.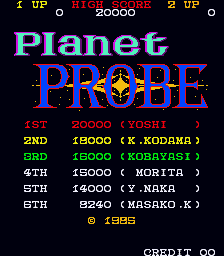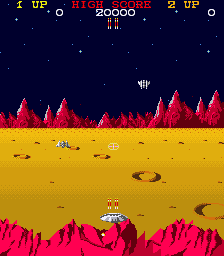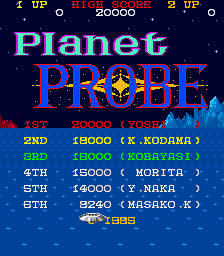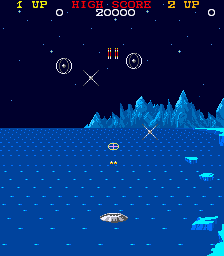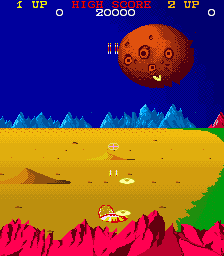 One amazing fact about this game is that one of the Italian players 'Bisboch' actually found the high-score entry music so memorable he was able to compose a rendition of it 20+ years after playing the game as detailed here, the even more amazing part is that his memory was very close to being correct even after all those years; I'll post a video with the second part of the update so that you can compare.
You may have noticed the game lacks a manufacturer in the copyright message, 'so who made it' and 'is it a bootleg?' become valid questions. Personally I don't believe it's a bootleg, the styling of the high-score tables hints strongly that the game was created by Orca / Kyugo who we know had a troubled past. The hardware turned out to be the same as Vastar, a game released by Orca / Kyugo under the Sesame Japan moniker, because Orca had gone bankrupt and they no longer had the right to use the name (according to the comments in mame.lst anyway)
I believe this game falls into the same category, it lacks a manufacturer simply because they had no trading name at the time they wanted to release it and were trying to sell it to potential distributors etc. Ultimately, based on it's scarceness it appears nobody took this opportunity, effectively relegating the game to failed location test / prototype states or an incredibly limited release at best.
As you can see, there are some video glitches still, this is because the vastar.c driver doesn't implement some of the tile flipping (large planet on the last shot) and the game uses a priority mode unused by Vastar and I haven't determined the exact order of the layers yet. Once I've addressed these issues I'll post a video as Part 2 of the update.
Thanks to everybody involved, especially Alberto Grego, hopefully he'll be able to repair his PCB to working state :-)