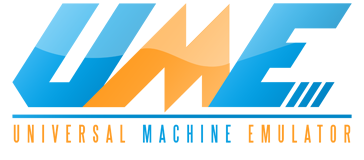 UME (Universal Machine Emulator) combines the features of MAME and MESS into a single multi-purpose emulator. The project represents a natural course of development for the emulators which already share large amounts of code and is part of an ongoing effort to unify development efforts and provide a single emulation platform for users and developers alike.
As an end user this means that the software provided here is not only capable of emulating arcade machines like the baseline versions of MAME, but in addition can emulate a large number of home computers and consoles from across the world using the very same code, developed by the very same team of developers.
What's New
You can read the various whatsnew files on mamedev.org
From MAME, From MESS
UME binaries (Windows)
0.149u1 UME Windows binaries (32-bit and 64-bit) (Self Extracting 7-zip) (all MAME / MESS tools included, both 32-bit and 64-bit versions in tool32/tools64)
The source is identical to that found on mamedev.org (SVN revision SVN 24476/ 0.149u1)
Non-UME binaries (Windows)
In addition to providing the UME binaries I've also included a package with the individual legacy MAME/MESS executables as an option. Personally I prefer the everything under one exe UME solution but I've noticed it's not always easy to find binaries of the regular u builds with them not being offered from the official site so this is my attempt to address that.
0.149u1 MAME/MESS Windows binaries (32-bit and 64-bit) (Self Extracting 7-zip) (UME above is more highly recommended)
Latest U release binaries for UME, as well as MAME & MESS can also always be found on the page linked in the box on the left
These binaries are coming from Mamedev (me) so are as official as you're going to get for a u update.
Points of Interest
In addition the everything mentioned in the last 2 posts here there have been a number of other changes, I'll cover some of the highlights here.
One thing I forgot to mention in the previous post is that hap improved collisions in Birdie King 2, another one of the long-standing games marked as working, but with such severe issues you'd probably be right for thinking it was a mistake.
(more)