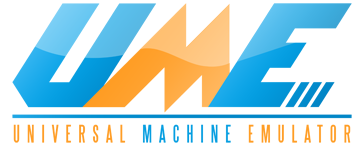 UME is the complete/combined version of the MAME / MESS project.
MAME / MESS 0.152 have been released, this is the final MAME release of 2013, and as usual I've compiled the complete / unlocked UME binaries to host here.
0.152 is based on the 0.152 release found on Mamedev.org (SVN revision 26738) with a small fix for a validity issue applied (checked in as SVN revision 26740)
The changelog since 0.151ex3 (simply a copy/paste of the SVN log) can be read here.
The actual whatsnew files for 0.152 can be read here (MAME-side) and here (MESS-side)
UME 0.152 Windows binaries – 32-bit, 64-bit and all tools
UME 0.152 sources
Points of Interest
This caught me off-guard a bit, I was expecting a release in the 1st of 2nd week of January like last year, so I've not been paying too close attention to what's been going on, I have however quickly scanned the list of changes.
It doesn't look like there's been a great deal of measurable emulation progress since the 0.151ex3 release, at least not in terms of end-user experience. There have been a large number of changes, but very few that bring new functionality. If of course you haven't upgraded to any of the 'ex' builds then there is an awful lot to see since 0.151, look at the previous details posted with the 'ex' builds here to see some of those!
The most interesting work lately has probably been the improvements to the discrete system emulation which shows a lot of potential and is going to be critical to emulating a number of very early arcade titles, although the only one currently supported, Pong, is arguably in a worse state at the moment than in some prior releases because you can't actually move the paddles to the bottom of the screen. This makes hitting the ball impossible in some cases thus rendering the game unplayable for the moment. The developer involved is apparently aware of this, but I guess it's important to convey the message here so people don't set their immediate hopes too high after seeing the recent change logs which have admittedly been exciting.
Kale's recent work on Hyper NeoGeo 64 is included, amongst other things this means you can coin up Buriki One and see more of the game than just the attract mode, but the driver is still highly incomplete and completely unoptimized, so it isn't an experience I can recommend just yet. Maybe 2014 will bring more progress in this driver, the improved 3D pipeline emulation Kale has introduced certainly paves way for some of that.
There's the odd interesting clone such as the original Semicom release of Wivern Wings; all the previously supported sets were the GameVision licensed version that had been renamed to Wyvern Wings, I'm sure you'll agree the original title logo looked nicer!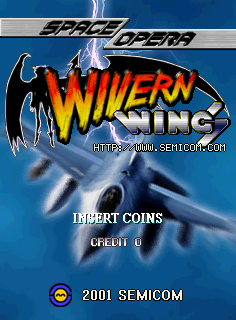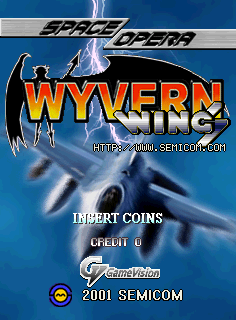 I need to scan the changes in MESS a little more to see if there's anything worth highlighting there.