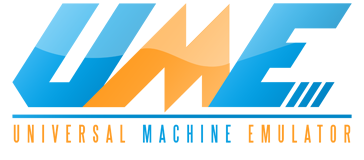 UME (Universal Machine Emulator) combines the features of MAME and MESS into a single multi-purpose emulator. The project represents a natural course of development for the emulators which already share large amounts of code and is part of an ongoing effort to unify development efforts and provide a single emulation platform for users and developers alike.
As an end user this means that the software provided here is not only capable of emulating arcade machines like the baseline versions of MAME, but in addition can emulate a large number of home computers and consoles from across the world using the very same code, developed by the very same team of developers.
0.148 Windows binaries (32-bit and 64-bit) (Self Extracting 7-zip) (all MAME / MESS tools included, both 32-bit and 64-bit versions in tool32/tools64)
The source is identical to that found on mamedev.org
General Notice
As of 0.148 the MESS binaries are offered as an optional extra to the MAME base package on mamedev.org, while this isn't a fully merged solution like UME it is a step in the right direction towards having MESS recognized as part of the MAME family, which is one of my goals with UME.
I hope in the future we can see them offered as a single package, and eventually merged, spawning the 'classic' builds (Arcade-only emulator without any of the pinballs, gambling stuff) alongside a complete build with everything (Arcade + Home) Some people remain unconvinced over this even if it is already the direction in which development is heading. Doing that would give a 'best of both worlds' scenario, with the main release showing our dedication as a team to the documentation and preservation of everything we can (a unified voice of what I hope UME shows right now, rather than it just coming from me) along with the Classic version for people who really don't want some of the recent 'bloat' and prefer it to simply emulate arcade video games and nothing else. Everybody would win, I think?
What's New
You can read the various whatsnew files on mamedev.org
From MAME, From MESS
Points of Interest
There are some really good additions this time around, as well as bug fixes for some long term lingering bugs (such as the control redefining problem for some of the Consoles) Preliminary disk support has also been restored for systems like the CPC (although protected disks won't work yet until support is improved dramatically) as well as the ability to change disks with softlisted software working again (although not with 7z compreed files due to some pending debate and the need to establish an actual .diff format for writable disks, rather than trying to modify the content of the original files, which you really don't want to be doing for softlisted media anyway!)
The Rise of the Robots proto made it in, so as I've mentioned, that's if you like trainwrecks that's no doubt one to study. Mahnattan for the Deco Cassette is there too, along with a couple of Deco Cassette bug fixes I made to support it. Grasspin too, in a working state even if there are a few things to be ironed out.
From MESS the PV1000 has been promoted to working, a curiously underpowered system from Casio to which some not terrible ports were done, although the limitations of the hardware are quite apparent even from those.
HLSL stability fixes have also been put in place, so it now copes better with games doing dynamic resolution changes, which previously were a very good reason to keep HLSL off altogether. If you like HLSL you won't want to be using anything pre 148 because those fixes are essential for a significant number of popular drivers / systems. The vector games may still have issues, so you might want to create a vector.ini with HLSL turned off, although it has been said a more fancy HLSL vector renderer is in the pipeline, something I'm sure fans of AAE will be glad to hear.
A word of caution, the -mt multithreading option was turned on by default, on my system that still causes issues with noticable random graphic corruption / flickering in several drivers if running unthrottled, if you experience anything like that you'll probably want to turn it off; the performance benefits are negligible to say the least and I was really tempted to flip it back off for UME (but wanted to stick to the baseline code)
One of the other potential highlights is the Microvision support, also known as the 'very first handheld' Unfortunately it seems like nobody added any kind of Software List for it, which makes knowing what are valid images to run on it for testing rather tricky. I'll probably revisit that one in one of the u updates if one gets added. The cartridges all contain only an MCU, which acts as the CPU, although with a resolution of only 16×16 monochrome pixels as you can guess it is going to be a very limited system!
Once again proving the projects are an international effort and just not about the popular systems everybody knows there has been work on a number of relatively obscure systems including the Hanimex PENCIL II, a system mostly known in Australia (although apparently manufactured in Hong Kong) It's more or less an MSX style machine, although again there is no software listed and it apparently does not have the capability to load in any software at the moment (it was placed in the wrong section of the messnew, it isn't actually marked as working yet) Still, it's one to watch if some dumps turn up, otherwise you can play with the built in basic.
(Stay tuned for more) (sorry, not been too well these days)