The generally less interesting part of today's news is about Gaelco's Maniac Square.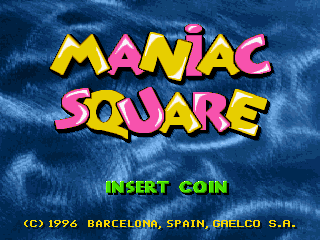 Again, a DS5002FP protected version of this game exists, and again we ended up finding a previously undumped set, which is clearly an alternate code revision while buying up boards for dumping. Like with Glass both sets identify as Version 1.0. The first of the boards was supplied by Charles MacDonald, so thanks to him goes for that.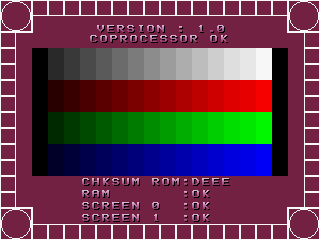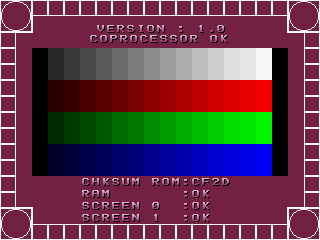 (boot screens from the 2 protected Maniac Square sets)
As with Glass, there was already a version of Maniac Square emulated, an unprotected version with the following boot screen. In this case they did actually remember to remove the Co-Processor message from the screen.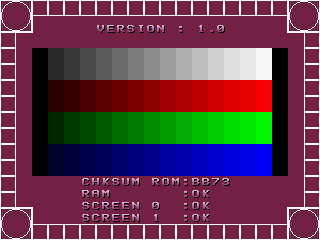 So, what is there to say about Maniac Square? Not a huge amount really. The protected versions are now playable, as you can see in the screenshots below. From a gameplay point of view I've not been able to find anything different compared to the unprotected version.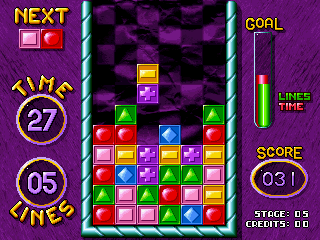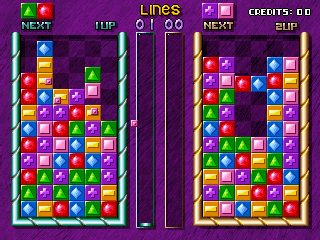 (gameplay shots from the protected version of Maniac Square)
It's a simple 'race against the clock' columns game, and there are no difference to write home about when comparing the protected versions to the unprotected versions in this case. It's the same simple game. Analysing the DS5002FP program was maybe a little more interesting, as it looks like there might be an entirely unused command in there (or I haven't found the point in the game where it gets triggered) but again, it's such a simple game there's not really even much interesting the protection can be doing.
I guess the problem with Maniac Square is that the released game is very much overshadowed by the prototype version. For those not in the know, the prototype clone of Maniac Square, that has been in MAME for many years runs on different hardware and presents the game in an entirely different way, with different special block types, counters for each colour, a fake pinball style dot matrix display giving you messages of encouragement etc. it's just a much more interesting piece of software. I guess the final release with the pressure of the timer lives up to the name of 'Maniac Square' a little better, but it's simply an inferior product all round. So yeah, the most interesting thing about Maniac Square remains a prototype that has been emulated for over a decade, it's good to know the protected originals are now emulated for the sake of competition, but there's nothing really else to say about them.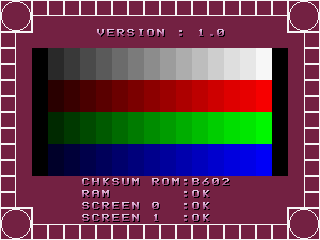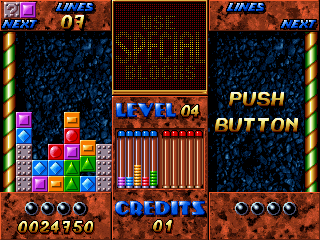 (The prototype, emulated since 2003, is still a more interesting game)