The Dumping Union recently found a board for a game called Casanova. Some sources list this as a Promat game from 1994, but I'm not 100% convinced this is the same game and no manufacturer information is displayed.
What is known is that it runs on the same hardware as 3×3 Puzzle by Ace Enterprise (actually I didn't know this at first, but after adding it the addresses matched up and it became obvious)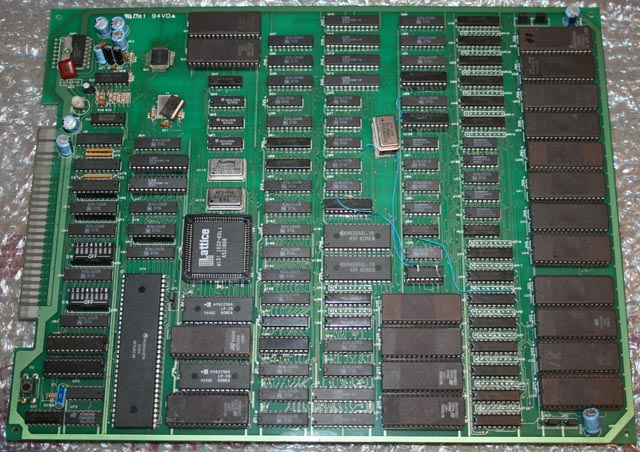 This PCB is a mess, it has a 10Mhz OSC just tacked on in the middle there with wires going to it!
Mariusz Wojcieszek fixed a few things based on new findings from this in the 3×3 Puzzle driver to get the game working once I'd identified it as that hardware.
Like 3×3 Puzzle it has few redeeming qualities. It's a tile matching game, it has an awful pre-rendered intro featuring amateurish glitches with parts of the tilemaps not being copied correctly causing bits of the character's hat to vanish (confirmed on the real PCB) and in addition to that the background colours inexplicably change in places between frames!
Music is just cheesy samples, and about the only noteworthy thing about the entire game is the goofy Superman character who wipes out tiles for you if you get stuck after doing a little dance to more cheesy sampled music. I'd make a video but the hardware does resolution changes and MAME can't handle that, nor has any way I'm aware of to record a fixed resolution scaled avi for cases like that (snapsize doesn't work for such cases)
Usual bikini girls included, maybe they strip, that would mean actually playing the game to find out tho. The game also has a number of other stupid bugs, like some of the credit modes ending up with >9 credits and corrupting the display (again happens on real hardware) This really is bottom of the barrel quality!