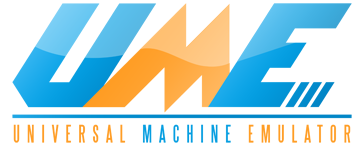 UME is the complete/combined version of the MAME / MESS project.
0.154ex3 is built from SVN revision 32152
I'm not a big fan of releasing an ex build only a single day after the previous ex build, but as was almost inevitable, Raiden 2 and Raiden DX received some final polish and a promotion to working stage within hours of me posting the previous binaries. The UME builds aren't meant to be daily builds, but are meant to be reactive to interesting progress, so I felt it necessary to do a new release.
To make this more worthwhile I added save states to the driver (as somebody requested) and so I've decided to push this build out today with the improved support. The main improvements you'll notice are that the correct objects are now blended against the background (shadows, transparency effects on glass etc.) and also some clipping issues are fixed (clouds scrolling off the bottom, for example when you launch into space)
It's possible there are still some slight imperfections in the protection simulation (there's a comment in the driver about the ship position right after takeoff – although it seems to be present in the superplay videos too, so appears to be a non-bug) but the team deemed the current state correct enough to mark both games as working.
UME 0.154ex3 Windows binaries – 32-bit, 64-bit and all tools
UME 0.154ex3 sources
Here is the 0.154ex2 to 0.154ex3 SVN log
Other Binaries (if you don't know what these are you don't need them)
MAME/MESS split 0.154ex3 Windows binaries – 32-bit, 64-bit and all tools
Points of Interest
Raiden 2 and Raiden Dx ;-)

Raiden DX 'Charlie' Mission