Bouncing Balls is one of those Korean titles that has always left me scratching my head. First of all it's one of the few Comad games I can't attribute to simply being a hack of something else (along with Pushman, which runs on the same hardware – the hardware being a copy of Capcom's F1 Dream, but with different protection*)
* come to think of it, why is the original F1 Dream even marked as working, you can drive through the walls.
Second, they decided that the best theme for the game would be Warner Bros character designed, in this case Marvin the Martian and Duck Dodgers (Daffy Duck), unlicensed of course. The game is a simple puzzle game, and in the existing MAME set these characters are used for both the foreground sprites and in-game background images.
When I say it's a simple puzzle game, I mean it's a simple puzzle game, basic addition and subtraction, putting balls into the appropriate slots to reach a target value, without exceeding it. You'd be forgiven for thinking it was actually a game aimed at kids, but then the whole thing is turned upside down, because between rounds you get undressed / suggestive pictures of women. See these censored screenshots from MAME.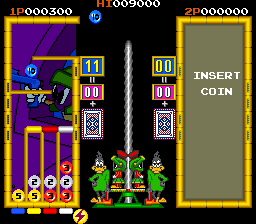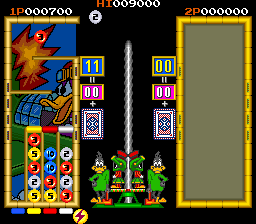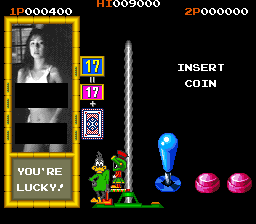 Recently system11 dumped another version of the game, the new set still uses the WB characters for the foreground sprites, but replaces ALL the backgrounds with low quickly monochrome images of women, not just the bits between rounds. This is slightly more in Comad's style, although it's still the same rather pointless game! Interestingly this version also has patterned backgrounds rather than being blank.
It appears this set has less images overall because if you look in the test mode / tilemap viewer (the tilemaps are hardcoded as one big layout stored in ROM) then you can see only about 2/3rds of the tilemap has valid images in this new set with the rest being corrupt, as opposed to the older one where it was all used. ALL the roms are different on this set, so it isn't just some cheap hack, Comad actually thought it was worth putting both of these to market.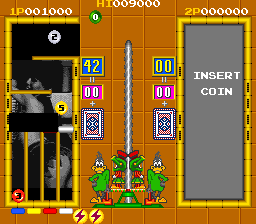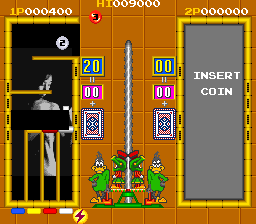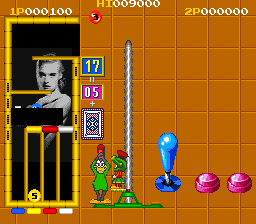 Had a version with no adult pictures at all shown up it might have actually made more sense, because I can't see any adult actually wanting to spend any time with it unless they were completely innumerate; the images aren't even worth seeing, and the game is Fun School level.
I didn't actually spend any time adding this myself, Brian Troha took care of the addition because it simply slotted into the existing driver.