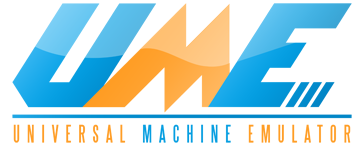 UME is the complete/combined version of the MAME / MESS project.
0.154ex1 is built from SVN revision 31598
There were still a number of issues with DCS sound in the 0.154 MAME release causing some games like Carnevil and the 3D Gauntlet games to lack music, these have since been resolved so it is recommended you use this build instead. Some other issues such as missing sound in the Eolith titles have also been resolved, in addition to a number of other bugs that were caught after the 0.154 release. Assuming no new bugs have been introduced this should be considered a more stable build than 0.154.
I have specifically built against SVN rv. 31598 rather than the more cutting edge ones because the revisions immediately after 31598 do nothing but destroy the human parsability of some areas of the source. Assuming the team has any common sense these changes will be quickly reverted so I'd rather not inflict them on my users due to it being unlikely they'll appear in a final build, it would just result in confusion.
UME 0.154ex1 Windows binaries – 32-bit, 64-bit and all tools
UME 0.154ex1 sources
Here is the 0.154 to 0.154ex1 SVN log
Other Binaries (if you don't know what these are you don't need them)
MAME/MESS split 0.154ex1 Windows binaries – 32-bit, 64-bit and all tools
(SDL binaries might come later)
Points of Interest
Fixes as mentioned above, Music Ball as shown below, some other stuff I'll write a bit about soon.