I mentioned that I'd do an update showing Dance Dance Revolution running with some of the compatible e-kara cartridges.
The first thing you'll probably notice if you boot with one of the cartridges inserted is that the Konami copyright is rendered in a less pleasing colour. Not sure why this was done, maybe to make it stand out more on a TV, it seems to be an intentional change tho.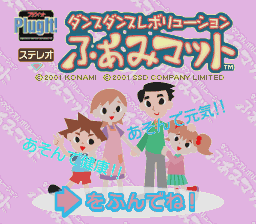 Beyond that, it's really just different lists of songs, the presentation doesn't change.
Cartridge P-01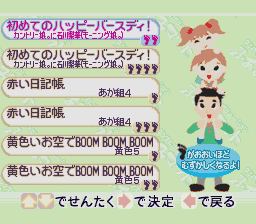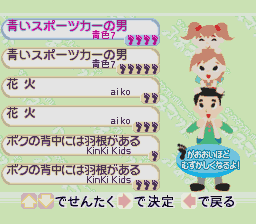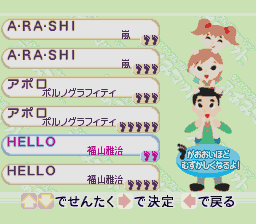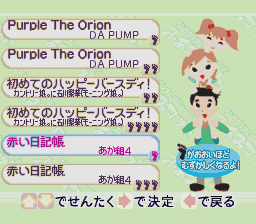 Cartridge P-03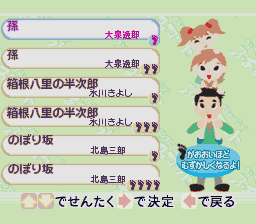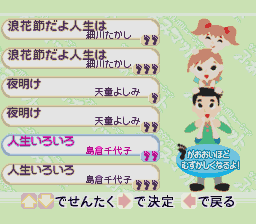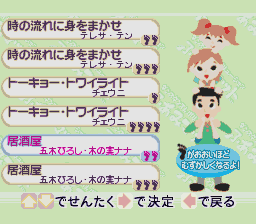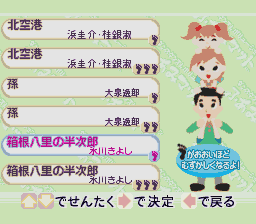 Cartridge P-04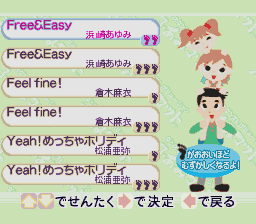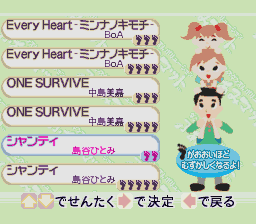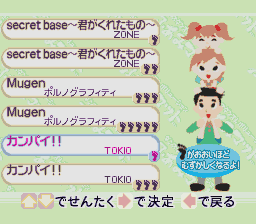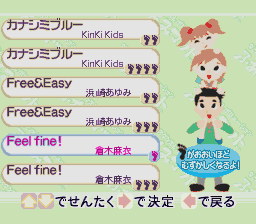 I say the presentation doesn't change, but Cartridge P-04 is a bit strange, almost immediately upon starting the modes with the yellow background it flips the background to a blue colour, which means the characters don't really blend in very well. This only seems to happen the first time, so could just be a bug that's been introduced in the software. Will probably need to check it on the hardware, although it might even not happen if the game has already been played and there is data in backup ram.
The P4 cart also gives a 2002 copyright, and contains an SEEPROM, which doesn't seem to be used by Family Mat, but can be used by Popira for saving how many of the songs you've completed.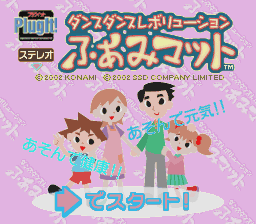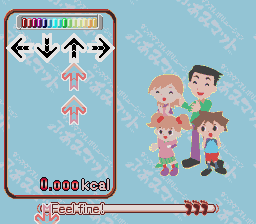 Taiko De Popira is a variation of the Popira game featured in the previous update. Instead of 4 digital buttons it uses 2 analog drums. Otherwise it's very similar in terms of gameplay. The analog controls make it more annoying to hook up in MAME however, with my current implementation seemingly hitting the drums with giant strength multiple times and causing some ugly sounds. The base ROM this time appears to present a story.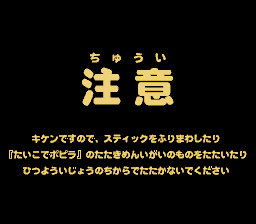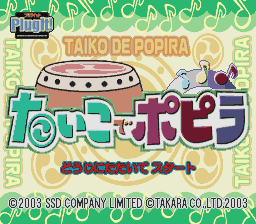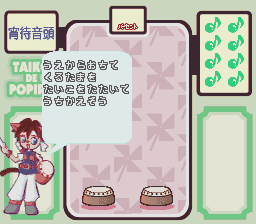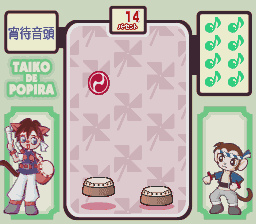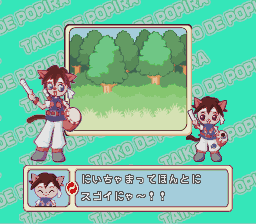 Like the others, this also allows you to plug in certain e-kara cartridges to expand the library, here is it running with DC0005 (TV Pop Volume 9)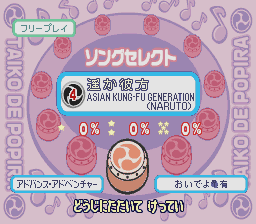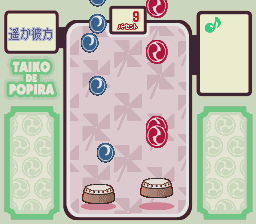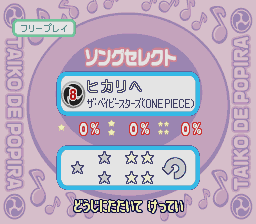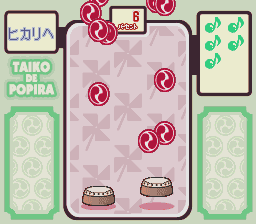 Still needs work, especially the analog controls, and the SEEPROM saving, but you can get an idea from how it runs so far.

Again thanks to Sean for taking care of the dumping and providing some hardware insight, and thanks to Shoutime for helping secure these things in Japan and getting them shipped out.