I've now set up a PayPal account linked to "hazemamewip@hotmail.com" so if anybody wants to contribute towards the purchase (and shipping to Sean / TeamEurope) of Plug and Play devices, then that address can be used. It will help enormously with sourcing additional units, plus any spares we might need for experiments (sometimes dumping is not straightforward as many of these don't use regular ROMs, but ROM globs)
As these are donations, not payments for any specific guaranteed product or service, be sure to send them as gifts. Also don't send email to that address, it won't be checked. If you want to discuss sending a specific unit you already own instead, please tag on on Twitter.
---
Gambling games form the basis of a genre that has brought much ire from MAME communities, and even in MAME's early history were a controversial subject with them excluded entirely for what at the time seemed like an eternity, but in reality was only a short part of MAME's early life. A decent chunk of people still seem to wish they weren't emulated, and actively try to get them ripped out of the project again, however other fields, including this work I'm doing on Plug and Play games seem to have now become to focus of some of that anger instead. I guess some of this is because people think we're working on these things instead of what they want to see (the reality is if I wasn't working on these things I probably wouldn't be working on anything, I tend to work on what I enjoy figuring out, and what I consider to be at most risk of being lost to time)
So anyway, what I'm looking at in this part is the combination of both of those things; gambling themed Plug and Play games. I can almost feel the fire burning.
One of the arguments against gambling games in emulation is that they're pointless; when there's no money to win and no money to lose there is no reason to play them as they offer no entertainment value otherwise. That point of view seems at odds with a wider one because quite often on both computers, consoles and here in the form of Plug and Play games we see titles which are recreations of the slot machine formula for home use. I'm sure anybody from the UK of age remembers growing up with things like Codemasters' Fruit Machine Simulator or Dizzy Dice, which had wasn't Codemasters and had nothing to do with their oval shaped adventurer. (If you don't know what I'm talking about I'm sure both of these can be played in the MAME ZX Spectrum driver just fine)
I already covered Golden Nugget Casino in another part, when looking at Majesco stuff, so let's skip that one and move straight on to something more Japanese.
Gachinko Contest! Slot machine TV is a Japanese Plug and Play put out by Takara, Sammy and Dreams Come True using SSD's XaviX platform. It takes cartridges, 4 are dumped, we know of one other that definitely exists, but the highest cartridge we have was numbered '07' and two of them were marked '01' but are both different software, so I'm not sure exactly how many cartridges were produced.
This is a well designed product, if even accepts special coins via the a slot to simulate the full experience. It's currently marked as NOT WORKING because one of the cartridges has no inputs and the others haven't been extensively tested as the things are entirely in Japanese (it isn't verified if saving works etc.) however a lot of what is on offer here does seem fully playable, just needs some extra testing and verification.
Without a cartridge you get the build in game, which has 2 slot machines available from the off, and one unlockable through some unknown conditions. Like most Japanese XaviX titles there is structure to the gameplay here. Here are some screens of the base game.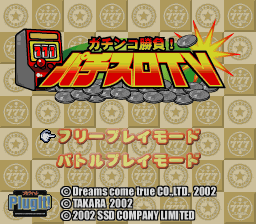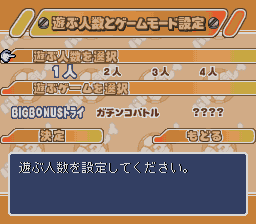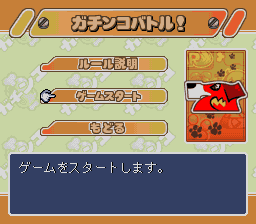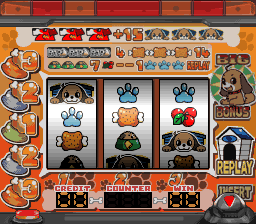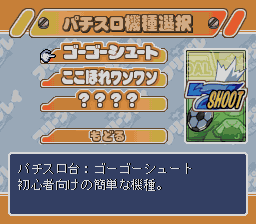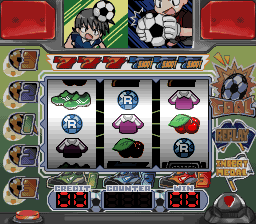 The cartridges contain varying numbers of machines and unlockables. Aladdin TV seems to be one of the first cartridges released, and contains a single machine available from the start, and a single unlockable shown with a row of question marks in the menu. I haven't managed to unlock it, so can't tell you what it is.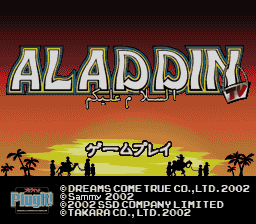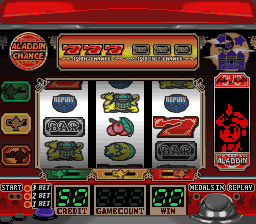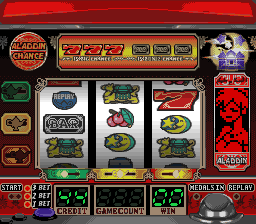 For some reason inputs don't respond on this one 'Ginginmaru TV', but do on all the others. I'm not sure why this is, the ports are being read, but then the game fails to act on them. This is unusual for XaviX systems, especially as these are digital controls, not some fancy analog setup so I'm currently unsure what is causing this.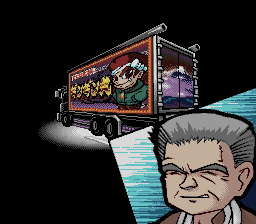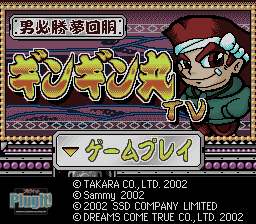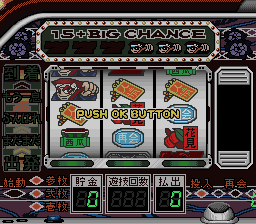 The Salaryman Kintaro cartridge for it contains a 'whack a mole' style extra game using the 3 reel stop buttons.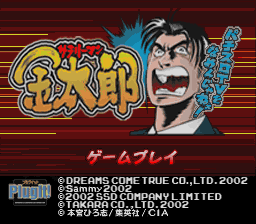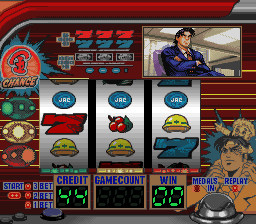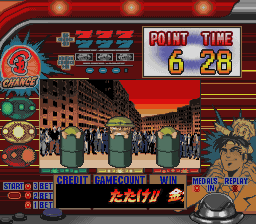 While this one 'Moju-o TV' has you weaving between rocks as the bonus game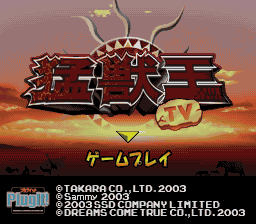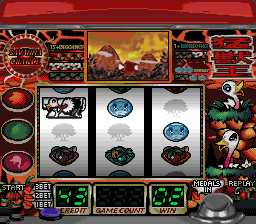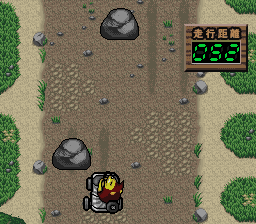 Senario's Big Bonus Slots brings home the video slot machine action for a US audience instead, offering 5 machines and a whole bunch of lucky bonus games for your entertainment. The machines all play basically the same, but with an increased credit value for each, meaning that your virtual $1000 will only get you 2 maximum bet spins on the most expensive machine. There are multiple save slots and your bank amount is kept, so you can build up money on one machine to spend it on another. No unlockables here. Main negative of this one is really the music which sounds like somebody took a keyboard, hit some random keys and called it music and this won't be the only time I feel that way about some of Senario's music.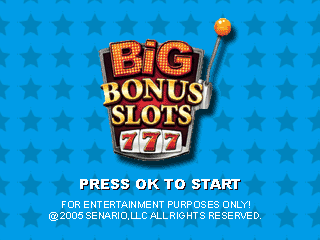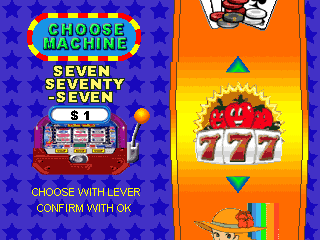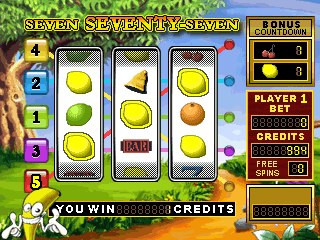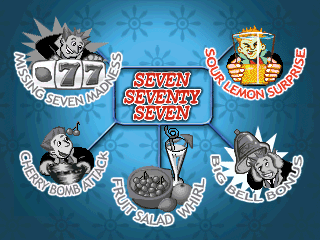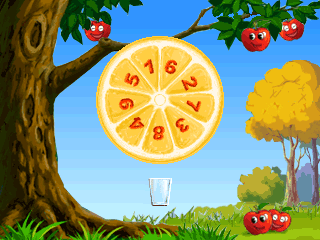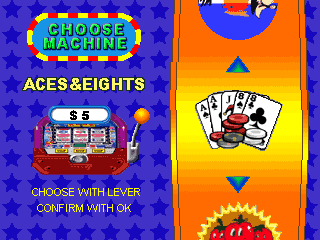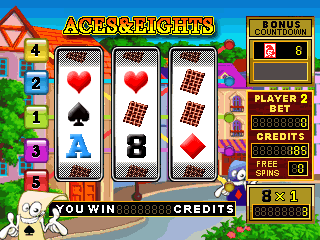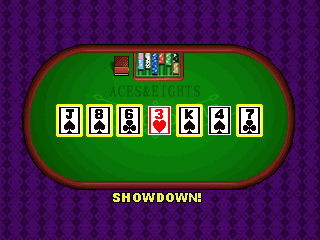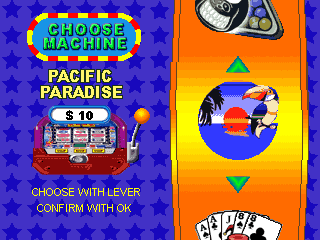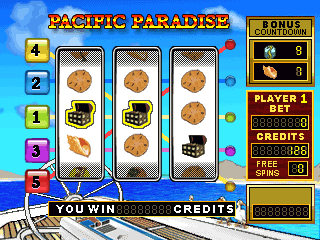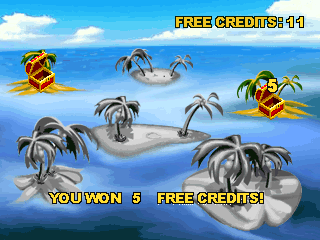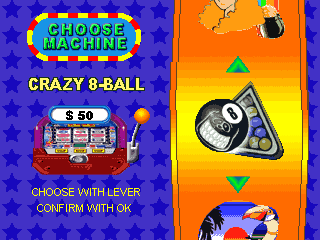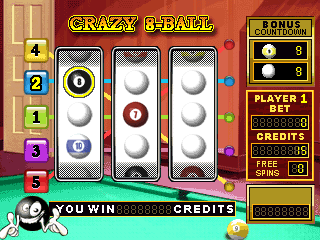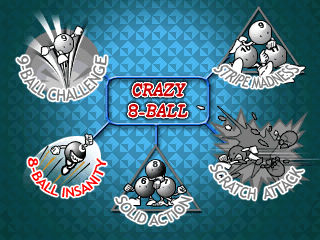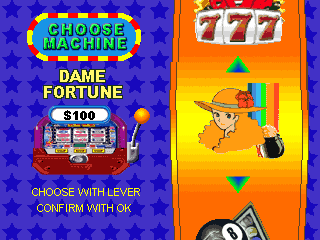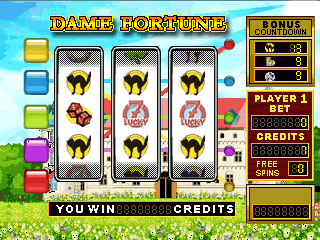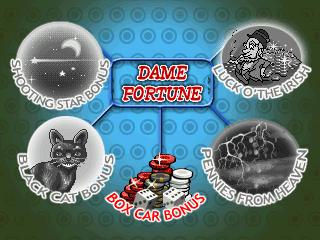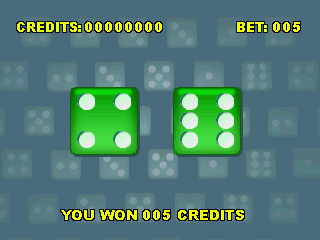 Jara-Ja Land is another Japanese XaviX hardware game from Takara. This one is themed around Japanese redemption titles, and it is fair to say the presentation is through the roof here. You expect these Plug and Play units to generally be cheap throw-away affairs, but the level of detail to some of them defies that, animations here are just superb. This one currently doesn't have controls hooked up (I think it's some kind of analog dial input) but you can run the attract mode for 15 minutes until the machine decides to soft power-off due to inactivity.
Of note, this one prompted me to fix the reel rendering, which the previously covered Gachinko Contest! Slot machine TV saw benefit from too, it's a mid-screen palette change effect.
This one would actually go on to be in an arcade cabinet a year or so later, distributed by Atlus. I'd assume the arcade version still runs on XaviX hardware as SSD is still credited, but we don't have a dump from that one, and the code would almost certainly be different (as things like idle power-off make no sense for an arcade unit)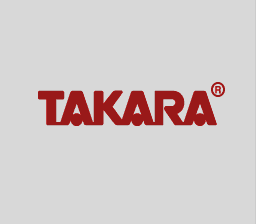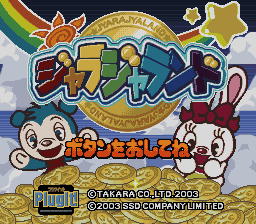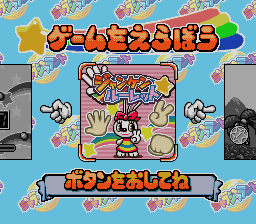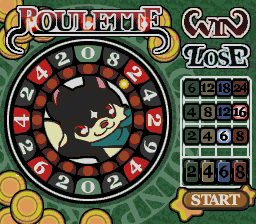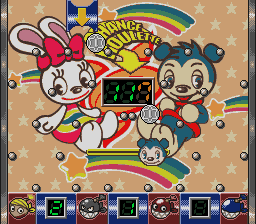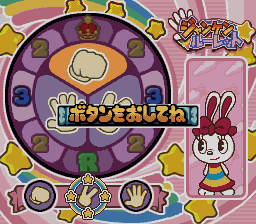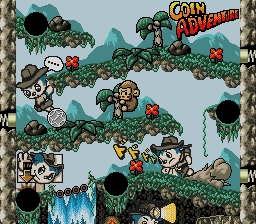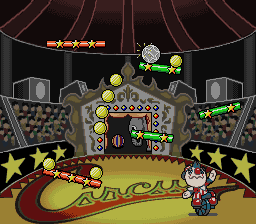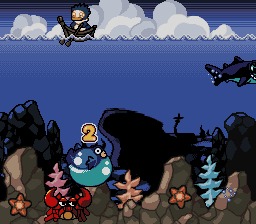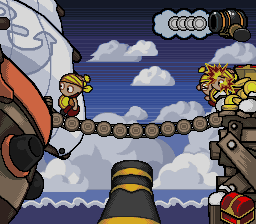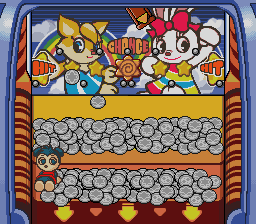 The Vs Maxx Texas Hold'em TV Poker 6 Player poker units were likely amongst Senario's flagship products. These big box affairs were SunPlus based games were each player also had an LCD panel to show their cards and make selections. Emulation them required simulation of those additional controllers, complete with internal artwork in order for the unit to be considered functional. Obviously trying to play it when you can easily see the cards dealt to the other player (because everything is now one screen) doesn't make much sense, but the functionality is there. The standard version is shown below. Music here is slightly better than Big Bonus Slots and at least sounds a bit like a tune, but is still one of the weaker aspects.
From an emulation point of view this was unusual in that it uses the SunPlus 'Bitmap' mode instead of being tile based, and as such has a bunch of extra RAM in the device too for storing the bitmap graphics. This actually makes the insides of the unit look more scary than it really is as there are extra globs for the RAM.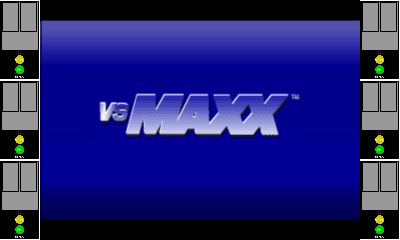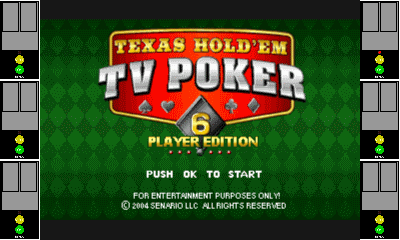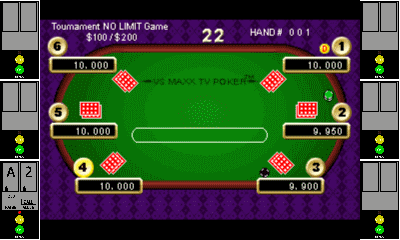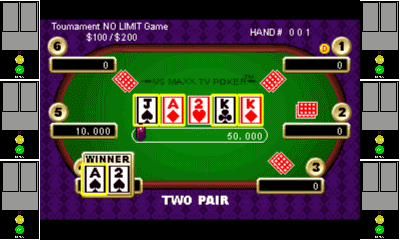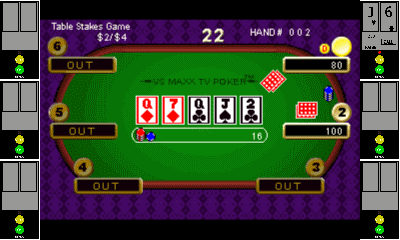 Play Vision would distribute the UK version of this, but the ingame graphics still only credit Senario. The only real change is that the $ values are replaced with £ values, still, regional variations are good to have confirmed and emulated. I don't know if there were European versions with different currency symbols again.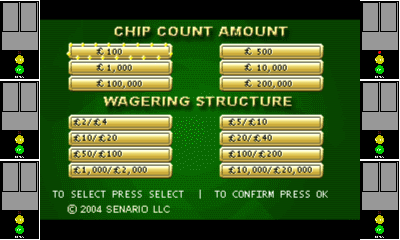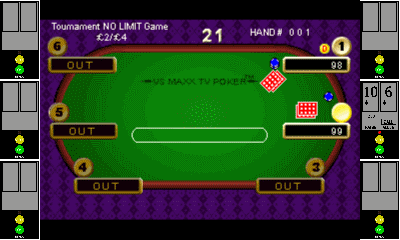 A deluxe version of the game, which to my knowledge didn't get a UK release, adds extra modes, including Blackjack. It's functional, although I should find out if any of the text was changed on the LCD panel as now sometimes the buttons have additional purposes.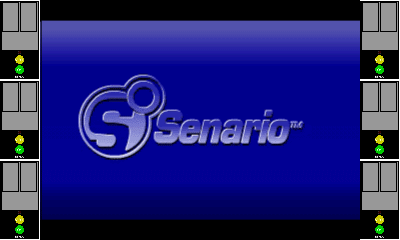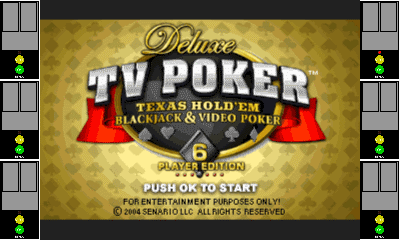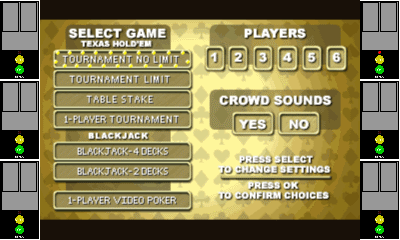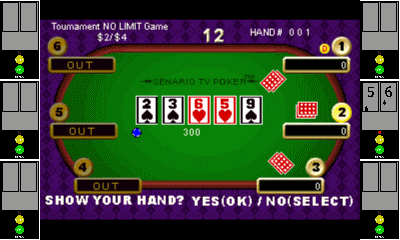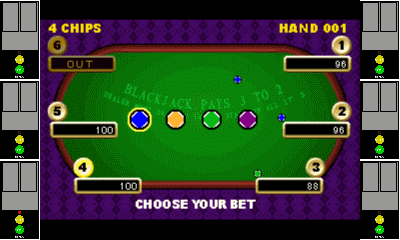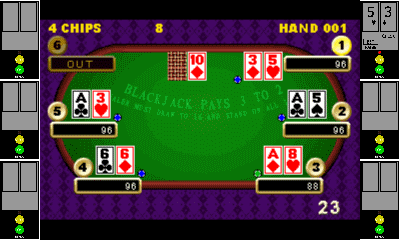 Plenty of gambling themed games were included in the multi-games. For example in the VT1682 based 'Excite Sports 48-in-1' there is a Poker game under the 'Brain' menu. What's interesting about this is there are some versions of this unit, still with 48 games and almost identical packaging, that do not have the Poker game, but instead substitute it for a different game in another menu. I guess this was due to laws regulating the sale of gambling themed games in certain states / regions. The version without it in this case, is not dumped. The UK version, sold by TaiKee as 'Interactive TV Games 48-in-1' has the same selection, including the Poker game. I should probably cover these units in more detail in a later part.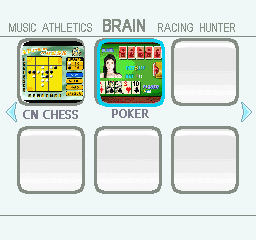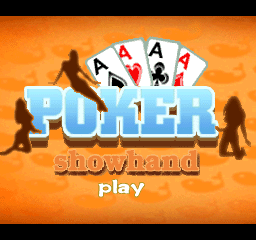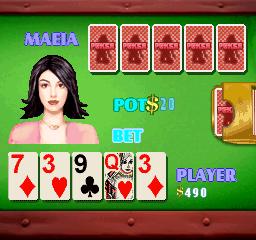 Excalibur and Techno Source also had a bunch of units that could be considered Gambling themed. Some of the Excalibur units look very similar in form factor to the Strip Poker game that was covered in a previous part, but none of them have been dumped yet. The Strip Poker was SunPlus, but based on screenshots I'm expecting most of the Excalibur gamblers to be either NES / VT based (most likely) or Elan at a push. Techno Source units are often single glob, and currently can't be dumped, but I don't know if any of the gambling themed ones have been looked at.
This has actually ended up being a relatively short part, when in reality, if all games of this nature were dumped, it would be one of the longer parts. I believe plenty of the other units have been sourced by the same GameHistory.org contributors who sent some other NES / VT based units, although in this case as they haven't been my primary area of focus (outside of the SunPlus ones) I'm not 100% sure on what has / hasn't been acquired.